News Center > Entergy New Orleans Completes Restoration Efforts Following Tornado
For Immediate Release
Entergy New Orleans Completes Restoration Efforts Following Tornado
02/12/2017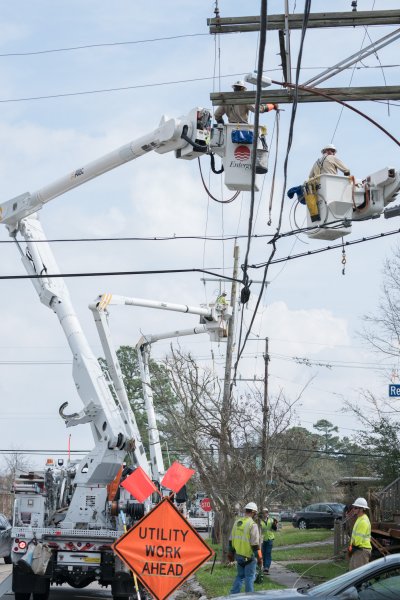 Company thanks customers, local leaders, media for support and patience
NEW ORLEANS – Entergy New Orleans officials say that less than one week after the strongest tornado ever recorded in the city wreaked havoc on portions of the company's electrical and gas systems, crews have wrapped up restoration.
As of 2:30 p.m. Sunday, service was restored to all customers who could take power.  More than 300 workers, including linemen, gas crew members, tree trimmers and support staff, combined forces to repair electrical and gas facilities damaged by high winds and fallen trees.
"Challenges always bring out the best in New Orleanians, but the spirit of cooperation and teamwork that arose in the aftermath of last week's devastating tornado is nothing short of amazing," Entergy New Orleans President and CEO Charles Rice said of the response to the Feb. 7 storm that left 10,415 New Orleans East customers without power.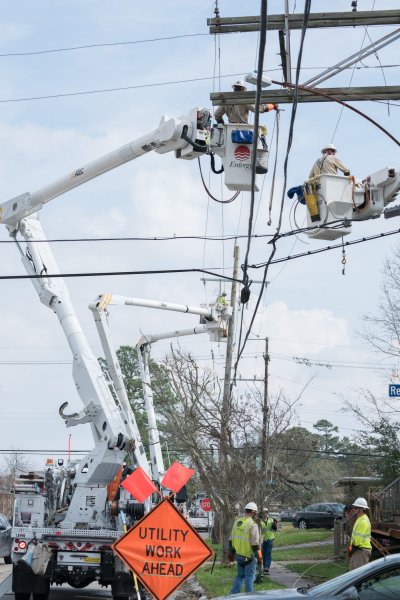 The destructive storm, associated with a severe weather system that swept across the city, damaged 230 distribution poles, 143 transformers, 50 transmission poles and 207 spans of wire. Meanwhile, Entergy gas crews responded to 69 leak calls while disconnecting approximately 300 customers due to leaks or severe structural damage.
Entergy customer service teams are now conducting neighborhood walkthroughs, providing customers with information on electric and gas service reconnection tips once their locations are repaired.
If customer-owned electrical equipment was damaged, such as meter bases, external breaker boxes or weatherheads, customers will have to get a licensed electrician to make repairs and obtain all proper city permits before calling 1-800-ENTERGY to have their service reconnected.
If customers with structural damage have had their gas turned off as a safety precaution, they will need to call a licensed plumber to make all necessary repairs and obtain all proper city permits before calling 1-800-ENTERGY for a safety check and restoration of gas service. Entergy New Orleans asks that customers do not attempt to turn gas on themselves as this could create a safety hazard.
For more safety tips, customers should visit the Entergy Storm Center or read the handy Operation: Storm Ready guide.
 "As proud as I am of the efforts our Entergy employees put forth to restore service, I am even more grateful for the support our customers gave during the storm," Rice said. "Hopefully, we will never have to go through a situation like that again; but regardless of the conditions, Entergy New Orleans can be counted on to provide the best electric and gas service possible."
Entergy New Orleans, Inc. is an electric and gas utility that serves Louisiana's Orleans Parish. The company provides electricity to more than 198,000 customers and natural gas to more than 106,000 customers. Entergy New Orleans is a subsidiary of Entergy Corporation.
Entergy Corporation is an integrated energy company engaged primarily in electric power production and retail distribution operations. Entergy owns and operates power plants with approximately 30,000 megawatts of electric generating capacity, including nearly 10,000 megawatts of nuclear power. Entergy delivers electricity to 2.8 million utility customers in Arkansas, Louisiana, Mississippi and Texas. Entergy has annual revenues of approximately $11.5 billion and more than 13,000 employees.
-30-
entergyneworleans.com
facebook.com/EntergyNOLA
Twitter: @EntergyNOLA
---