News Center > Entergy New Orleans Focusing on Hardest-Hit as More Than 80 Percent Restored
For Immediate Release
Entergy New Orleans Focusing on Hardest-Hit as More Than 80 Percent Restored
02/10/2017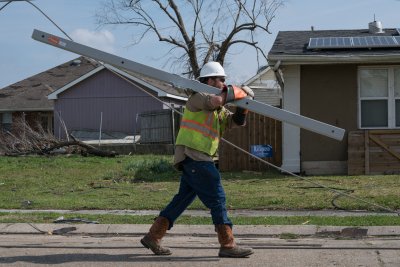 Company providing information on reconnection of service following repair and rebuilding
NEW ORLEANS – As restoration continues in New Orleans East following the damage left Feb. 7 by the strongest tornado ever recorded in the city, Entergy New Orleans is focusing on customers who sustained structural damage and letting them know how they can get power restored to their homes once the electrical system is back in place.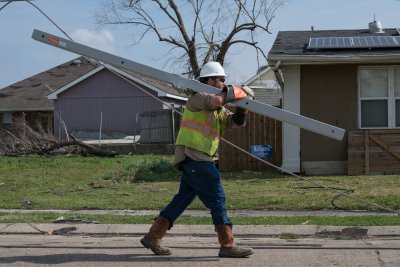 As of noon today, Entergy New Orleans crews have restored power to nearly 8,500 – or more than 80 percent of customers – who lost power following the severe weather event. Crews continue safely working, and power restoration to those who can receive it at their homes or businesses is expected to be complete by Saturday evening, Feb. 11.
"We know that even though it's only been 72 hours since the tornado tore a path through New Orleans East neighborhoods, it may feel longer as those customers' daily lives remain disrupted and they work to make repairs," said Charles Rice, president and CEO of Entergy New Orleans. "We want those customers to know that we care about them and are safely working as quickly as possible to wrap up the restoration process so they can move forward."
A customer service team is canvassing neighborhoods to provide customers with information on electric and gas service reconnection tips once their locations are repaired. If customer-owned electrical equipment was damaged, such as the meter base, external breaker box or weatherhead, then customers will have to get a licensed electrician to make repairs and obtain all proper city permits before calling 1-800-ENTERGY to have their service reconnected.
If customers with structural damage have had their gas turned off as a safety precaution, they will need to call a licensed plumber to make all necessary repairs and obtain all proper city permits before calling 1-800-ENTERGY for a safety check and restoration of gas service. Entergy New Orleans asks that customers do not attempt to turn gas on themselves as this could create a safety hazard.
In addition, where there was severe damage to our transmission lines along portions of Chef Menteur Highway, a small number of customers may not have service restored until those lines can be repaired. Our customer service team will communicate directly with those customers to keep them up-to-date.
"Our employees are the best in the business and will continue to work until all New Orleans East customers who can receive power are back up and running," added Rice. "New Orleans is our home, too, and we want nothing more than to get the lights back on for our neighbors, friends and family members who were affected by this disaster."
In addition to the customer service team canvassing neighborhoods, Entergy New Orleans' walk-up Customer Information Center at Household of Faith, 9300 I-10 Service Rd. in New Orleans East, is open. And Entergy volunteers assembled and delivered emergency kits to the American Red Cross for distribution to customers who need basic items.
For detailed restoration information, customers also can visit Entergy's View Outages website, choose Entergy New Orleans, and click on the red storm information bar at the top of the screen. And for more safety tips, customers should visit the Entergy Storm Center or read the handy Operation: Storm Ready guide.
Customers also can sign up for outage texting at entergytext.com or download the free Entergy app at entergyapp.com. Customers who are signed up for outage text alerts, have sustained damage to their homes and wish to stop receiving updates until repairs are made should text 'pause' to 368374 to stop the text messages and text 'resume' when they again want to receive outage alert text messages.
Entergy New Orleans, Inc. is an electric and gas utility that serves Louisiana's Orleans Parish. The company provides electricity to more than 198,000 customers and natural gas to more than 106,000 customers. Entergy New Orleans is a subsidiary of Entergy Corporation.
Entergy Corporation is an integrated energy company engaged primarily in electric power production and retail distribution operations. Entergy owns and operates power plants with approximately 30,000 megawatts of electric generating capacity, including nearly 10,000 megawatts of nuclear power. Entergy delivers electricity to 2.8 million utility customers in Arkansas, Louisiana, Mississippi and Texas. Entergy has annual revenues of approximately $11.5 billion and more than 13,000 employees.
-30-
entergyneworleans.com
facebook.com/EntergyNOLA
Twitter: @EntergyNOLA
---