News Center > Entergy New Orleans, Sewerage and Water Board break ground on West Power Complex, phase I
For Immediate Release
Entergy New Orleans, Sewerage and Water Board break ground on West Power Complex, phase I
12/05/2022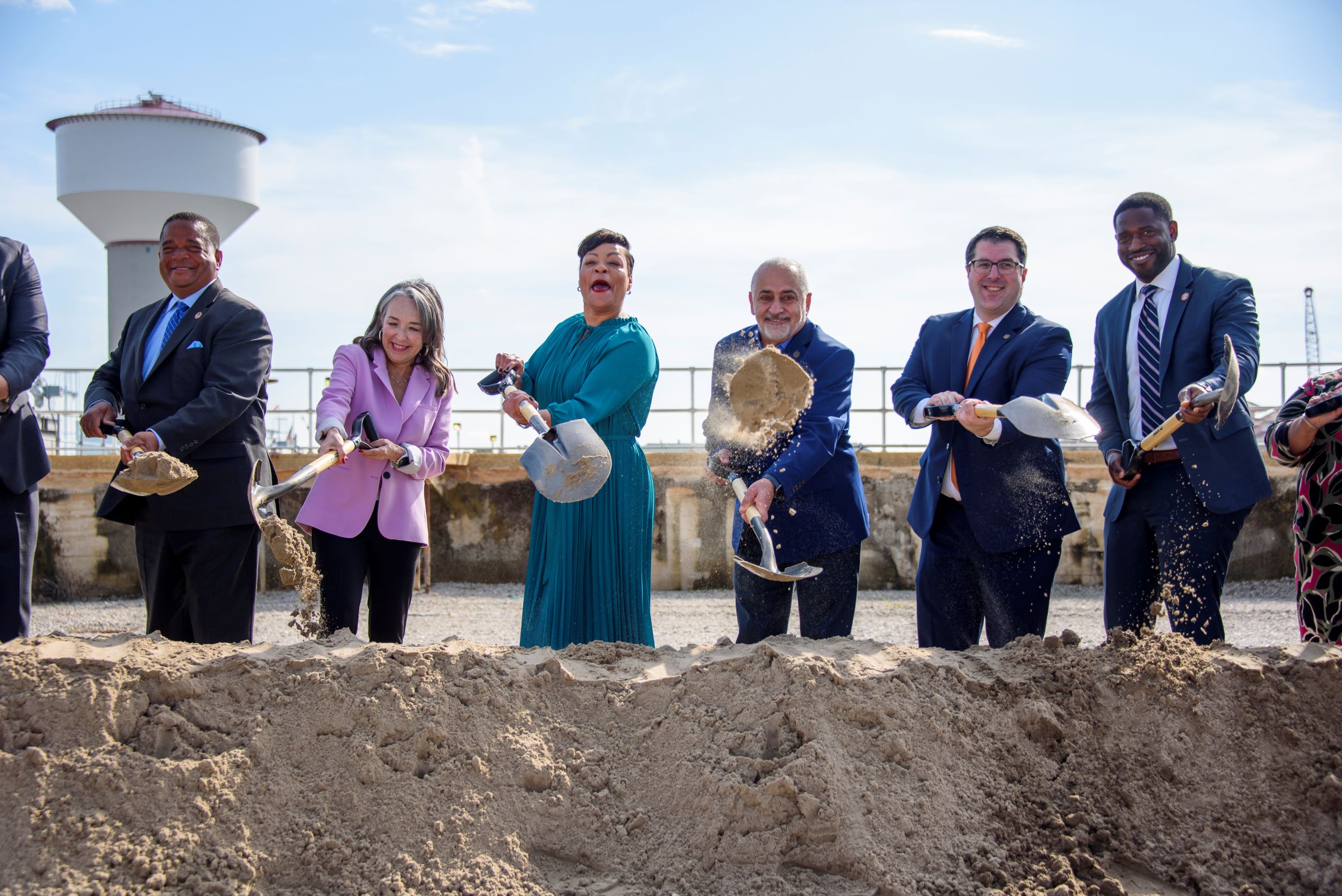 New Orleans, LA – On Monday, Dec. 5, Entergy New Orleans and the Sewerage and Water Board of New Orleans (SWBNO) celebrated the groundbreaking of the first phase of the West Power Complex, which includes a dedicated substation. When Phase I is complete, the facility will draw power from the Entergy New Orleans grid for day-to-day use and modern, in-house turbine generators for backup.
A 60-megawatt Entergy New Orleans substation, three static frequency changers to convert modern electricity to older currents, and modern turbines will work together to improve the reliability and resilience of the city's drainage and drinking water systems. Officials expect to complete the substation and Phase I work by the end of 2024.
Entergy New Orleans and SWBNO were joined by local, state and federal officials for this important milestone event.
"We're excited to have reached this critical milestone. It's been a long time coming and we are proud of the collaboration between Entergy New Orleans, The Sewerage and Water Board, the City of New Orleans and the New Orleans City Council," said Deanna Rodriguez, President and CEO of Entergy New Orleans. "Providing improved reliability at the transmission level is important to both SWBNO and their customers, who also happen to be our customers."
The dedicated substation will replace the existing power generation equipment with a modernized system designed to power New Orleans' drainage and water pumps in a reliable, resilient and cost-effective way.
"We know that fully modernizing our power generation system is key to both the future of this agency and this city," said Ghassan Korban, Executive Director, Sewerage and Water Board of New Orleans. "We have worked tirelessly, in coordination with our partners, to bring a dedicated substation to our Carrollton Water Plant which will lead to a better quality of life our residents, our visitors and future generations of New Orleanians."
"This substation project, the most important infrastructure project for New Orleans, is finally coming to fruition after over a decade of discussion. It didn't happen overnight. It required extensive collaboration and coordination with my office, Mayor Cantrell and her team, the New Orleans delegation, our federal leaders, SWBNO, and Entergy New Orleans," said Councilmember Joseph Giarrusso. "To put this in context, the combined age of the turbines is 379 years old. New Orleans needs a new, clean, reliable power source so we aren't wringing our hands every time it rains."
"From my first day in office, my administration has maintained a focus on improving our city's infrastructure and adapting to our environmental challenges," said Mayor LaToya Cantrell. "Today we break ground on a dedicated electrical substation that will provide a long-needed, reliable power source for the Sewerage and Water Board of New Orleans. The West Power Complex demonstrates the City's strong commitment to combating the detrimental effects of the ongoing climate crisis, strengthening our resiliency and most importantly, protecting our people. My administration will continue to create meaningful partnerships with our state and federal leaders to provide vital resources to our residents, reduce carbon emissions, create jobs, and build a healthier and more sustainable overall City."
The substation will include two transmission lines and two transformers for redundancy on approximately two acres of land at the Carrollton facility. To increase the resiliency of the site, the substation will be raised to meet the 500-year flood elevation standard. The substation also will support a substantial reduction in the city's carbon footprint by transitioning from the SWBNO's self-generation to Entergy New Orleans' more environmentally friendly generation fleet.
U.S. Senator Bill Cassidy. M.D. - "Today's groundbreaking is the beginning of a healthier and cleaner New Orleans. Glad to play a part with local, state, federal, and private partners in securing funding to make this clean drinking water and modern power generation system project a reality."
Congressman Troy A. Carter, Sr., (Serves on the Transportation Committee in the House of Representatives) - "New Orleanians deserve infrastructure they can count on, and I'm thrilled that today we are one step closer to reinforcing our city's critical water systems to better overcome any challenges Mother Nature may throw our way. This new substation will upgrade the outdated power system to power New Orleans' water pumps and drainage consistently, efficiently, and more sustainably, and I'm proud that Congress was able to support this critical project."
Louisiana District 4 Senator Jimmy Harris - "The new Substation is definitely needed as it will provide a cleaner and more reliable power source. This more efficient power source will better help power our outdated pumps and prevent the constant boil water advisories that we New Orleanians live with. Today is a great day."
Council President Helena Moreno - "For years there have been attempts to modernize the power infrastructure at SWBNO, and finally, with the leadership of the Council, and the collaboration with the administration and SWBNO, we're making generational change to secure cleaner, more reliable power supplies to drive critical public safety systems and save significant money for ratepayers." 
Councilmember Vice President JP Morrell - "When other cities have a boil water advisory, it makes national news. When we have a boil water advisory, it's just another day grappling with our outdated infrastructure. This substation means so much more than reliable electric infrastructure. It means that we will finally be able to address the incessant boil water advisories that disrupt people's lives on what seems to be a daily basis."
Councilmember Oliver M. Thomas - "The modernization and increased reliability of this new substation is a welcomed achievement. Let's put an end to water boil advisories. Our citizens deserve this!"
 About Entergy New Orleans
Entergy New Orleans, LLC is an electric and gas utility that serves Louisiana's Orleans Parish. The company provides electricity to more than 209,000 customers and natural gas to more than 110,000 customers. Entergy New Orleans, LLC is a subsidiary of Entergy Corporation.
About SWBNO
The history of the Sewerage and Water Board of New Orleans dates back to 1899. Today, the utility services 140,000 customer accounts and millions of visitors a year. One of the original "One Water" utilities, SWBNO manages drinking water, wastewater, and stormwater. SWBNO recently adopted a five-year strategic plan for the utility, a structured response to the utility's challenges to guide organizational goals, support budget development, and direct progress monitoring in the organization's long-term focus areas.
---