News Center > Entergy New Orleans Spending $30 Million to Make Electrical System More Resilient
For Immediate Release
Entergy New Orleans Spending $30 Million to Make Electrical System More Resilient
05/22/2017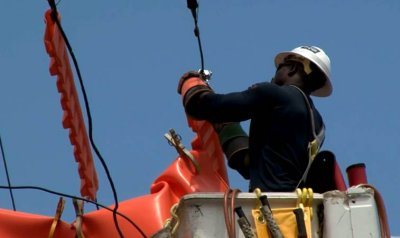 Improvements over the next two years to include pole replacement and circuit reconfiguration
NEW ORLEANS – Building upon the $10 million spend in the city last fall to improve service reliability, Entergy New Orleans is spending an additional $30 million on further improvements over the next two years that will help make the electrical system stronger and more resilient.
The storm hardening work, which began this spring, is broken into several components – enhanced pole inspection/replacement, circuit reconfiguration and other targeted measures where needed. This is in addition to the hardening work completed across south Louisiana in the years since Hurricane Katrina.
"In an effort to build a better New Orleans today and tomorrow, we're pursuing a number of strategies to ensure that we can continue to provide safe, reliable power to our customers at the lowest reasonable cost," said Charles Rice, president and CEO of Entergy New Orleans. "Hardening our electric grid is one strategy that will help us weather storms, reduce the number of outages and safely get the power back on faster."
Utility Poles
Throughout 2017, Osmose Utilities Services will inspect approximately 35,000 Entergy-owned poles on the east and west banks of Orleans Parish. These will be full excavation inspections in which they'll dig around the entire circumference of the poles, clean the wood and treat it with new preservative both above and below ground. This fully protects the poles from the soil. Once the treatment is complete, they will replace the soil and build it up around the poles to allow for settling.
Where excavation isn't possible, they will use the sound and selective bore method to check for any defects that indicate the need for replacement. Poles that Osmose contractors identify as needing replacement will be reported to Entergy and crews will be scheduled to install new ones.
In some cases, we also will reinforce the poles in the process, and this work will carry over into 2018. All replacement poles will be designed to withstand 110 mile-per-hour winds to meet or exceed industry standards.
Circuit Reconfiguration
As part of this effort, crews are installing additional automated switches on power lines to detect and prevent potential problems along the energy grid, as well as restore and reroute power when necessary, to reduce the number of customers affected by a power outage.
This work reconfigures – or breaks up – electric feeders into smaller sections so that fewer customers are served by each circuit. And since fewer customers are on each circuit, the impact of an outage is greatly reduced.
Another benefit to circuit reconfiguration is the added flexibility to manually or automatically switch customers to a temporary alternate source following an outage, thereby reducing the outage duration for those customers while our crews are safely making repairs.
"The ultimate goal of this work is to improve Entergy New Orleans' system reliability and resiliency when faced with storm conditions in a fiscally responsible and cost-effective manner," Rice said. "Power outages may still be inevitable when severe weather strikes our service area, but as we've seen with some of our fellow utilities along the Gulf and Atlantic coasts, this work will help us reduce the impact outages have on our customers' lives."
Entergy New Orleans, Inc. is an electric and gas utility that serves Louisiana's Orleans Parish. The company provides electricity to more than 198,000 customers and natural gas to more than 106,000 customers. Entergy New Orleans is a subsidiary of Entergy Corporation.
Entergy Corporation is an integrated energy company engaged primarily in electric power production and retail distribution operations. Entergy owns and operates power plants with approximately 30,000 megawatts of electric generating capacity, including nearly 9,000 megawatts of nuclear power. Entergy delivers electricity to 2.9 million utility customers in Arkansas, Louisiana, Mississippi and Texas. Entergy has annual revenues of approximately $10.8 billion and nearly 13,000 employees.
-30-
entergyneworleans.com
facebook.com/EntergyNOLA
Twitter: @EntergyNOLA
---