News Center > Entergy is Prepared for Severe Weather – Are You?
For Immediate Release
Entergy is Prepared for Severe Weather – Are You?
02/19/2018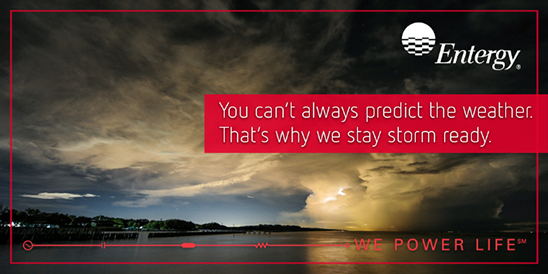 CONTACT
Charlotte J. Cavell 
504-576-4132
ccavell@entergy.com
David Freese
504-576-4132
dfreese@entergy.com 


Severe Weather Awareness Week reminds everyone to have a storm plan in place 
NEW ORLEANS – Weather has been anything but reliable in the Deep South this winter, so it is tempting to think the warming temperatures will be a welcome respite.
But don't let your guard down. Severe weather – tornadoes, lightning, high winds, flash flooding, severe thunderstorms and even hail – can occur at any time.
Of course, extreme weather also can cause power outages and downed power lines. Entergy prepares year-round for these disruptive events and encourages you to prepare, too.
"We monitor the weather 24/7, and when severe weather threatens, we mobilize our crews for outage restoration," said Melonie Stewart, Entergy's vice president of customer service in Louisiana. "Everyone should have their own plan in place before severe weather threatens that accounts for all family members, including pets."
Make a Plan, Assemble a Kit
First, ensure that you have multiple ways of getting severe weather warnings:
Install a smart phone app that will alert you to severe weather in the area or sign up for emergency alerts on your smart phone.
Have a weather radio with a loud alarm that will wake you when severe weather threatens at night.
Download the free Operation: Storm Ready guide from Entergy's website. This booklet has a checklist of what a kit should include so you don't overlook anything important.
Know How to Communicate with Entergy
There are several ways to report outages or downed power lines:
Call 1-800-9OUTAGE (1-800-968-8243).
Check the View Outages map on Entergy's website or app for outage info and, if available, cause and estimated restoration time.
Download the free Entergy app for Apple or Android to check power at your home or business and to report outages.
Visit the Entergy Storm Center for updates and information.
Register for MyAccountAnywhere to get outage info on your mobile phone and to send and receive texts.
"Despite our best efforts to reduce the likelihood of outages during bad weather, storms can be powerful and unpredictable," said Stewart. "Be prepared and have everything you need in one central location if you lose power, including a way to notify us of the outage. This will help you be more comfortable and also will instill order and safety while our crews restore service."
The National Weather Service has designated Feb. 19-23, 2018 as Severe Weather Awareness Week. Both the Louisiana and New Orleans offices of Homeland Security and Emergency Preparedness have joined in the recognition. They and other partners are urging everyone to "Get a Game Plan" and stay "NOLA Ready" in the event of severe weather.
Entergy New Orleans, LLC is an electric and gas utility that serves Louisiana's Orleans Parish. The company provides electricity to more than 200,000 customers and natural gas to more than 106,000 customers.
Entergy Louisiana, LLC provides electric service to more than 1 million customers and natural gas service to nearly 93,000 customers in the greater Baton Rouge area. The company has operations in southern, central and northeastern Louisiana. Both companies are subsidiaries of Entergy Corporation.
Entergy Corporation is an integrated energy company engaged primarily in electric power production and retail distribution operations. Entergy owns and operates power plants with approximately 30,000 megawatts of electric generating capacity, including nearly 9,000 megawatts of nuclear power. Entergy delivers electricity to 2.9 million utility customers in Arkansas, Louisiana, Mississippi and Texas. Entergy has annual revenues of approximately $10.8 billion and more than 13,000 employees. 
-30-
entergyneworleans.com
facebook.com/EntergyNOLA
Twitter: @EntergyNOLA
entergylouisiana.com
facebook.com/EntergyLA
Twitter: @EntergyLA
---