News Center > Entergy Restores Power to Majority of Customers After Historic Flooding
For Immediate Release
Entergy Restores Power to Majority of Customers After Historic Flooding
09/10/2017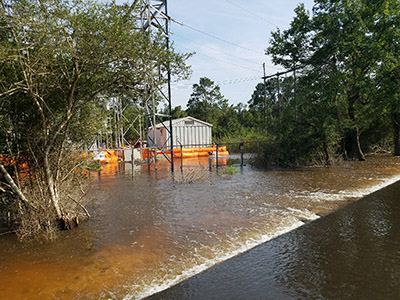 Power has been restored to all of the customers who can safely receive it, ending a 14-day restoration effort by more than 3,300 Entergy employees and contractors from four states.
While the majority of houses who can safely take power have been restored, many homes and businesses across the region cannot be restored due to high water or severe flood damage.  It may take some time to re-energize an estimated 4,000 customers whose flood damage was so severe they cannot yet be re-connected. Entergy will continue working with these customers on an individual basis until their power can be restored.
Entergy Texas has restored service to nearly all 192,000 customers that lost power during Hurricane Harvey. All customers who can safely accept electrical service should be restored.
For areas that flooded, Entergy is inspecting meters, then repairing and replacing them as is necessary. Customers may need to make repairs to property and obtain inspections before Entergy is able to safely restore power to these locations.  For more information please visit entergy.com/harvey.
Work remains to be done to rebuild the electrical system, which was damaged and reconfigured to restore power using mobile substations. Entergy Texas will spend the next few weeks rebuilding it, adding back in some contingencies and redundancies to ensure reliability, and replacing temporary and damaged equipment with new, upgraded assets.
"Hurricane Harvey caused destruction across our state like we haven't seen before," said Sallie Rainer, president and CEO of Entergy Texas. "It is always our pleasure to serve our customers, and their support throughout this restoration was inspiring to our employees working to get the lights on.  I would like to thank our customers for their patience as we worked to recover from this historic event. With the lights back on, we will turn to supporting our communities as we work to rebuild."
The flooding event caused by Hurricane Harvey brought record-breaking rainfall and unprecedented crests of local rivers, lakes and waterways.
The flooding began when Harvey made landfall on Aug. 25 and continued pounding Southeast Texas with torrential rainfall.
The flooding began in Entergy Texas' western territory. For six days, Harvey moved at a snail's pace across the Entergy Texas footprint, dropping more than 30 inches of rain in some areas, flooding neighborhoods and businesses. Entergy wasn't immune from Harvey's wrath, as 17 substations and miles of transmission lines were damaged.
Four mobile substations were brought in to bypass damaged substations, while additional equipment was added to other substations to restore power to those locations that could receive it.
"I also want to recognize our employees.  Many employees left behind families and damaged homes to work night and day to safely get the lights back on for our customers," said Rainer. "Additionally, we would like to thank the Governor's office as well as state and local agencies for working together with us to restore power as quickly as possible."
More than 3,000 workers from Entergy's four-state service territory of Texas, Arkansas, Mississippi and Louisiana assisted in the restoration process. Crews worked tirelessly with customers, local officials, emergency responders and partnering utilities to get power restored.
Other workers are walking through neighborhoods across southeast Texas, going door to door to inspect meters and electrical equipment. They are energizing lines where it was safe to do so.
As customers remove water-soaked walls and flooring and prepare to rebuild their homes and businesses, Entergy will work with them to get their power safely restored. The amount of water that entered their structures will determine the actions customers may need to take. Details on this process can be found at www.entergy.com/harvey.
Entergy Texas, Inc. provides electricity to more than 440,000 customers in 27 counties. It is a subsidiary of Entergy Corporation. Entergy Corporation is an integrated energy company engaged primarily in electric power production and retail distribution operations. Entergy owns and operates power plants with approximately 30,000 megawatts of electric generating capacity, including nearly 9,000 megawatts of nuclear power. Entergy delivers electricity to 2.9 million utility customers in Arkansas, Louisiana, Mississippi and Texas. Entergy has annual revenues of approximately $10.8 billion and nearly 13,000 employees.
-30-
Twitter: @EntergyTX
---