News Center > Entergy Rolls Out $72,000 in Grants to Fuel Stronger Communities in Texas
For Immediate Release
Entergy Rolls Out $72,000 in Grants to Fuel Stronger Communities in Texas
07/24/2017
Kacee Kirschvink
|
504-576-4132
|
kkirsch@entergy.com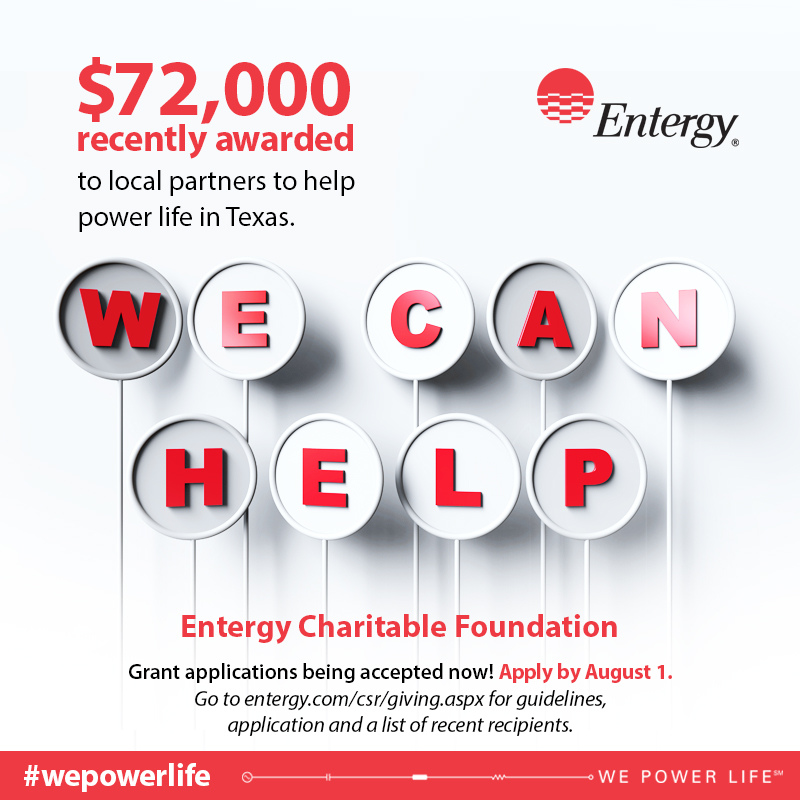 Everyone needs a Power Hour, including students at the Boys and Girls Club of Hardin County, who will receive one-on-one time with tutors to develop academic, behavioral and social skills through homework completion. The Power Hour program and those of 13 other nonprofit organizations in communities served by Entergy Texas, Inc. are among the beneficiaries of $72,000 awarded through the Entergy Charitable Foundation first round of grants for 2017.
Requests for funding through the Entergy Charitable Foundation are reviewed twice annually. Applications for the second grant cycle can be submitted through Aug. 1 here.
"We are proud to power life in our communities in ways that go beyond powering the electric grid," said Vernon Pierce, vice president of customer service for Entergy Texas.  "By providing support to local nonprofits, we are creating a circuit of community partnerships that help build a better community."
Among the Texas programs supported in the first round of 2017 Entergy Charitable Foundation grants are:
A complete list of 2017 grant awards can be found here.
In 2016, Entergy shareholders awarded approximately $19 million through various grant programs to almost 3,000 nonprofits in communities where Entergy operates. Of that 2016 total, the Entergy Charitable Foundation distributed more than $2.8 million in grants focusing on education, poverty solutions and environmental programs that improve the quality of life in communities served by Entergy. Learn more about our community investments here.
Entergy Texas, Inc. provides electricity to more than 430,000 customers in 27 counties. It is a subsidiary of Entergy Corporation. Entergy Corporation is an integrated energy company engaged primarily in electric power production and retail distribution operations. Entergy owns and operates power plants with approximately 30,000 megawatts of electric generating capacity, including nearly 9,000 megawatts of nuclear power. Entergy delivers electricity to 2.9 million utility customers in Arkansas, Louisiana, Mississippi and Texas. Entergy has annual revenues of approximately $10.8 billion and nearly 13,000 employees.
---