News Center > Entergy Texas crews restore power to nearly 8,500 customers
For Immediate Release
Entergy Texas crews restore power to nearly 8,500 customers
03/22/2022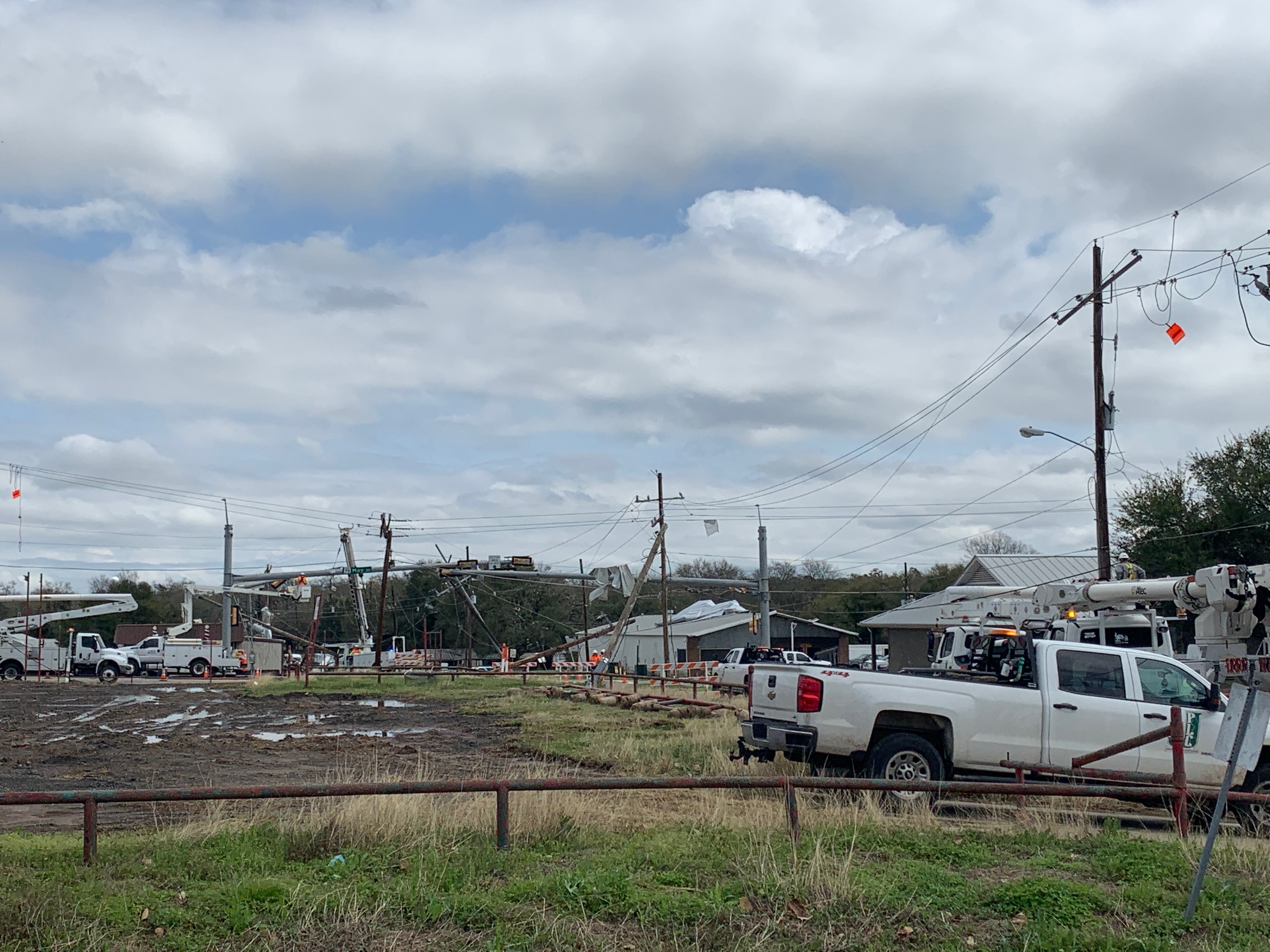 THE WOODLANDS, Texas – Entergy Texas, Inc. crews have restored power to nearly 85 percent of the customers who lost electricity as a powerful line of thunderstorms, hail, and tornadoes moved through southeast Texas.
As of 5:00 p.m., approximately 1,300 customers remained without power in the hardest hit areas of Madisonville and Madison County. Crews continue to assess damage in those hard-hit areas and will provide estimated times of restoration to impacted customers as soon as they become available. Due to extensive damage in Madisonville, outages for some customers will extend overnight.
"This was a powerful line of weather that impacted our Texas service territory," said Eliecer Viamontes, Entergy Texas president and CEO. "Our crews went to work as soon as conditions were safe, and they have made excellent progress restoring the damage and getting the lights back on."
As restoration efforts continue, we urge everyone to be safe, including customers and Entergy personnel and contractors. Stay away from work zones, downed power lines, and flooded areas. Do not walk in standing water and do not venture into areas of debris since you may not be able to see a power line that could still be energized and dangerous.
The greatest danger after this type of storm remains downed power lines and electrical equipment. If anyone sees a power line or electrical equipment on the ground or in the trees or bushes, do not go near it. Call and report it at 1-800-9OUTAGE (800-968-8243).
Stay Informed
Keeping customers informed before, during and after a storm is important to Entergy. Here are some of the platforms we use to provide updates:
View live updates on outages and restoration times using our view outage map.
Download our app for your smartphone at entergy.com/app or visit entergystormcenter.com to stay informed on our restoration progress. Android users who have difficulty accessing the app on their smartphones can get information from the mobile version of our site at entergy.com.
Text alerts – Customers can register for outage text alerts through myEntergy. Be sure to update your notification preferences to participate in text alerts. Customers also can sign up for text messages about storm and restoration efforts by texting REG to 36778.
Follow us on Twitter.com/EntergyTX or Facebook.com/EntergyTX.
Follow updates from your local news media, like radio, television, and newspapers.
About Entergy Texas
Entergy Texas, Inc. provides electricity to more than 486,000 customers in 27 counties. Entergy Texas is a subsidiary of Entergy Corporation, a Fortune 500 company headquartered in New Orleans. Entergy powers life for 3 million families and businesses across Arkansas, Louisiana, Mississippi and Texas. Entergy is creating a cleaner, more resilient energy future for everyone with our diverse portfolio of low-carbon and carbon-free energy sources. With roots in the Gulf South region for more than a century, Entergy is a recognized leader in corporate citizenship and delivers more than $100 million in philanthropy and advocacy efforts to local communities each year. Our approximately 12,500 employees are dedicated to powering life today and for future generations.
---