News Release > Entergy Texas Earns 2018 ENERGY STAR® Partner of the Year Award
For Immediate Release
Entergy Texas Earns 2018 ENERGY STAR® Partner of the Year Award
04/02/2018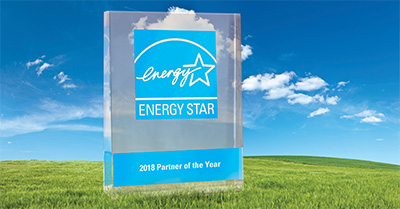 Entergy Texas, Inc. is proud to announce that it received the 2018 ENERGY STAR® Partner of the Year Award for its outstanding efforts to promote energy efficiency in residential new construction.
The U.S. Environmental Protection Agency and the U.S. Department of Energy will recognize Entergy Texas for the accomplishment at a ceremony in Washington, D.C. on April 20.
Entergy Texas' Energy Efficiency Program Manager Kelley Carson said Entergy achieved the award for a number of reasons. These include working with builders and contractors to ensure their customers understand that the ENERGY STAR logo represents a product that is the best in the marketplace for quality and energy efficiency, as well as effectively promoting the ENERGY STAR logo and what it represents.
"The most exciting achievement in 2017 was having over 1,100 new homes certified as High Performance Home or ENERGY STAR Compliant," Carson said. "The initiative I am looking forward to offering in 2018 is an air conditioning tune up for customers who participate in our Residential and Hard-to-Reach Standard Offer Programs.  For 2018, the company only accepted weatherization contractors that also had air conditioning licenses, so now they can complement installing weatherization measures."
Weatherization includes things such as caulking and sealing doors and windows, sealing ducts, adding insulation, cleaning the coils in air conditioning systems, making sure all pressures in the system are good and that the correct Freon charge is in the system.
"The ENERGY STAR Partners of the Year have demonstrated real leadership, showing how American families and businesses can save energy, save money and reduce air emissions," said Bill Wehrum, EPA Assistant Administrator for Air and Radiation.
In 2016 alone, ENERGY STAR certified products, homes, buildings, and plants helped Americans save over $30 billion in energy costs and approximately 400 billion kilowatt-hours of electricity and while achieving broad emissions reductions.
For a complete list of 2018 winners and more information about ENERGY STAR's awards program, visit energystar.gov/awardwinners. To learn more about Entergy Texas programs, visit our website.
Entergy Texas, Inc. provides electricity to approximately 450,000 customers in 27 counties. Entergy Corporation is an integrated energy company engaged primarily in electric power production and retail distribution operations. Entergy owns and operates power plants with approximately 30,000 megawatts of electric generating capacity, including nearly 9,000 megawatts of nuclear power. Entergy delivers electricity to 2.9 million utility customers in Arkansas, Louisiana, Mississippi and Texas. Entergy has annual revenues of approximately $11 billion and more than 13,000 employees.           
-30-
entergytexas.com
Twitter: @EntergyTX
Facebook: Facebook.com/EntergyTX
About ENERGY STAR
ENERGY STAR® is the simple choice for energy efficiency. For over 25 years, EPA's ENERGY STAR program has been America's resource for saving energy and protecting the environment. Join the millions already making a difference at energystar.gov. More background information about ENERGY STAR can be found at energystar.gov/about and energystar.gov/numbers.
Thousands of industrial, commercial, utility, state, and local organizations—including more than 40 percent of the Fortune 500®—rely on their partnership with the U.S. Environmental Protection Agency (EPA) to deliver cost-saving energy efficiency solutions. Together, since 1992, ENERGY STAR and its partners have helped save American families and businesses over $450 billion and over 3.5 trillion kilowatt-hours of electricity while also achieving broad emissions reductions—all through voluntary action.
---