News Center > Entergy Texas Launches Enriched Online Property Search Tool
For Immediate Release
Entergy Texas Launches Enriched Online Property Search Tool
11/07/2017
Kacee Kirschvink
|
504-576-4132
|
kkirsch@entergy.com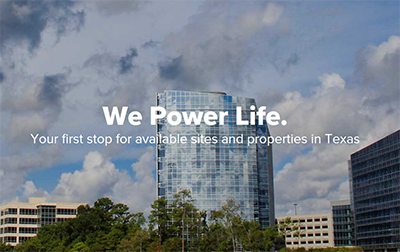 In today's competitive market for cultivating economic impact and job growth, Texas now has a boosted advantage when it comes to attracting companies and industries to the state. Entergy Texas today announced the revamp of its Site Selection Center, a free online commercial database resource that makes it easier for businesses to search for and secure prospective buildings and sites. In a few easy clicks, companies can complete a property search based on their diverse drivers, such as needing a building that has 50,000 people within a 30-minute drive time or having access to a navigable waterway.
"This dynamic platform will assist in driving viable businesses to Texas, and we are pleased to provide the new Site Selection Center to our economic development partners," said Steve Pilgrim, Director, Business & Economic Development at Entergy Texas, Inc. "Our commitment to growing the state's economy stands firm, and we're confident the new website will further position Texas as a serious contender for new opportunities."
Entergy Texas, Inc., along with our economic development partners, will host a user's training on the new Site Selection Center website at two different locations. The first session will be from 9 to 11:30 a.m. on Nov. 14 at the South East Texas Economic Development Foundation (SETEDF), 2210 Eastex Freeway in Beaumont. The second session will be from 11:30 a.m. to 1 p.m. on Nov. 15 at the Navasota Center, 101 Stadium Drive in Navasota. Interested parties can learn how to maximize the new site to meet and exceed their organization's economic development goals through enhanced features, such as mobile platforms, ESRI data and mapping tools and much more. To register for the event in Navasota or Beaumont, click here.
The Site Selection Center is designed to meet the modern needs of various economic development allies, such as economic development organizations, commercial brokers, community development foundations, and property developers. It consists of an easy-to-use platform with robust search and property management functionality. Playing an integral role in Entergy's recent recognition by Site Selection magazine as one of the nation's Top 10 utilities in economic development for the 10th year in a row, the revamped site uses a combination of geographic information system technology, business analysis and demographic data to give users the ability to quickly access Texas's available commercial sites and resources.
"Entergy Texas has always valued assisting our partners with attracting new industry to Texas," Pilgrim said. "Now, more than ever, we're excited for the future, as we know the launch of the site will further enhance our business development efforts."
Originally launched in 2008, the Site Selection Center quickly became an important tool used by economic developers, site selection consultants and businesses throughout the country. Now, after combining years of experience gained and feedback from partners, Entergy's new Site Selection Center is completely redone and includes some of the following enhanced features:
sophisticated property search options with advanced filtering capabilities and data exports;
demographic and business data, Esri, which allows customers to view data by drive-time, radius, polygon, parish, region, state and more;
simple property listing tools like full previews, enhanced multimedia management and a "quality score" summary to measure listing completeness; and
many other new features like providing enhanced property details, creating and saving search alerts and the ability to create private listings.
Entergy's economic development group spans the region – Arkansas, Louisiana, Mississippi and Texas – and is home to the largest industrial base in the U.S. It offers a rare combination of resources: a central U.S. location with direct access to raw materials and markets, a favorable business climate, an expansive infrastructure, a skilled and affordable workforce and very competitive utility costs.
Currently, there are more than 2,800 commercial buildings and sites available in Entergy's region, with more than 250 of those properties located in Texas. To learn more about the Texas Site Selection Center or Entergy's efforts to further economic growth in Texas, visit goentergy.com.         
---