News Center > Entergy Texas presents grant to United Way of Greater Houston for bill payment assistance
For Immediate Release
Entergy Texas presents grant to United Way of Greater Houston for bill payment assistance
09/20/2022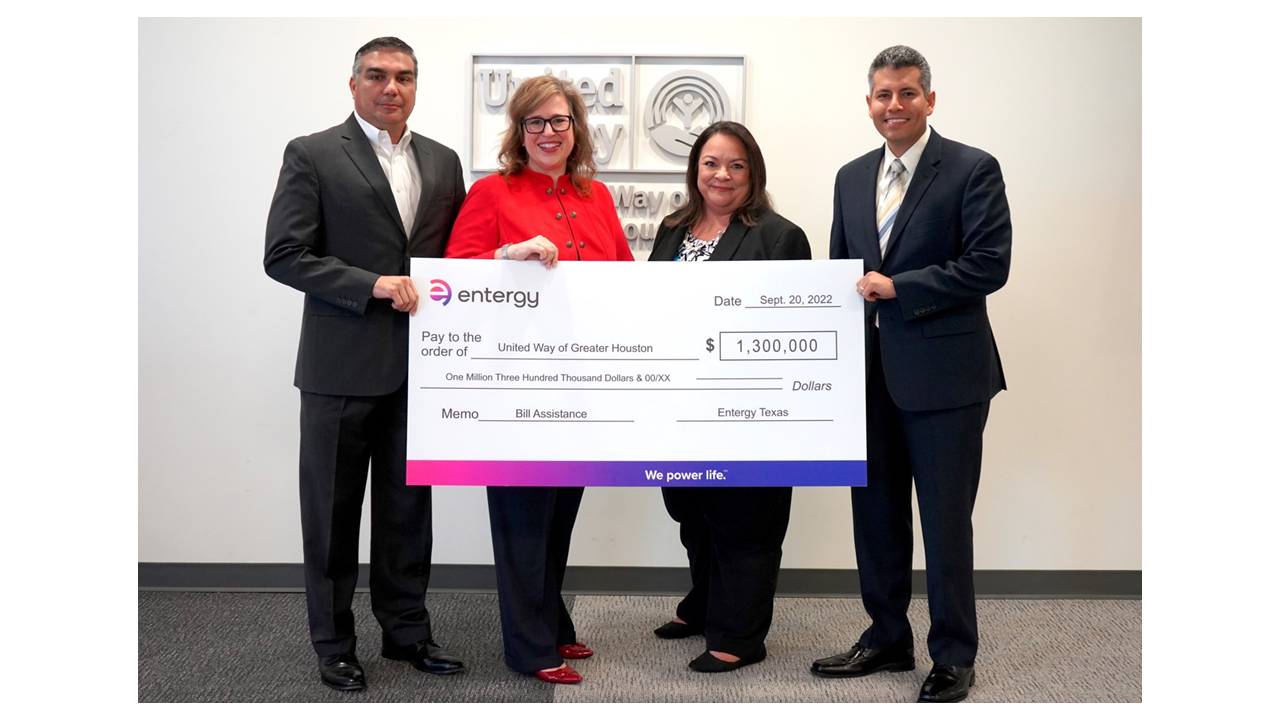 The $1.3 million contribution will provide one-time $150 bill credits to qualifying customers
THE WOODLANDS, Texas – Entergy Texas presented the United Way of Greater Houston with a grant of $1.3 million to help customers who need assistance paying their power bill.  High natural gas prices and record-breaking temperatures led to high bills this summer, so the contribution will provide a one-time $150 bill credit to qualifying customers on a first-come, first-served basis. The online application for the bill credit will be available through the United Way of Greater Houston's website at 9 a.m. on Tuesday, September 27.
"While we can't control many of the factors contributing to high bills, we can provide meaningful solutions," said Eliecer "Eli" Viamontes, president and CEO of Entergy Texas. "United Way shares our mission of improving lives, so we are thankful to partner with them to help bring financial relief to many families across Southeast Texas."
Most of the power Entergy Texas generates comes from natural gas, and the cost to buy this fuel has more than doubled in the last year. These fuel costs are passed through to customers with no profit to the company. However, these persistent high natural gas prices continue to increase customer bills.
"Our 211 Texas/United Way HELPLINE data shows that families are struggling to pay for increasing utility costs this summer and also dealing with rising prices of basic necessities," said United Way of Greater Houston President and CEO Amanda McMillian. "United Way of Greater Houston works every day to help our neighbors land on their feet and stay there and connecting people with utility assistance through Entergy is a great way to further that mission."
The $1.3 million contribution to the United Way of Greater Houston is part of Entergy Texas's $1.7 million pledge to bill payment assistance for residential customers. In addition to bill credits, we are:
Providing an additional $213,000 to our Power to Care program, which helps senior customers and customers with disabilities.
Expediting the return of $2.9 million in security deposits to more than 13,000 customers.
Providing $170,000 to local partner agencies to help with bill assistance.
Volunteering with community partners to conduct energy efficiency upgrades in various neighborhoods that, on average, can save $600 on a customer's bill.
Learn more about our bill assistance initiatives at www.entergy.com/answers.
About Entergy Texas
Entergy Texas, Inc. provides electricity to more than 486,000 customers in 27 counties. Entergy Texas is a subsidiary of Entergy Corporation, a Fortune 500 company headquartered in New Orleans. Entergy powers life for 3 million customers through its operating companies across Arkansas, Louisiana, Mississippi and Texas. Entergy is creating a cleaner, more resilient energy future for everyone with our diverse power generation portfolio, including increasingly carbon-free energy sources. With roots in the Gulf South region for more than a century, Entergy is a recognized leader in corporate citizenship, delivering more than $100 million in economic benefits to local communities through philanthropy and advocacy efforts annually over the last several years. Our approximately 12,000 employees are dedicated to powering life today and for future generations.
---