News Center > Entergy Texas Ready to Respond to Hurricane Harvey
For Immediate Release
Entergy Texas Ready to Respond to Hurricane Harvey
08/24/2017
Kacee Kirschvink
|
504-576-4132
|
kkirsch@entergy.com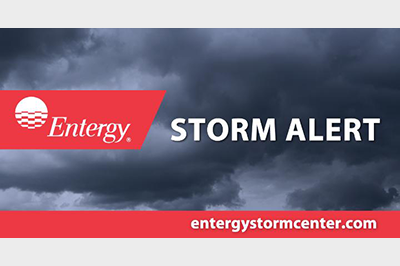 Hurricane Harvey is expected to cause power outages across the Texas Gulf Coast, and Entergy Texas crews will be ready to respond when needed.
In addition to high winds and storm surge, massive flooding, prolonged thunderstorms and possible tornadoes could cause catastrophic damage. Entergy Texas has called on additional crews to assist with restoration efforts. 
Harvey's track following landfall will determine how long it may take to restore power across the Entergy Texas region. Entergy expects it could take longer than expected to restore service due to heavy rains and flooding. Flooding conditions and high winds can slow down the power restoration process.
 "We're planning for a long storm over the next week. That means we could see longer-than-normal outage restoration resulting from the effects of several days of heavy rainfall," said Vernon Pierce, vice president of customer service for Entergy Texas. "Coupled with hurricane-force winds, a heavy amount of damage could occur from toppled trees, broken poles and downed electric wires."
The National Weather Service predicts as much as 30 inches of rain could fall in some areas, making many roads impassable and dangerous.
Entergy Texas, Inc. has opened its emergency operations center in Beaumont, and Entergy Corporation will open its System Command Center later today. Staging areas are opening to house equipment and crews are on standby to respond as soon as it is safe to do so.
Customers should take extreme caution in the storms and be watchful of downed power lines – especially looking out for those that may be concealed by storm debris.
"The most important thing during and after a storm is to stay safe," Pierce said.
Should customers plan to use generators, they should operate them according to manufacturer instructions.
"Please be sure to hook appliances directly into the generator and not into your home's internal wiring," Pierce said. "That's extremely dangerous, not just for yourself, but for your neighbors and our crews who may be working on wires in your neighborhood.
"Our concern first and foremost will be for the safety of our customers and our employees. It's about pulling together as a community – and we're just one part of it," he added.
Other Safety Tips
          - Entergy Texas reminds customers to remain safe and stay away from downed power lines and flooded areas. Do not walk in standing water and do not venture into areas of debris, since energized and dangerous power lines may not be visible.
          - Customers who inhabit or own property in areas that could be threatened by flooding are encouraged to remove food from freezers and refrigerators and to take appropriate measures to protect belongings from potential water damage.
          - Entergy Texas urges customers to prepare for the possibility of extended power outages. Customers should prepare emergency preparedness kits, including flashlights, a battery-powered radio with fresh batteries, spare batteries, canned food and a can opener, a supply of fresh water for several days and a first-aid kit.
          - If customers have generators, they should read instructions and operate them according to guidelines for their safety and ours.
          - Customers should use extreme caution when navigating boats in flooded areas around power lines to ensure the boats and their occupants do not come into contact with energized lines.
Stay Prepared and Informed
            Just as important to the company as restoring power is the ability to keep customers informed. We do this in a number of ways:
          - A free app is available for iPhone or Android at com. Customers can use the app to report outages or check on the status of power at their homes or businesses.
          - Entergy's View Outages website includes maps that show where outages are located and gives information about restoration progress.
          - Customers can send and receive text messages about storm and restoration efforts. Signing up is easy: simply text REG to 368374.
          - The Entergy Storm Center website has storm safety, preparation, restoration and other information that is regularly updated.
          - Operation: Storm Ready is a free downloadable guide that helps customers plan and prepare for weather emergencies.
            Social media plays an important role in keeping customers informed, and Entergy Texas places a high priority on keeping social media sites updated throughout a major event. Follow us at twitter.com/entergyTX or facebook.com/entergyTX
            Entergy Texas, Inc. provides electricity to more than 440,000 customers in 27 counties. It is a subsidiary of Entergy Corporation. Entergy Corporation is an integrated energy company engaged primarily in electric power production and retail distribution operations. Entergy owns and operates power plants with approximately 30,000 megawatts of electric generating capacity, including nearly 9,000 megawatts of nuclear power. Entergy delivers electricity to 2.9 million utility customers in Arkansas, Louisiana, Mississippi and Texas. Entergy has annual revenues of approximately $10.8 billion and nearly 13,000 employees.
-30-
entergytexas.com
Twitter: @EntergyTX
Facebook: Facebook.com/EntergyTX
---