News Center > Final North Louisiana Restoration Update
For Immediate Release
Final North Louisiana Restoration Update
05/13/2019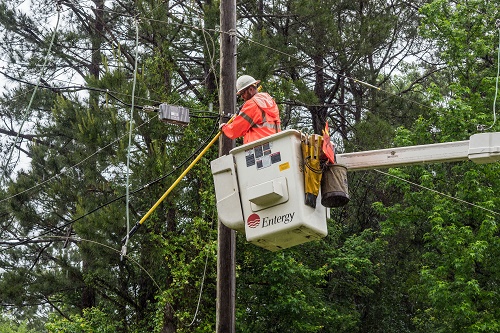 North LA Region
As of 5 p.m. Monday, May 13, Entergy Louisiana restoration crews have restored power to all customers who can accept it. Entergy crews remain in the area to assist with completing local service-related work, such as new installations, temporary disconnects and reconnects from storm damage and debris clean up. 
On May 8, a severe thunderstorm system began moving across much of North Louisiana causing more than 20,000 Entergy power outages.  High winds, lightning and vegetation debris downed power lines, damaged utility poles and equipment.
Customers who remain without power can make sure their home or business is ready for power to be restored by checking outside for damage to the electrical equipment attached to their home. If the meter or any of the piping and wires on the outside wall is missing or looks damaged, customers should contact a licensed electrician to make repairs. Entergy's Online Storm Center has information to help you identify damages.         
We greatly appreciate the understanding and patience of our customers as we worked to restore power across north Louisiana.
Information from us is available through many communications channels:
Download our free app for your smartphone at entergy.com/app.   
Sign up for text alerts. From your cellphone, text REG to 368374.
Visit the Entergy Storm Center website and our View Outages page.
Follow us on Twitter: @EntergyLA or Facebook.com/EntergyLA.
Call us at 800-9OUTAGE (800 968 8243).
Follow updates on local radio, television and newspapers.
---