News Center > More than 71,000 Outages Restored from 128,000 Peak
For Immediate Release
More than 71,000 Outages Restored from 128,000 Peak
04/15/2020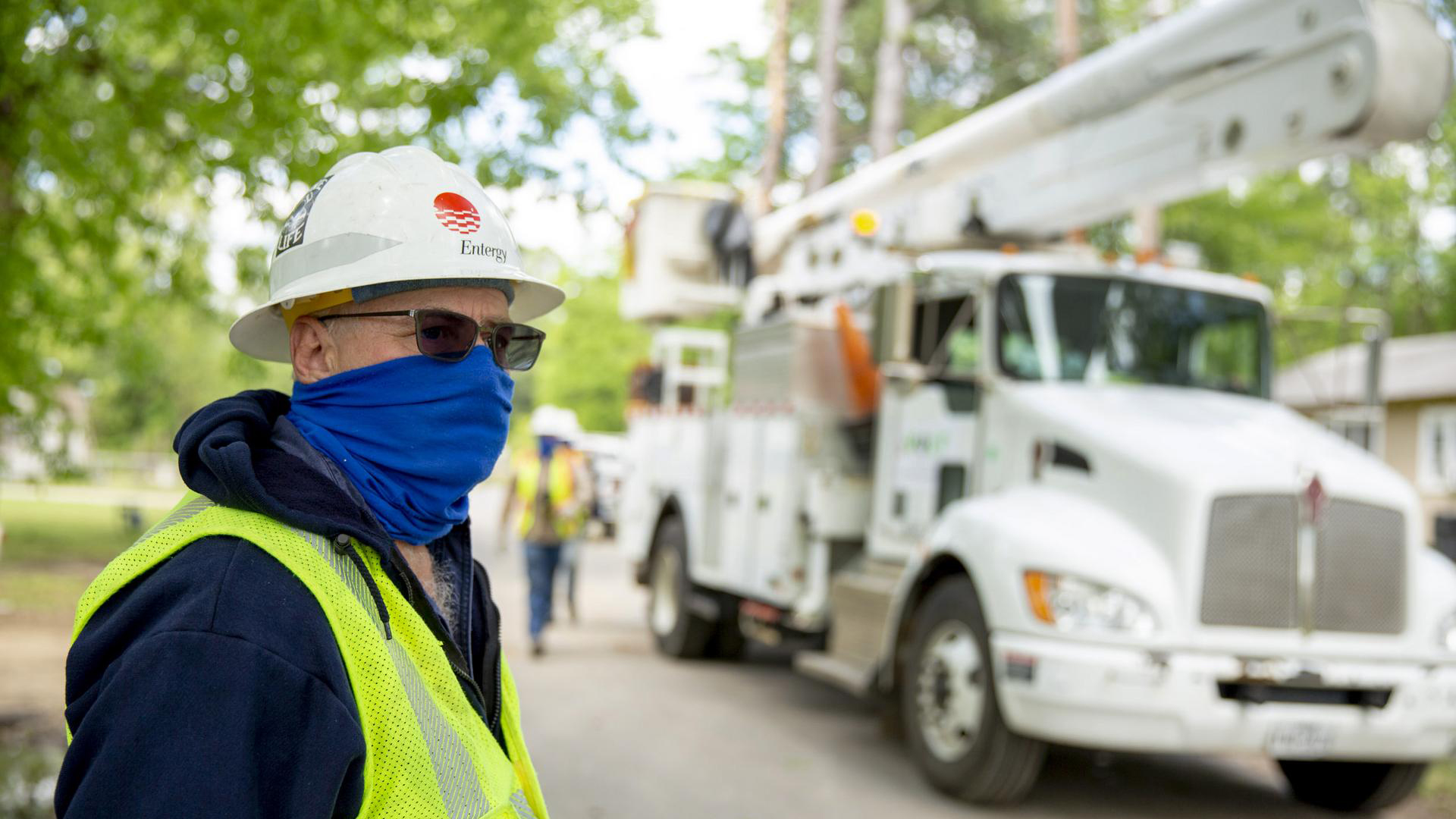 Entergy Arkansas has restored power to more than half of its customers who had outages from the storms late Easter Sunday and early Monday morning. About 57,000 outages remain, down from a peak of 128,000 during the severe thunderstorms. Total number of restoration workers is now over 2,600.
As work progresses, the company has provided more accurate estimates as to when power will be restored in various areas. Find that information by clicking the red bar at the top of the View Outage map, which is updated twice daily. Specific restoration times can be found by checking the location on the map. Restoration estimates range from today to late Friday for most customers who can take power, depending on the amount of work to be done in a given location.
Severe storms swept through the state Sunday and early Monday, causing widespread destruction. Much of the damage to the electrical system was caused by large trees being blown over, falling onto power lines and causing the most outages Entergy Arkansas has experienced since the 2000 ice storms. So far, crews have found more than 1,000 locations where electric system damage has occurred, including 1,130 poles and 200 transformers that need to be repaired or replaced.
"We appreciate our customers' patience and support and understand this is a difficult time. Sunday night's storm caused catastrophic damage across much of our southern service territory and getting things back to normal requires a massive effort," said Entergy Arkansas President and CEO Laura Landreaux. "Safety is our number 1 core value and the top priority for our crews and customers.  Please allow our linemen the proper social distancing space so they can focus on getting the lights back on as safely and quickly as possible."
When planning restoration work, Entergy Arkansas prioritizes public service facilities, such as hospitals, water treatment plants, police and fire stations and communication systems. The company does the work first that gets on the largest number of customers, then works its way down to the smaller circuits.
Due to COVID-19, workers are practicing social distancing, which has slowed progress to some degree.
Keep in mind that while you may not see crews working on your outage, they may be working on another part of the electrical system that you can't see but is needed to get power to you.
"We will provide regular updates on our progress," Landreaux said. "We work hard to get customers the latest information as it becomes available."
Customers can get updates on our restoration progress by visiting the Entergy's Storm Center. Other information, such as Entergy Arkansas' response to COVID-19 and other valuable resources can be found on the Entergy website.
Other ways to stay up-to-date include news media reports, social media, our smartphone app and text messages.
Customers who choose to use a generator to temporarily restore power should exercise caution and follow the guidelines below:
If customers choose to use a generator, they should buy one only from a reputable dealer who can service and maintain the unit.
Customers should always use portable electric generators in accordance with the manufacturer's instructions.
A gasoline engine usually powers stand-alone generators. Customers should use them only in well-ventilated areas. Never use a generator indoors as carbon monoxide from the exhaust is deadly.
If the generator has panel-mounted electrical receptacles as part of the unit, appliances may be plugged directly into the generator.
Customers must never connect a generator directly to a building's wiring without a licensed electrician disconnecting the house wiring from Entergy's service. Otherwise, it can create a safety hazard for the customer or Entergy's linemen working to restore power. And it may damage the generator or the house wiring.
Customers should use a licensed electrician to install the necessary equipment should they decide to wire a generator into their home wiring. The equipment should include a switch to transfer the power source between Entergy and the generator.
The generator should be properly sized for the expected load. For example, a 3-kilowatt generator will produce 3,000 watts. This is enough power for a 1,200-watt hair dryer and a 1,600-watt toaster, with some power left over for a few light bulbs. Customers should plan for additional needs when sizing their generator.
Customers should consider a generator's noise pollution as part of their buying decision. The noise may be obtrusive to neighbors without power.
Commercial customers should consult with an independent engineer or electrician to size the generator, modify wiring and provide for automatic transfer of power during an outage.
Customers should consult with suppliers, vendors and local electrical utility companies about required permits before starting any work in a home or business.
Entergy Arkansas provides electricity to approximately 700,000 customers in 63 counties. Entergy Arkansas is a subsidiary of Entergy Corporation (NYSE: ETR), an integrated energy company engaged primarily in electric power production and retail distribution operations. Entergy owns and operates power plants with approximately 30,000 megawatts of electric generating capacity, including nearly 9,000 megawatts of nuclear power. Entergy delivers electricity to 2.9 million utility customers in Arkansas, Louisiana, Mississippi and Texas. Entergy has annual revenues of $11 billion and approximately 13,600 employees.
-30-
Twitter: @EntergyARK
Facebook.com/EntergyARK
---