News Center > Northpoint Christian School Saves Green through Entergy Solutions Program
For Immediate Release
Northpoint Christian School Saves Green through Entergy Solutions Program
12/10/2015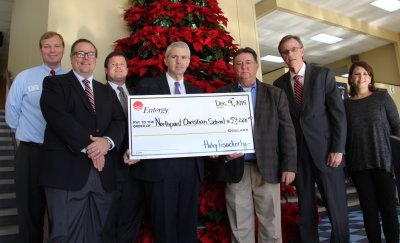 School receives rebate through the program, plus thousands in energy savings
SOUTHAVEN, Miss. -- Northpoint Christian School in Southaven has found a solution to its high energy bills, Entergy Mississippi's energy efficiency program -- Entergy Solutions!
The Commercial, Industrial and Governmental Prescriptive Program that Northpoint enrolled in provides "prescriptive" financial incentives and technical assistance to eligible customers seeking to improve their facilities' efficiency. It also promotes upgrades, such as higher-efficiency lighting and HVAC systems.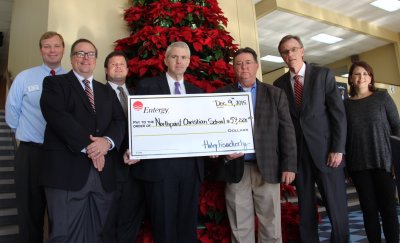 Their participation has paid off big for the educational institution, which got a $54,155 rebate from Entergy for participating. Even better, the school is saving money on its electric bill.
In addition to the financial savings and brighter classrooms, the school is reducing its environmental footprint by saving over 360,000 kilowatt hours, or 71 kilowatts, per year.
"Entergy Solutions is an effective answer for all of our customers wishing to save money on their utility bills," said Don Arnold, Entergy Mississippi customer service representative in Southaven. "By utilizing our Commercial, Industrial and Governmental program, Northpoint was able to afford upgrades that will allow them to save significant amounts of money for years to come."
Northern District Commissioner Brandon Presley added, "Seeing our classrooms getting the benefit of lower energy bills through this program is something I am thrilled to see.  The money saved in energy costs can now be applied elsewhere in the school, and this is exactly what the commission wanted to see when we passed our Energy Efficiency Rule over two years ago."
Entergy Solutions offers four additional programs for customers:
· Residential Lighting Program. Residential customers can buy a variety of high efficiency lighting products from area retailers at a reduced cost. Entergy is also partnering with community organizations to give free lighting products to low-income customers.
· The Residential Audit and Direct Install Program (READI).  This free program shows customers how to make their homes more energy efficient. It includes a home inspection, installation of energy-efficient products at no additional cost and information about other Entergy programs that can create additional energy efficiencies. Customers will also get a detailed report about their home's energy use with recommendations on how to further reduce usage.
· The Residential HVAC Equipment and Tune-up Program. This program provides customer incentives for eligible high-efficiency technologies. Incentives are offered in a prescriptive format. The program also offers tune-ups of existing A/C and heat pumps at a discount and at no cost for qualified low-income customers.
· Commercial, Industrial and Governmental Custom program. This program addresses technologies and installations not covered by the CIG Prescriptive program. It provides incentives and technical assistance for unique or complex site-specific applications.
Promotions and programs are available for a limited time and while supplies last. For more information, visit www.EntergySolutionsMS.com. Residential customers can also call 844-523-9980, while commercial customers can call 844-523-9979.
Entergy Mississippi, Inc. provides electricity to approximately 442,000 customers in 45 counties. It is a subsidiary of Entergy Corporation. Entergy Corporation is an integrated energy company engaged primarily in electric power production and retail distribution operations. Entergy owns and operates power plants with approximately 30,000 megawatts of electric generating capacity, including nearly 10,000 megawatts of nuclear power, making it one of the nation's leading nuclear generators. Entergy delivers electricity to 2.8 million utility customers in Arkansas, Louisiana, Mississippi and Texas. Entergy has annual revenues of more than $12 billion and approximately 13,000 employees.
-30-
entergy-mississippi.com
Twitter: @EntergyMS
facebook.com/EntergyMS
---