News Center > Outages Increase After Harvey Hits Golden Triangle
For Immediate Release
Outages Increase After Harvey Hits Golden Triangle
08/29/2017
Kacee Kirschvink
|
504-576-4132
|
kkirsch@entergy.com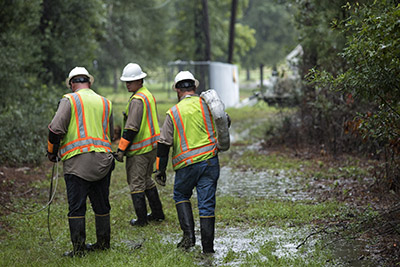 Entergy Texas restoration workers are using air boats, high water rescue vehicles and helicopters to access areas where catastrophic flooding caused by Harvey continues its destruction in Southeast Texas.
As of 12:30 p.m. more than 80,000 customers were without power – surpassing the peak outages of 41,000 experienced across the Entergy Texas region earlier this week. Counties with the most outages include Jefferson, Orange, Hardin, Montgomery, Chambers and Liberty.
Harvey's relentless six-day torment is expected to move out of Southeast Texas today, bringing better weather conditions for more than 2,600 restoration workers who are working to restore power system wide.
"Just because the rain is stopping doesn't mean customers are going to immediately get their power back on," said Vernon Pierce, vice president of customer service for Entergy Texas, Inc. "Unfortunately, the damage to our electrical system it is going to take time to rebuild – and in many areas, we still cannot access some of the hardest-hit areas due to extensive flooding.
"In our experience, it would normally take us about a week to restore outages caused by a tropical storm. But the extensive flooding combined with last night's damage prevents us at this time from estimating a time when we will restore power to all customers," Pierce added.
Of those without power in Texas, nearly 5,000 customers are without power either because flooding prevents Entergy from accessing their location or their power was disconnected due to safety concerns associated with the high water in their areas.
Customers who experienced flooding to their location can get information on the restoration process for their property can get information on how we restore power to flooded homes on the Entergy website. For the latest on outages and storm information, visit the Entergy Storm Center.
Entergy Texas, Inc. provides electricity to more than 440,000 customers in 27 counties. It is a subsidiary of Entergy Corporation. Entergy Corporation is an integrated energy company engaged primarily in electric power production and retail distribution operations. Entergy owns and operates power plants with approximately 30,000 megawatts of electric generating capacity, including nearly 9,000 megawatts of nuclear power. Entergy delivers electricity to 2.9 million utility customers in Arkansas, Louisiana, Mississippi and Texas. Entergy has annual revenues of approximately $10.8 billion and nearly 13,000 employees.
-30-
entergytexas.com
Twitter: @EntergyTX
Facebook: Facebook.com/EntergyTX
---