News Center > Overnight Storms Cause Severe Damage
For Immediate Release
Overnight Storms Cause Severe Damage
05/10/2019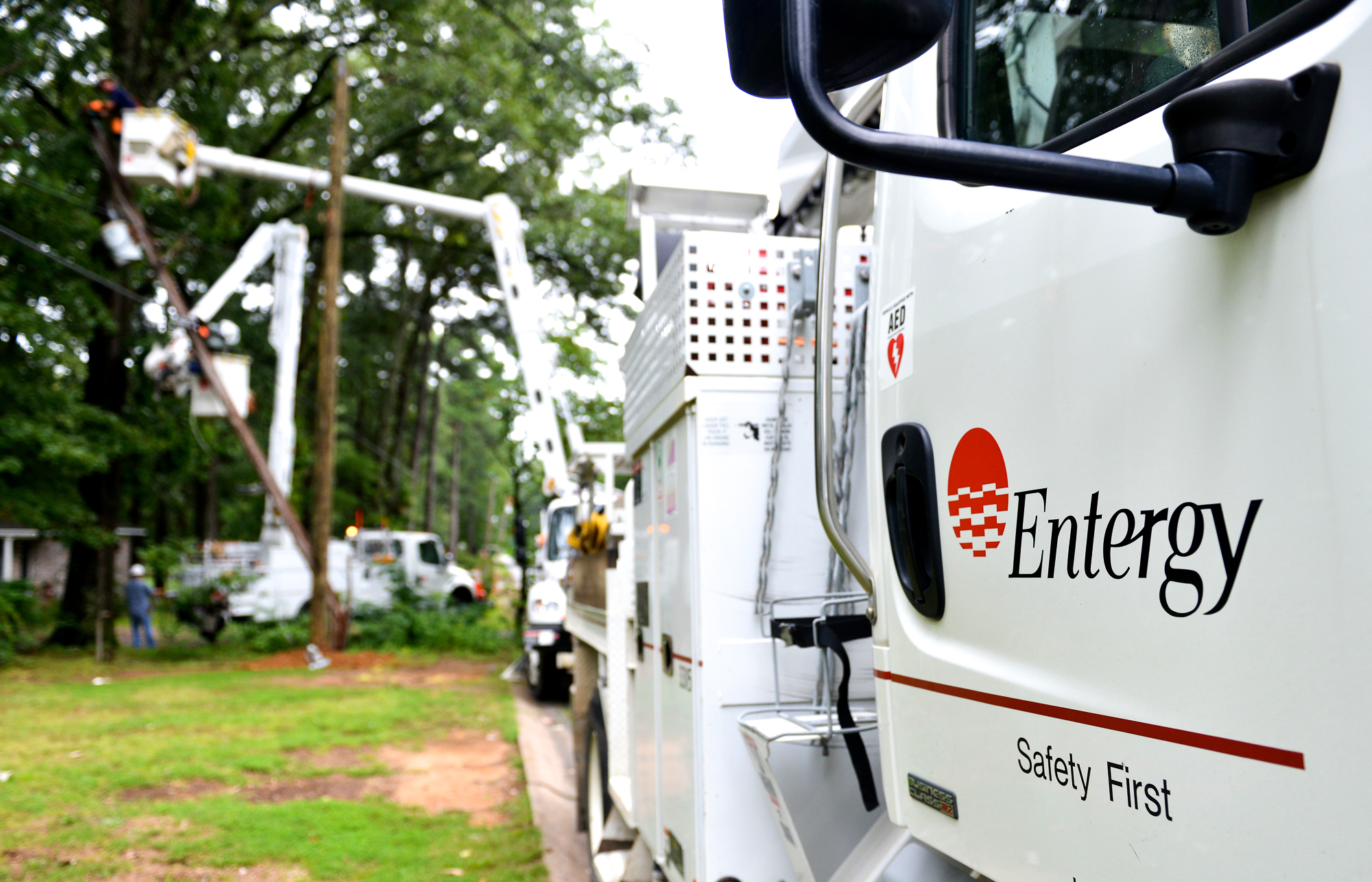 High winds and a deluge of rainfall from overnight storms wreaked havoc across the Entergy Texas service area.
As of 8:30 a.m. more than 47,000 Entergy Texas customers were without power. The number of outages steadily increased overnight, as excessive rainfall, continual lightning, heavy winds up to 60 miles per hour and large hail moved across Southeast Texas. More thunderstorms are forecast through Saturday, which could cause additional outages.
Crews are safely restoring power as quickly as possible, but the storm has damaged several high voltage transmission lines, which could take some time to repair. Customers are urged to stay away from power lines, even if they think the line is dead. Contact Entergy immediately to report the situation. For more emergency tips, visit the Entergy Storm Center.
"It's important to stay away from downed power lines because they may still be energized," Stuart Barrett, vice president customer service for Entergy Texas, Inc. "Downed power lines can be deadly. Customers should immediately report these conditions Entergy, regardless of whether they have an outage."
With the first reports of an outage, Entergy begins assessing the damage and then working to repair power lines as quickly as possible. The time it takes to restore service depends on the severity of the damage. Crews are currently assessing damage and will have estimated times of restoration when they have more information. Meanwhile, Entergy has requested mutual assistance from other utility companies, so help is on the way.
As we complete our assessment and continue restoration, we will keep you informed using the following channels:
Download our app for your smartphone at entergy.com/app.
Sign up for text alerts. From your cellphone, text REG to 368374.
Visit the Entergy Storm Center website and our View Outages Click the red bar at the top to get detailed information regarding storm restoration.
Follow us on Twitter.com/EntergyTX or Facebook.com/EntergyTX.
Follow updates in your local news media, like radio, television and newspapers.
Here are some things customers can do while power is off to make life more bearable:
Listen to a portable radio for updates on power restoration. 
Keep the refrigerator and freezer closed as much as possible. They will keep food cold for up to two days if doors are not opened and closed frequently. Covering the unit with a blanket or other insulating material will help retain the cold. In an extended outage, store food in an ice chest.
Disconnect or turn off major appliances that would go on automatically when power is restored, such as an electric furnace or heat pump, range, electric water heater or television set. When service is restored, there will be less chance of a circuit overload. Leaving a single light turned on will provide a signal of when an outage is over.
Don't plug a portable generator into a wall socket. The power can travel into power lines outside the house and hurt or kill someone, such as a child playing near a dangling power line or a lineman working to restore power.
If power comes back on at your neighbor's house but you are still without service, call 800-9OUTAGE again. You may have experienced a problem in addition to the one that affected your neighbor.
Restoration work can be dangerous. Stay a safe distance away from active work zones and restoration workers on the job. Entergy's first priority is the safety of the public and our emergency workers.
Please have patience. Our crews are dedicated to restoring service as safely and quickly as possible, regardless of the weather.
Entergy Texas, Inc. provides electricity to approximately 450,000 customers in 27 counties. Entergy Corporation is an integrated energy company engaged primarily in electric power production and retail distribution operations. Entergy owns and operates power plants with approximately 30,000 megawatts of electric generating capacity, including nearly 9,000 megawatts of nuclear power. Entergy delivers electricity to 2.9 million utility customers in Arkansas, Louisiana, Mississippi and Texas. Entergy has annual revenues of approximately $11 billion and more than 13,000 employees.
-30-
entergytexas.com
Twitter: @EntergyTX
Facebook: Facebook.com/EntergyTX
---