News Center > Pilgrim nuclear power plant returns to service after $70 million investment to boost safety and reliability
For Immediate Release
Pilgrim nuclear power plant returns to service after $70 million investment to boost safety and reliability
05/25/2015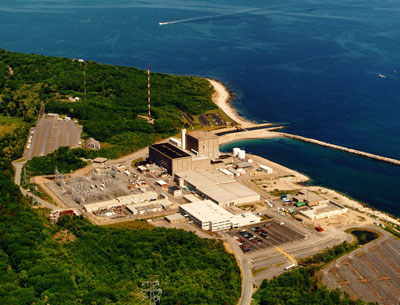 Plymouth, MA -- Entergy's Pilgrim Nuclear Power Station has returned to full service, renewed after a $70 million investment to upgrade, replace, overhaul and inspect hundreds of pieces of equipment that make the plant safer today than when it was built. Control room operators reconnected Pilgrim to the grid after a 35-day planned shutdown to renew components and replace fuel in the reactor.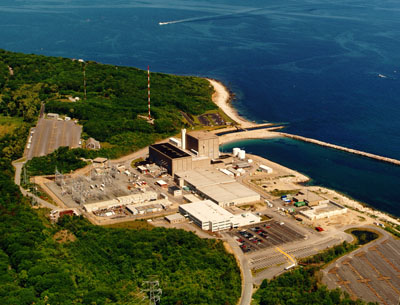 "Our 2015 refueling outage was a great success," said John Dent, the Site Vice President at Pilgrim. "Between months of planning and the careful execution of those plans made by our well-trained and professional employees, RFO-2015 will go down as one that not only resulted in a safer and more reliable plant, but  demonstrated the ability of the whole Pilgrim team to do a great job."
Nearly 2,000 employees, including 1,184 extra contract workers, performed hundreds of activities that can be done only while the unit is shut down. The major activities included replacement of a water heater, post-Fukushima upgrades and condenser boot seal replacements.
Workers also conducted hundreds of additional activities, including the maintenance and inspection of dozens of components important to the safe and reliable operation of the plant.
The supplemental workforce at Pilgrim also dramatically increased the plant's economic contributions to Plymouth and surrounding communities. "The extra employees we had on site during the off-season for tourists stayed in local hotels, ate in area restaurants and took in the sites and activities when they had free time," said Dent. "This added additional revenues to our local business community. It's an extra benefit Pilgrim provides every two years, and business owners really appreciate it."
The Pilgrim Nuclear Power Station, in Plymouth, MA generates 680 megawatts of nearly carbon free electricity, enough to power approximately 680,000 homes. During 2014, Pilgrim operated at 97 percent capacity. No other electric generation fuel source in New England came close to producing power as reliably.
Entergy Corporation is an integrated energy company engaged primarily in electric power production and retail distribution operations. Entergy owns and operates power plants with approximately 30,000 megawatts of electric generating capacity, including nearly 10,000 megawatts of nuclear power, making it one of the nation's leading nuclear generators. Entergy delivers electricity to 2.8 million utility customers in Arkansas, Louisiana, Mississippi and Texas. Entergy has annual revenues of more than $12 billion and approximately 13,000 employees.
Pilgrim's online address is www.pilgrimpower.com
Entergy's online address is www.entergy.com
Twitter: @PilgrimNuclear
Facebook:facebook.com/pilgrimnuclear
---