News Center > Reservoir Repairs Improve Dam Condition
For Immediate Release
Reservoir Repairs Improve Dam Condition
05/25/2015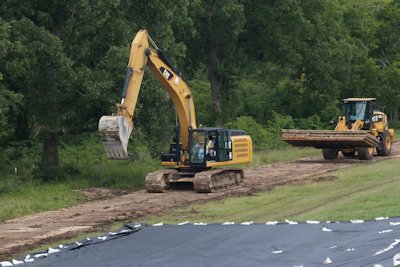 THE WOODLANDS, TEXAS -- As a result of the around-the-clock work on the Lewis Creek Reservoir dam, Entergy Texas President and CEO Sallie Rainer reported to Montgomery County officials today that the threat of a dam failure has substantially decreased, but has not been completely eliminated.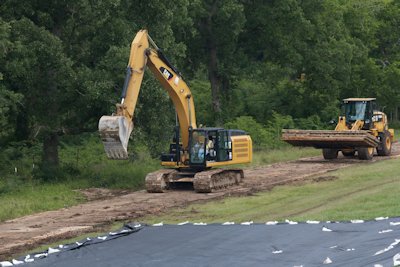 "While we cannot completely rule out further problems with the dam, the repairs we've made have put us in a much better place today than late last week," said Rainer. "We want residents to remain vigilant and prepare to act quickly, but conditions have improved daily."
Entergy Texas has taken a number of steps to repair and protect the dam from failure. More than 100 workers, in conjunction with Entergy personnel, installed more than 8,000 tons of limestone to help repair critical areas of the dam. In addition, protective coverings secured with almost 7,500 sandbags and almost 2,000 feet of Tiger Dams, which are water-filled, elongated flexible tubes, were put in place to protect the area from forecasted rainfall.
"We are grateful that less rain fell yesterday than predicted, allowing for more repairs to be completed," said Rainer. "However, we continue to keep a close eye on the weather as more heavy rain is predicted today. We have equipment and personnel on site to will respond to any issues. We will remain in close contact with emergency management officials to keep the public abreast of any changing conditions."
Lewis Creek units 1 and 2 were taken offline Saturday to allow continued reduction of the water level in the reservoir. Water levels were lowered to about two feet below normal before discontinuing the release of water.
Company officials and the Midcontinent Independent System Operator, system reliability coordinator for Entergy, confirmed that taking the units off line would not result in any immediate reliability issues for Entergy Texas customers.
Entergy Texas, Inc. delivers electricity to more than 430,000 customers 27 counties. It is a subsidiary of Entergy Corporation. Entergy is an integrated energy company engaged primarily in electric power production and retail distribution operations. Entergy owns and operates power plants with approximately 30,000 megawatts of electric generating capacity, including nearly 10,000 megawatts of nuclear power, making it one of the nation's leading nuclear generators. Entergy delivers electricity to 2.8 million utility customers in Arkansas, Louisiana, Mississippi and Texas.
-30-
Entergy Texas' online address is entergytexas.com
---