News Center > Southeast Texas Region Suffers Hurricane-like Damage
For Immediate Release
Southeast Texas Region Suffers Hurricane-like Damage
05/10/2019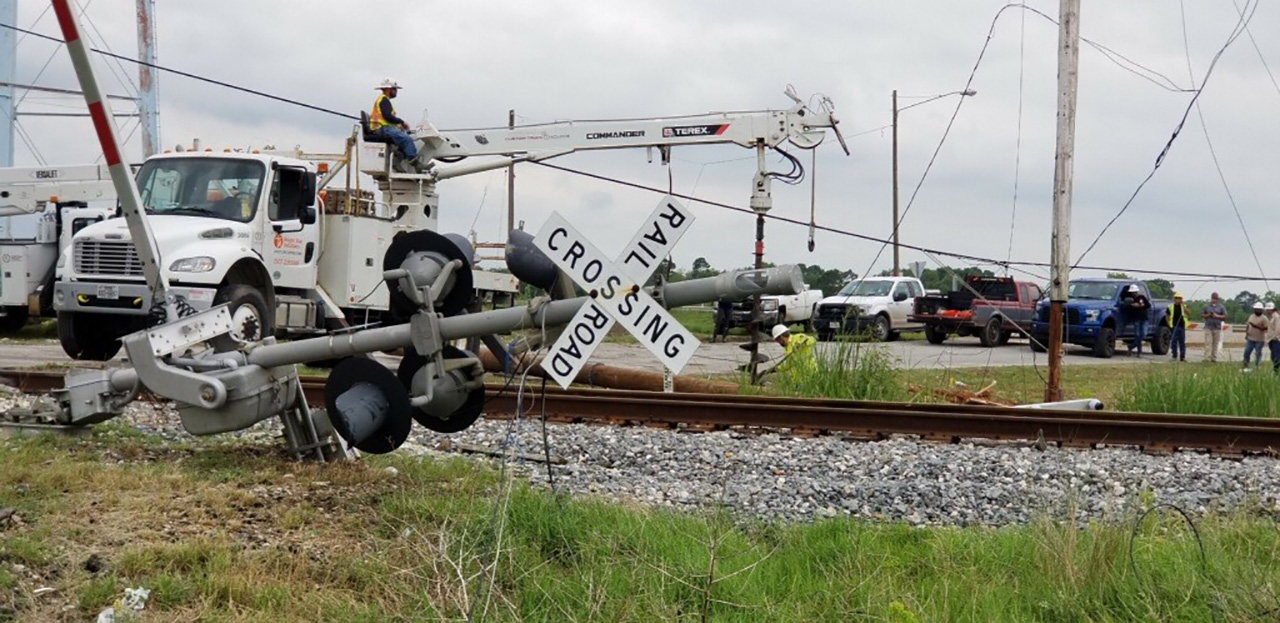 BEAUMONT, Texas – Entergy continues power restoration efforts following last night's storms, as near hurricane-force winds, severe lightning and flooding has caused massive destruction to the electrical system.
"The impact to our equipment in some areas is more consistent with damage we see following minor hurricanes rather than a typical thunderstorm," said Stuart Barrett, vice president of customer service for Entergy Texas, Inc.
Winds were reported at more than 70 miles an hour in some areas overnight, with most of the damage experienced in the Port Arthur, Mid County, Winnie, Orange, Vidor and Beaumont areas.
"Crews are continuing to restore power, and we expect all customers to be restored by Tuesday, said Barrett. "While we work to restore power, we are also closely monitoring another round of potential severe weather on Saturday night.
"We know how vital electricity is for our customers, and we are doing everything we can to safely restore it," Barrett added. "The amount of damage is significant, so we appreciate your patience, as our dedicated employees work as hard as they can to get the lights back on."
Crews have made significant progress around restoring outages today, restoring almost half of the number of customers who lost power overnight. As of 6 p.m. a little over 28,000 customers remain without power, down from more than 55,000 customers at 5:45 a.m.
A majority of the damaged high-voltage transmission lines are expected to be restored overnight, which is a major step in the restoration process.
More than 1,300 workers are working to return power to all customers. However, additional severe weather is expected through Saturday, which could delay restoration efforts and result in additional outages. Estimated times of restoration for all customers who can take power are as follows:
Orange, Vidor - 10:30 p.m. Saturday, May 11
Dayton – 8 p.m. Sunday, May 12
Winnie – 10 p.m. Monday May 13
Port Arthur/Mid County Network – 6 p.m. Tuesday, May 14
Beaumont – 6 p.m. Tuesday, May 14
Updates on individual outages by location are available via the Entergy outage map at entergy.com/viewoutages. A special storm information section also provides more detailed information by network location.
Here's the process we follow when restoring power:
When restoring service, safety is our key value and always comes first. Then, restoring power is the next order of business.
We restore power to critical community infrastructure and essential services such as hospitals, water treatment plants, police and fire stations and communication systems. Then we will concentrate our resources on what gets the greatest number of customers restored the fastest.
Please refrain from approaching utility workers at the job site because these can be dangerous locations and interruptions will slow their progress.
We are restoring service even as we continue assessing the damage to our system caused by this storm.
We know you want your power restored and have been hard at work doing so. As we restore power to critical services, we assess damage and put in place our restoration plan that will restore service to the greatest number of our customers as safely and quickly as possible.
Our scouts assess damage to determine the exact cause of your outage and how long it will take correct the problem.
In addition, you can make sure your home or business is ready for us to restore your power.
Check outside your home or business for damage to your electrical equipment.
If the meter or any of the piping and wires on the outside wall of your home or business is missing or looks damaged, call an electrician to make repairs.
Entergy Storm Center has information to help you know how to spot damages.
Entergy Texas, Inc. provides electricity to approximately 450,000 customers in 27 counties. Entergy Corporation is an integrated energy company engaged primarily in electric power production and retail distribution operations. Entergy owns and operates power plants with approximately 30,000 megawatts of electric generating capacity, including nearly 9,000 megawatts of nuclear power. Entergy delivers electricity to 2.9 million utility customers in Arkansas, Louisiana, Mississippi and Texas. Entergy has annual revenues of approximately $11 billion and more than 13,000 employees.
-30-
entergytexas.com
Twitter: @EntergyTX
Facebook: Facebook.com/EntergyTX
---