News Center > Southwest Steel Processing, LLC Newport Facility Reduces Electricity Consumption with Help from Entergy Arkansas
For Immediate Release
Southwest Steel Processing, LLC Newport Facility Reduces Electricity Consumption with Help from Entergy Arkansas
06/02/2015
New lighting uses less power.
Newport, Ark. -- Southwest Steel Processing, LLC in Newport earned $335,739 in rebates from Entergy Arkansas, Inc. in May 2015 for participating in a program that provides incentives for commercial and industrial customers to upgrade their facilities with more energy-efficient equipment.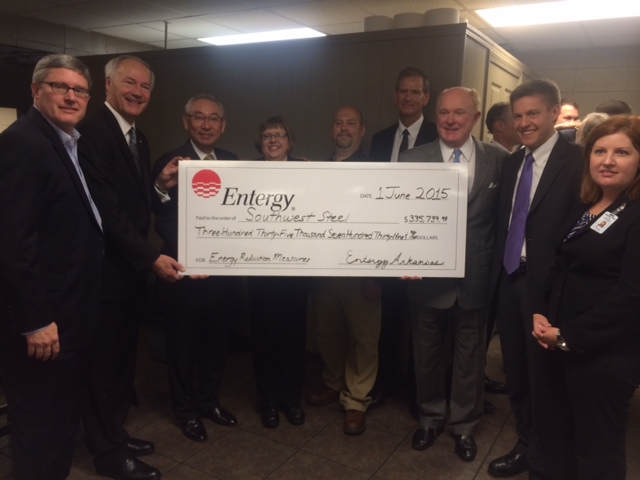 The check presentation was attended by (left to right) –Chris Murphy, Entergy Arkansas Business Development, Governor Asa Hutchinson, Tad Inami, President Arkansas Steel, Paula Sigman, Plant Manager Southwest Steel Processing, Daniel Baker, Maintenance Engineer Southwest Steel Processing, Ken Copeland, President Southwest Steel Processing, Edward Crawford, CEO Park-Ohio Holdings, Chris Direnzi, Capacity Energy Solutions, and Jennifer Diaz, Clearesult.
Improvements included installing over 800 more efficient light fixtures, and adding occupancy sensors. This single lighting project can save Southwest Steel an estimated $194,000 annually in electricity cost.
In addition to helping the customer save money, the upgrades are good for the environment. This project will save about 2.2 million kilowatt-hours of energy annually, avoiding about 1543 tons of carbon being put into the atmosphere. That's equivalent to removing 325 passenger vehicles from our roadways.
The Southwest Steel Processing project was made possible by a measure approved in 2011 by the Arkansas Public Service Commission. Known as the Entergy Solutions Program, the initiative accumulates a fund by adding $.00414 per kWh onto Arkansas large and commercial customers' energy bills. A portion of that fund is earmarked to be used as an incentive to large customers to replace inefficient equipment with more efficient equipment.
"Encouraging our customers to use electric energy efficiently is good for business and good for the environment," said Richard Smith, Entergy's manager of utility business development & support. "It makes electricity bills more affordable for the long-term and is a key component in our strategy for meeting customer demand for electricity. The presentation of this check today is tangible evidence that utilities, regulators, and customers are working together for the good of all Arkansans."
The Entergy Solutions program for large commercial and industrial customers is implemented for Entergy Arkansas by CLEAResult Consulting.
For more information about the program, click here. 
Southwest Steel Processing, LLC., which was formed as a partnership between Cleveland based Park-Ohio Holdings and Arkansas Steel, LLC., was built in Newport, Arkansas in 2002.  In 2003, they produced their first products in support of rail customers.  Southwest Steel supplies raw forgings or completely machined, heat treated, and assembled components.   They are a valued corporate partner of the Newport community.  They employ 120 people and they plan to hire an additional 100 people over the next 2 years.
Entergy Arkansas provides electricity to approximately 700,000 customers in 63 counties. Entergy Arkansas is a subsidiary of Entergy Corporation, an integrated energy company engaged primarily in electric power production and retail distribution operations. Entergy owns and operates power plants with approximately 30,000 megawatts of electric generating capacity, including more than 10,000 megawatts of nuclear power, making it one of the nation's leading nuclear generators. Entergy delivers electricity to 2.8 million utility customers in Arkansas, Louisiana, Mississippi and Texas. Entergy has annual revenues of more than $12 billion and approximately 13,000 employees.
-30-
entergyarkansas.com
facebook.com/EntergyARK
twitter.com/EntergyARK
---