News Center > Utility Crews Face Hazardous Conditions to Restore Power
For Immediate Release
Utility Crews Face Hazardous Conditions to Restore Power
03/05/2015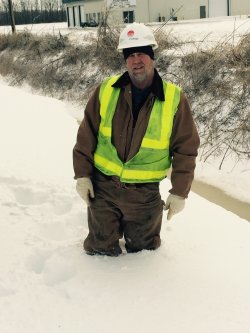 LITTLE ROCK, Ark. -- Entergy Arkansas Inc. is expected to complete restoration work Thursday less than 48 hours after a winter storm shut down much of the state. Crews faced some treacherous and frozen conditions to complete restoration work for customers who lost power as a result of a combination of ice, snow and freezing rain.
"Ice storms can cause extended outages and heavy damage to the electrical system. We are fortunate to have had a safe and relatively quick restoration process during this event and grateful to our very dedicated workforce that does some of their best work in very difficult circumstances," said Brady Aldy, vice president of customer service for Entergy Arkansas. "We hope to close the chapter on a very volatile winter weather season. However, we know that another arctic front is still possible and spring storm season is here. So, we want to reassure our customers that we will not let our guard down and will remain on alert and prepared to respond to whatever Mother Nature has in store for us."
The utility brought in additional resources Tuesday and Wednesday and positioned them around the state where the damage was expected to occur. Contractors from within the state as well as Texas, Louisiana, and Missouri also participated in the restoration.
Even when power has been restored, some customers may have to take steps to be able to take power. You can make sure your home or business is ready for us to restore your power.
- Check outside your home or business for damage to your electrical equipment. If you see damage to the house connection, the pipe that carries the wire to the meter or damage to the meter box that surrounds the meter, you may need to call an electrician. Do not use a ladder to make this inspection. Your electrician should be the one who makes a close inspection.
- Depending on damage to your home or business, an electrical inspection may be required before we can restore your service.
- Entergy Storm Center has information to help you know how to spot damages.
Entergy Arkansas provides electricity to approximately 700,000 customers in 63 counties. Entergy Arkansas is a subsidiary of Entergy Corporation, an integrated energy company engaged primarily in electric power production and retail distribution operations. Entergy owns and operates power plants with approximately 30,000 megawatts of electric generating capacity, including nearly 10,000 megawatts of nuclear power, making it one of the nation's leading nuclear generators. Entergy delivers electricity to 2.8 million utility customers in Arkansas, Louisiana, Mississippi and Texas. Entergy has annual revenues of more than $12 billion and approximately 13,000 employees.
-30-

entergyarkansas.com
@entergyark
---