Storm Center > Crews Turn to Cristobal Restoration Efforts in Mississippi
Crews Turn to Cristobal Restoration Efforts in Mississippi
06/08/2020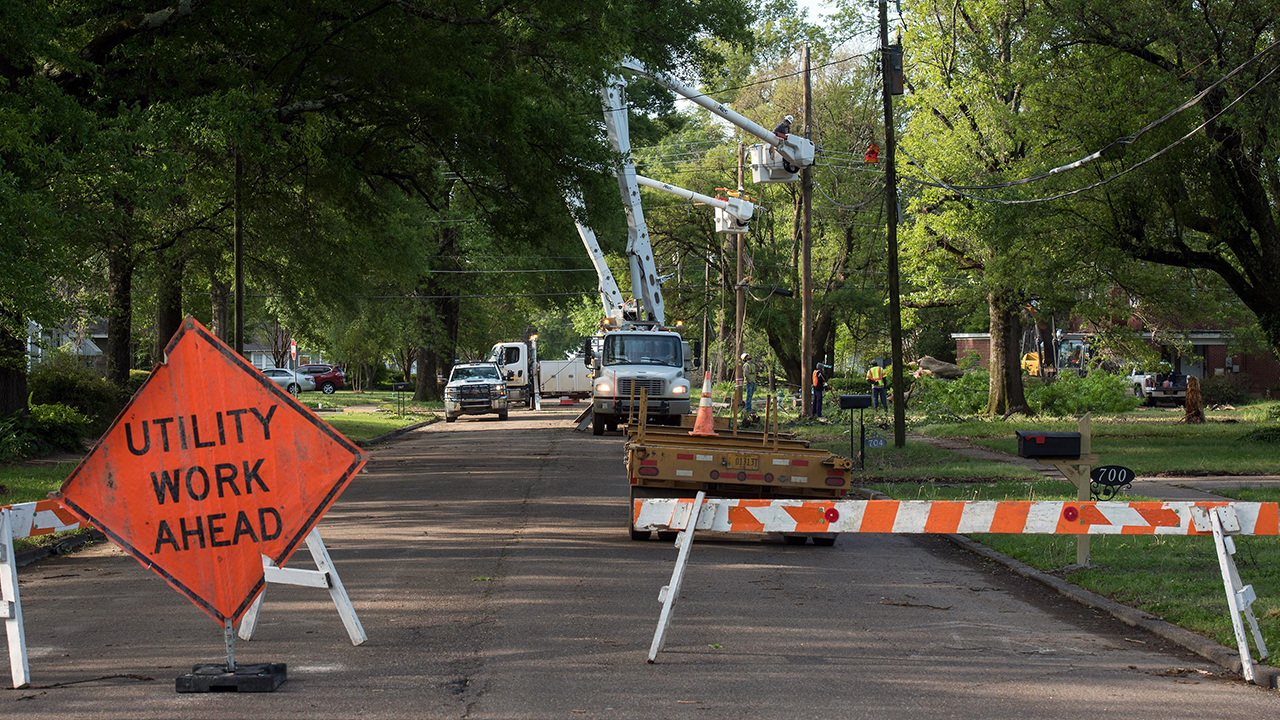 All customers affected by Friday, June 5 storms have been restored.
Tropical Storm Cristobal made landfall in southeastern Louisiana yesterday and continues to move across Entergy Mississippi's service territory. As of 8:15 a.m., Cristobal has caused power outages for about 12,100 customers. All customers affected by the thunderstorms on Friday, June 5 were restored yesterday before Cristobal began impacting our service territory.
We continue safely restoring power as quickly as possible to customers experiencing outages as a result of Cristobal. Crews are assessing damage and restoring power using our proven restoration plan. Our work occurs at the same time in multiple locations and progresses according to a plan that restores service to the greatest number of customers as safely and quickly as possible.
How We Restore
At this stage in restoration, essential services such as hospitals, nursing homes, fire and police departments, and water systems are at the head of the restoration list, along with our equipment that supplies electricity to large numbers of customers. Then we will concentrate our resources on getting the greatest number customers back the fastest.
If you don't see us working near you, keep in mind that we may be working on another part of the electrical system that you can't see but is needed to get power to you. Also, we can't use our bucket trucks until sustained winds are less than 30 mph, but we can still begin restoring service to customers by closing circuit breakers, rerouting power and other actions.
We understand it can be frustrating for you if you see trucks move away from an area before power is restored. Our work, however, must take place in a certain order, determined by how electricity flows to your neighborhood. Trucks and workers will return to your area as soon as possible to complete the restoration work.
It is important to remember that due to the added safety measures the company must take because of the ongoing pandemic, restoration times may be extended. Crews will continue to practice social distancing and we ask that customers do the same. For their safety and yours, please stay away from our work zones, which can be dangerous, and interruptions will slow our workers' progress.
The restoration process can also be hampered by the surge of instantaneous electrical demand from appliances (air conditioning, water heaters, etc.) when service is restored, potentially overloading protective devices on the electrical system. To reduce the impact of instantaneous demand, Entergy recommends if you lose power that you turn off any electrical appliances that can easily be turned to the off position until power is restored.
Safety Information
We urge customers to stay safe.  As with any weather event, please be mindful of the following safety tips:
Live wires can be deadly. There is no way to know if a downed line is energized or not, so if you see one, keep your distance and call 1-800-9OUTAGE (800-968-8243) to report downed or dangling power lines, poles or other damaged equipment.
You should also stay away from standing water and debris from trees and other vegetation. It may be electrically charged from underground or downed power lines.
Do not trim trees or remove debris on or near downed power lines. Only power company crews or their contractors should remove trees or limbs touching power lines.
Keep away from the immediate areas where crews are working. There is always the danger of moving equipment and the possibility of construction materials or limbs or overhead wires falling to the ground.
If you plan on using a generator for temporary power, get a licensed electrician and disconnect from the utility electric system before hooking up to your main electric panel. 
Do not run a generator in a confined space without adequate ventilation.
Stay Connected
We know you want to stay informed every step of the way about our response. Here is how you can get information.
Download our free app for your smartphone at entergy.com/app.
Sign up for text alerts. From your cellphone, text REG to 368374.
Visit the Entergy Storm Center website and our View Outages
Follow us on com/entergyms or Facebook.com/entergyms.
Call us at 1-800-9OUTAGE (1-800-968-8243).
Follow updates in your local news media, like radio, television and newspapers.
---