Storm Center > Drones help Entergy workers access hard-to-reach areas
Drones help Entergy workers access hard-to-reach areas
07/12/2022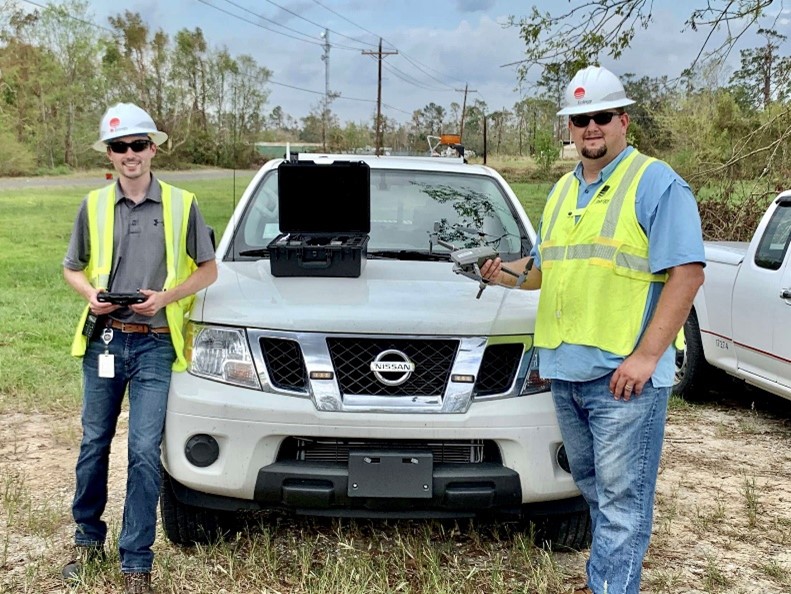 From forests to marshes to river crossings and urban areas, our crews face many obstacles when inspecting our lines. Our service territory is uniquely covered by a variety of environments that our teams work through to keep your lights on. The challenging thing – no two poles are the same. To combat this, our team uses specialized equipment to safely inspect hard-to-reach places.
For years, Entergy field personnel have been using drone technology to respond to issues after a storm passes. Outside of storm response, our drone pilots fly the lines to inspect for reliability issues. Teams use this data to help plan for vegetation management and equipment upgrades and maintenance.
In Mississippi, Zack Donnelly works with a team of 20 pilots who regularly inspect our system for hot spots, or areas that may be likely to fail. With that information, Entergy employees can do a better job of fixing problems before they cause outages.
"Drones allow us to quickly access an area and define the issue while keeping our field personnel safe," said Donnelly.
For Donnelly and his team to scout those hard-to-reach areas, they fly a drone roughly 200 feet into the air, while remaining in line-of-sight of the pilot, and the drone can instantly see what would take ground-based scouts many hours to cover. Faster scouting means faster restoration.
While Entergy continues to use helicopters to patrol transmission lines, drones are able to get up close for spot checks of distribution overhead equipment; they are even able to read the serial number off of a transformer, which is hung about 30 feet in the air. Before drones, one would have to either climb a pole or ride up in a bucket.
"This is an exciting time to be with Entergy," said Donnelly. "Technology is advancing rapidly at an exponential rate, and Entergy is positioning itself to utilize this technology to work smarter."
Entergy's drone pilots are trained professionals with a license through the Federal Aviation Administration. For your safety, and the safety of Entergy's equipment, do not fly drones near powerlines, substations or other electrical equipment.
---