Storm Center > Entergy Mississippi winter storm update – 2/2/23, noon
Entergy Mississippi winter storm update – 2/2/23, noon
02/02/2023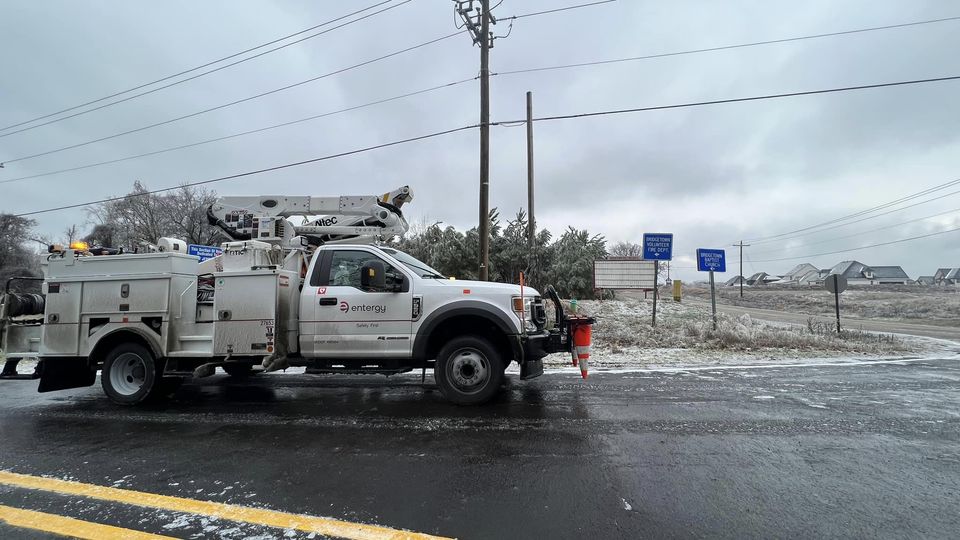 The latest wave of winter weather that rolled through Mississippi has left icy conditions in its wake and, as of 12 p.m., approximately 12,000 customers are without power in the northern portion of our service area. Hardest hit counties include DeSoto, Tate, Panola, Coahoma, Quitman and Bolivar, with scattered outages elsewhere in the region. Freezing rain will continue to fall in north Mississippi until noon and could create additional outages. Travel conditions are hazardous, which could slow restoration efforts.
We have crews available and equipped to respond to outages as quickly and safely as possible in all affected areas. We have also procured additional crews and resources to help with restoration efforts, including damage assessment scouts, vegetation crews, line workers, track equipment and more.
As soon as it is safe to begin working, our crews start turning the lights back on for our customers. Restoration efforts begin as scouts start assessing the storm's damage, and crews start needed repairs at the source and work outward. We will provide estimated restoration times on our View Outages map as they become available. For more on how the restoration process works visit Restoration | Entergy Storm Center (entergynewsroom.com)
In some instances, homeowners may have to make repairs before we can safely restore power. Some of the equipment attached to your home or business that is needed for us to deliver power to you belongs to Entergy and some belongs to the home or business owner. If you have storm damage, you must have a qualified electrician repair the damaged equipment belonging to you before we can restore your power. You may also need to have repairs inspected by a local authority before we can restore your power.
The equipment that you own includes:
the meter base, a metal box housing our meter and protecting your connections to it
attachment hardware
the pipe rising up from the meter base that protects the lines entering your home or business and the point where your lines connect to ours
the weather head that sits on top of the pipe. It contains the connection wires and is shaped like a hood, with the face pointing downward at an angle
For underground connections:
The riser conduit running into the meter base that protects the lines entering your home or business and the point where your line connects to ours.
---