Storm Center > Innovative financing method helps ease the impact of storm costs
Innovative financing method helps ease the impact of storm costs
08/12/2022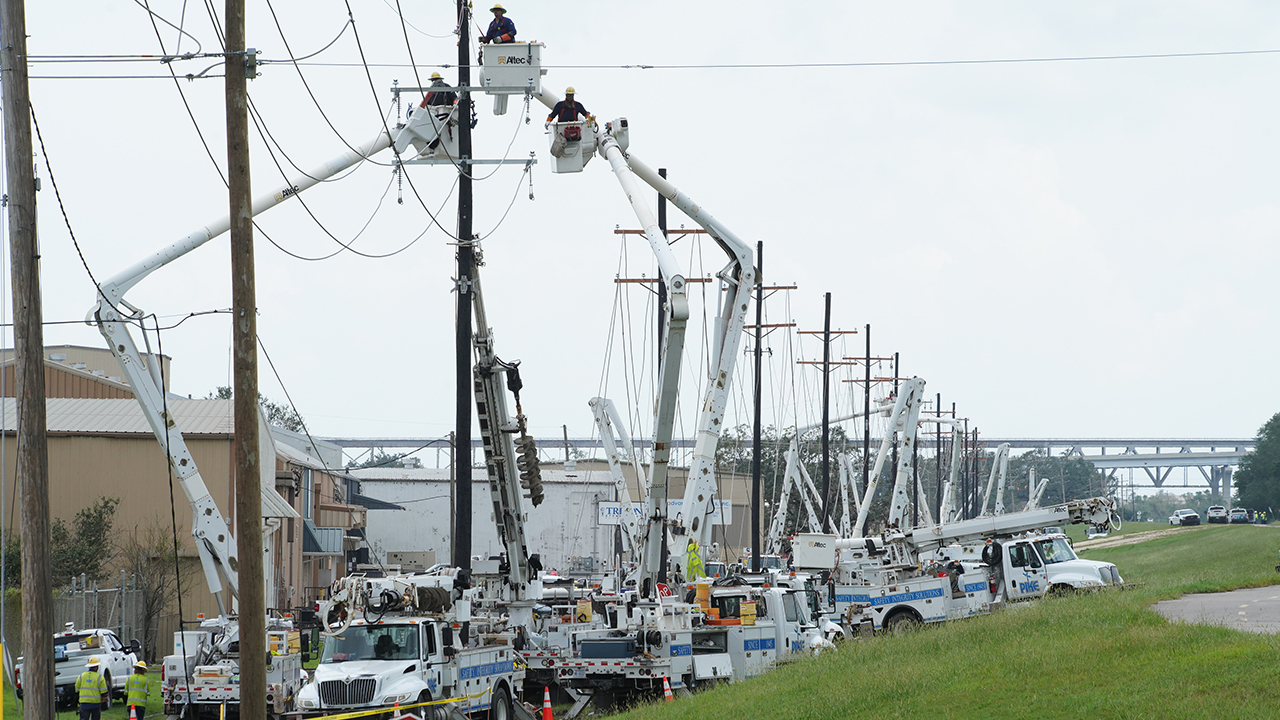 The last two hurricane seasons have shown that extreme weather events are impacting the Gulf Coast region more often and with more severity. And this means additional costs to repair and disruptions to our customers. In just the last few years, Entergy's service area has been impacted by multiple, more frequent, and intense severe storms, including hurricanes Laura and Ida; two of the strongest hurricanes to ever hit Louisiana.
Entergy Louisiana and Entergy New Orleans have an obligation to restore power to customers following any storm. The companies work with their regulating bodies, the Louisiana Public Service Commission and the New Orleans City Council, respectively, to recover all storm costs deemed to be prudent in the restoration.
And while we recognize the importance of providing services that are reliable and affordable, we also have advocated heavily for federal support similar to what is provided to electric cooperatives throughout the state. However, despite our advocacy efforts, Entergy has not received federal funding to date which would be used to reduce customer bills. In addition, neither company is eligible for reimbursement of storm costs through the Stafford Act, and insurance companies largely stopped providing coverage of electric infrastructure following Hurricane Andrew in 1992.
In the absence of receiving federal aid or insurance, we work closely with our respective regulators to ensure we are using the best method available to continue providing essential services and keep bills more affordable when it comes to storm recovery costs.
Today, we use a method called "securitization" to pay upfront for storm costs. Securitization allows us to take advantage of low-interest bonds to fund the recovery, and then we spread the costs over a repayment period of ~15 years. Spreading the costs over many years helps keep your bills lower than they would be if the full cost of the storm response were immediately added to your bills. In fact, securitization is expected to save customers significantly as compared with traditional utility financing methods, primarily because Entergy does not make a profit from storm costs and ultimately benefits customers.
Lower costs for customers through securitization
Securitization allows utilities to fund infrastructure investment at lower interest rates resulting in lower costs for customers. Securitized bonds have a significantly lower interest rate compared to if the companies borrowed money through a traditional utility financing process.
Arriving at securitization takes a lengthy and complex legal process that involves the companies, regulators and other parties.
These are the steps it takes to arrive at securitization, from weather impacts to the costs being added to customers' bills:
Entergy's service territory is impacted by major weather events.
Entergy pays to secure materials and resources to restore power.
Entergy files a request for recovery of the costs with its regulator.
The case goes through a thorough regulatory process that includes the review of expenditures.
The regulator makes the final decision on Entergy's filing, sometimes through mutual settlements.
Securitization bonds are marketed and issued
Storm costs are added as a line item on customers' bills.
No profits earned from storm recovery costs
Earlier this year, Entergy Louisiana received approval from the Louisiana Public Service Commission to finance the costs of 2020 hurricanes, the February 2021 winter storms and a portion of Hurricane Ida. That financing closed in May 2022 with an interest rate approximately 50% less than the rate of traditional utility financing, providing significant cost savings for customers. A charge to pay for the securitization bonds was recently added to Entergy Louisiana's bills labeled, Storm Restoration Charges.
In a June 24 filing with the New Orleans City Council, Entergy New Orleans summarized the costs incurred and efforts made to restore the electrical system after Hurricane Ida. The company is asking the city council to certify that storm restoration costs of approximately $170 million were prudently incurred and necessary to ensure the integrity of the system and reliable power delivery to residents of Orleans Parish. In addition, Entergy New Orleans is seeking the council's approval to issue $150,000,000 in securitized bonds to replenish Entergy's storm reserve, which was fully depleted following Hurricane Ida restoration efforts.
For both companies, the Storm Restoration Charges line item is calculated by multiplying a customer's usage by monthly rates (rate x kilowatt-hours). Since the amount of power a customer uses each month can vary, the Storm Restoration Charges line item can vary from month to month. This is why we encourage customers to take steps around their home to conserve energy as well as monitor their energy usage as ways to save money on their bills.
We're here to help you
We know that any increase on your bill has an impact, and that is why we have taken steps to recover storm costs in a least cost manner and advocate for federal funding so that, ultimately, we can continue providing you with affordable power. As part of that commitment, we are continuing to have conversations with stakeholders about the level and pace at which we upgrade the power grid. Although it is a long-term commitment, we understand the need to accelerate efforts to add resilience to the grid with the goal of avoiding costly storm restoration efforts in the future.
To ease the pain of higher energy bills, Entergy has implemented a series of measures to help residential customers, including:
Committing $10 million in shareholder donations applied to all Entergy utilities for bill payment assistance programs for residential customers, including The Power to Care fund.
Any incurred late payment fees for eligible residential customers, with a household income of $40,000 or less, will be credited back to the customer's account. Customers will need to complete an attestation form, which is still being finalized.
Credit card payment fees for all residential customers will be credited back to the customer's account.

If you're paying your bill with a credit card, you will be prompted to pay the convenience fee; however, any credit card fees (processed by payment processing vendors) for residential customers will be credited on your account.

Organizing employee volunteers to conduct energy efficiency and weatherization events in select neighborhoods.
For Entergy New Orleans customers only, a moratorium on disconnects has been implemented through Nov. 1.
More information on our enhanced programs and services to help residential customers, as well as customer resources and frequently asked questions, can be found at entergy.com/billimpacts.
For those struggling to pay their bills, we offer customers a number of assistance plans, including levelized billing, deferred payment arrangements and payment extensions. Customers can visit entergy.com/billhelp to find an option that best fits their needs.
---