Storm Center > Rain, wind and ice: Entergy crews brave every storm
Rain, wind and ice: Entergy crews brave every storm
03/18/2022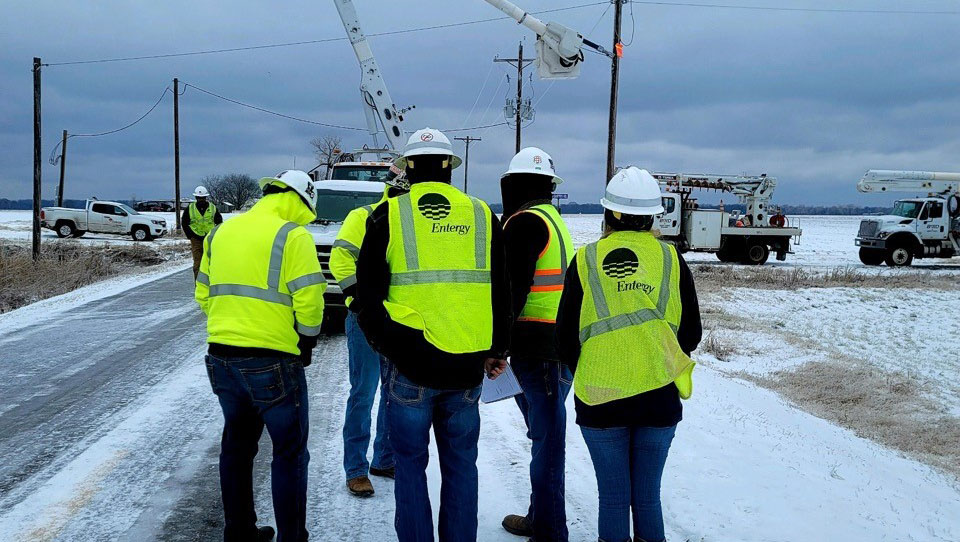 From finding yourself in a mess of mud in the middle of a Louisiana bayou to thawing out the door handle of your truck during an Arkansas ice storm, there are a wide range of challenges that Entergy lineworkers face during storm restoration.
These experiences are something that Ryan Price, Entergy New Orleans construction supervisor, can personally attest to, having worked through ice storms and hurricanes across Entergy's service territory as a lineworker and supervisor.
Answering the call for help, Price oversaw a contract crew that traveled more than 400 miles from New Orleans to Marion, Arkansas, to help restore power during a February ice storm.
"People always ask me why my crews have snow chains for our trucks in a city like New Orleans," Price said. "It's so that we're ready to hit the road and help out areas like Arkansas at any moment, no matter the weather at hand."
Snow chains, which help tires grip icy or snow-covered roads, are only the beginning for New Orleans crews adjusting to different equipment needed during a severe cold weather event. Louisiana lineworkers swap their normal work boots for ice cleats and pack thermal underwear along with as many layers of insulated outerwear that their luggage can afford. Price remarked that as a lineworker, he used to bring three bags of clothes just to be safe.
In February, Price and his team supported the restoration of Marion's power grid while facing 30 mph winds in 20-degree weather.
"You have to think of every last safety measure when working in such harsh conditions," Price said. "You have to have something to keep your head warm. The freezing wind dries out your face, so you need lotion. Everything's muddy, too, so you have to bring protective bibs."
Despite an emphasis on bundling up when working outside in the freezing weather, lineworkers are forced to take off restrictive extra layers when climbing utility poles. To safely finish a job, crews rotate frequently and take longer breaks in their warm trucks. They even set their extra sets of low- and high-voltage gloves on their truck dashboards next to heaters, so that they can change into new pairs when their hands start to feel numb.
Louisiana's lineworkers have a totally different environment to contend with for much of the calendar year when restoring power back home. Crews must brave extreme heat and humidity while wearing all the necessary fire-retardant clothing and protective equipment. They take periodic breaks in the shade to avoid heat exhaustion and drink plenty of water to stay hydrated. A restoration in the bayou could also mean coming face to face with an alligator, pelican or nutria.
From ice storms to hurricanes, Entergy's lineworkers are prepared to repair the power grid in this unique region.
"Every storm has its own personality, and every area presents its own challenges," Price said. "Our crews continue to step up and overcome each obstacle to turn the lights back on."
---