Storm Center > We Have More Than 4,000 Workers Restoring Power
We Have More Than 4,000 Workers Restoring Power
07/15/2019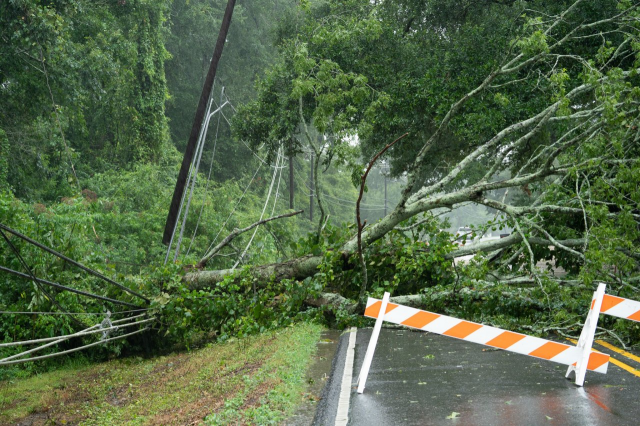 We've reached a point in recovering from Barry that can be very frustrating for you. The storm has nearly passed from our territory, yet power outages remain as we continue our restoration. We know you want to know when your power will be restored. We understand how difficult it is to wait for power so you can get your lives back to normal. We ask for your patience as we rebuild damaged infrastructure, including poles, wires, substations and major lines.
As of 8:30 a.m., we have 31,000 customers out of service in Louisiana, down from the peak of 89,000. Since Barry first started affecting Louisiana and causing additional outages, we have restored more than 269,000 customer outages as of 7 a.m. Monday.
We expect to complete our damage assessment within 48 hours. However, we don't wait until assessments are completed to begin restoring power in other areas that are ready to be safely restored.
We have more than 4,000 restoration workers restoring power and more coming, thanks to our mutual assistance agreements with utilities across the nation.
Customers may visit our mobile Customer Information Center from 8 a.m. to 7 p.m. today at Ellender Memorial High School southside parking lot, 3012 Patriot Drive, Houma, LA 70363.
We have faced several challenges in the Bayou Region, which includes Assumption, Lafourche, St. Mary and Terrebonne parishes. Challenges include inaccessible roadways due to high water, and high winds that kept us from using bucket trucks.
In the Greater Baton Rouge area, a significant portion of the damage is in the rear of residential lots. These repairs usually take more time, given the challenge of accessing those areas with our equipment and working on ground that is softened by excessive rain. Properties may be inaccessible by line trucks, so our crews will have to work out of pick-up trucks. If you don't see us working near you, keep in mind that we may be working on another part of the system that you can't see but that is needed to get power to you.
As we restore service in other parts of the state, we will reassign crews to areas still without power. Some may notice that neighbors have power even while they are still without. This could be caused by the two areas being served by different parts of the electrical grid, similar to circuit breakers providing power to separate sections of a home.
Here is what you can expect from us during the restoration:
We will provide regular updates on our progress. Stay in touch through the news media, social media, our smartphone app, text messages, outage maps on entergy.com and stormcenter.entergy.com, direct-to-customer outage updates and 800-9OUTAGE (800-968-8243).
If you don't see us working near you, keep in mind that we may be working on another part of the electrical system that you can't see but is needed to get power to you.
Do not approach utility workers at a job site. Our work sites can be dangerous locations and interruptions will slow our workers' progress.
It can be frustrating for you if you see trucks move away from an area before power is restored. Our work, however, has to take place in a certain order, determined by a restoration plan that takes into account how electricity flows to your neighborhood and prioritizes critical customers like hospitals. Trucks and workers will return to your area as soon as possible to complete the restoration work.
---