Storm Center > Entergy Mississippi Mobilizing Storm Team Ahead of Hurricane Delta
For Immediate Release
Entergy Mississippi Mobilizing Storm Team Ahead of Hurricane Delta
10/08/2020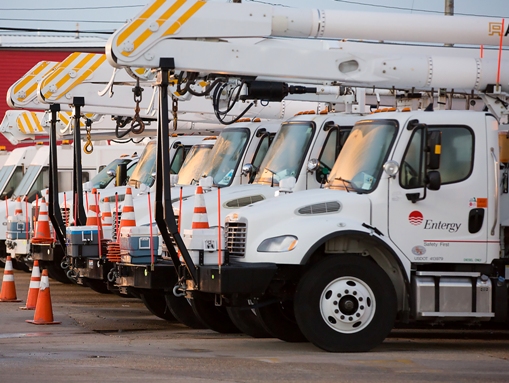 Storm expected to impact company's 45-county service area
JACKSON, Mississippi –Entergy Mississippi is preparing for severe weather due to Hurricane Delta, including damaging thunderstorms, heavy rains and high winds which may cause power outages throughout the company's service territory. The company is working to ensure it has the people and resources to respond to outages safely, while practicing social distancing measures needed during the COVID-19 pandemic. Crews will be ready to respond quickly and safely.
"We have to plan for the worst. We're going to be on the wrong side of this storm," said Robbin Jeter, Entergy Mississippi vice president of distribution operations. "If it continues to move further west, and we do not see significant impacts, we'll move into a support role and help out those affected in Louisiana and possibly Texas."
Entergy Mississippi has nearly 500 line workers, baseload contractors, vegetation workers and support personnel prepared to respond to any outages from the storm. The company has requested an additional 1,100 line workers, vegetation workers, damage assessors and support crews.
"We are ready to respond, and we encourage our customers to be prepared as well," said Jeter. "Please monitor local weather alerts, follow guidance from state and local officials, and have a plan in place that focuses on safety for you and your family."
Customers can find preparation and safety tips on the Entergy Storm Center at entergystormcenter.com.Understand that your planning may be different this year because of the need to protect yourself and others from COVID-19. The storm center site will also have updates throughout the event. 
Stay Informed
Here is the best way to get information about outages in addition to the View Outage application:
Download the Entergy app for your smartphone at com/app.
Sign up for text alerts by texting REG to 36778 and have your account number and ZIP code handy. The registration pattern is as follows including spaces: REG (account number) (ZIP code). Once registered, text OUT to 36778 to report an outage. You can also report an outage online as a guest.
Follow us on com/EntergyMSand Facebook.com/EntergyMS.
Follow updates in your local news media, like radio, television and newspapers.
Stay Safe
As with any weather event, please be mindful of the following safety tips:
Live wires can be deadly. Stay away from downed power lines. Call 1-800-9OUTAGE or 1-800-968-8243 to report downed or dangling power lines, poles or other damaged equipment.
Do not trim trees or remove debris on or near downed power lines. Only power company crews or their contractors should remove trees or limbs touching power lines.
Keep away from the immediate areas where crews are working. There is always the danger of moving equipment and the possibility of construction materials or limbs or overhead wires falling to the ground.
If you plan on using a generator for temporary power, get a licensed electrician and disconnect from the utility electric system before hooking up to your home main electric panel. 
Do not run a generator in a confined space without adequate ventilation.
Due to the COVID-19 pandemic, crews will practice social distancing while in the field, and Entergy asks that customers do the same. For the safety of crews and customers, please stay away from work zones. If there is a need to report a service problem, customers should call 1-800-ENTERGY. 
Entergy Mississippi, LLC provides electricity to approximately 450,000 customers in 45 counties. Entergy Corporation (NYSE: ETR) is an integrated energy company engaged primarily in electric power production and retail distribution operations. Entergy owns and operates power plants with approximately 30,000 megawatts of electric generating capacity, including 8,000 megawatts of nuclear power. Entergy delivers electricity to 2.9 million utility customers in Arkansas, Louisiana, Mississippi and Texas. Entergy has annual revenues of $11 billion and approximately 13,600 employees.
-30-
---