Storm Center > Widespread power outages caused by freezing rain
For Immediate Release
Widespread power outages caused by freezing rain
02/24/2022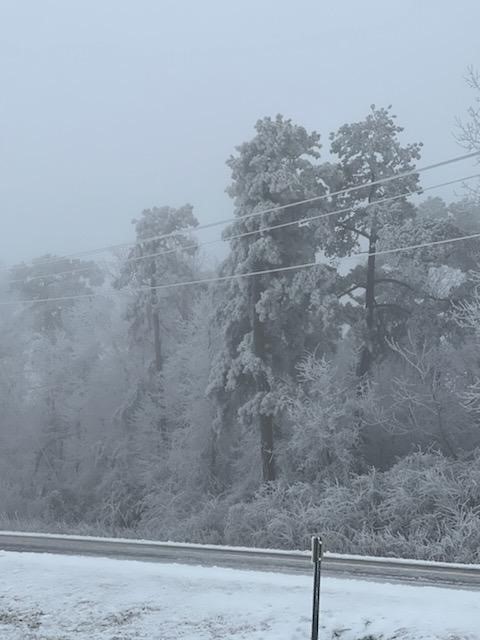 Entergy Arkansas customers can stay informed via outage map, app, text messages
LITTLE ROCK, Ark. – Entergy Arkansas crews and contractors numbering some 1,600 were working to restore power to more than 27,000 customers across the state Thursday morning, due to outages caused by freezing rain and winds. The number of outages will fluctuate and likely increase as the storm continues to bring additional precipitation. An additional 500 people have been requested outside the state to help restoration efforts, including transmission and distribution line workers, damage assessors, management, and vegetation crews.
Ice accumulations of one-quarter to one-half inch have been reported in some areas, with more expected throughout the day. Initial scouting reports indicate numerous poles and power lines are down or broken across the state. Customers are advised to keep their distance, as downed lines could still be energized and deadly.
Continuing freezing rain and wind can hamper efforts, along with wet and icy roads that can make travel hazardous for crews. Despite the conditions, scouting and assessment teams continue working to assess damages, and distribution and transmission crews are making repairs and restoring power where possible, with additional teams enroute to the most impacted areas. Teams will continue to work throughout the day to remove debris where necessary and initiate the safe restoration of power.
Although Entergy Arkansas manages growth of trees and bushes near electrical equipment, one half-inch of ice can increase the weight of a tree limb as much as 30 times, causing even smaller limbs to bend or snap, falling onto power lines and causing an outage. Wind coupled with freezing rain can also initiate galloping lines, which is the slow, "skipping rope" motion of power lines, which can create contact between lines and thereby cause outages.
Stay informed
Knowing how to communicate with Entergy Arkansas if you need help after a storm is important. There are several ways to receive information, and report outages and downed power lines:
Download our free app for your smartphone at www.entergy.com/app.
Sign up for text alerts by texting REG to 36778 and have your account number and ZIP code handy. The registration pattern is as follows including spaces: REG (account number) (ZIP code). Once registered, text OUT to 36778 to report an outage. You can also report an outage online as a guest.
Visit the Entergy Storm Center website and our View Outages During the storm and restoration, ETRs may not be available on the map but will be updated as information becomes available.
We are prepared
Entergy's employees plan and train year-round, ready to respond and restore power when extreme, unpredictable weather causes power outages and downed power lines. Our perpetual cycle of planning, preparation and training ensures we are Operation Storm Ready for every weather situation.
Safety After the Storm
Restoration in extremely cold conditions may take a little longer, as energizing homes requires a different and methodical process. Rather than simply energizing an entire power line all at once, we must bring customers back online one section at a time to avoid damage to our system thereby worsening the situation.
In the event power is lost at your home, customers are advised to turn off breakers to major appliances to prevent a spike in demand when power is restored. Turn them back on one at a time when your home is ready to receive power.
If you choose to use a generator, be sure to follow all manufacturer's guidelines for safe usage.
Stay Away from Downed Lines
One-half inch of ice can add 500 pounds of weight on power lines, as well as tree limbs which could then fall onto power lines and people. It's safest to avoid the area near ice-laden power lines and tree limbs; however, if you see downed or low-hanging lines, stay away, and call 1-800-9OUTAGE to report them.
About Entergy Arkansas
Entergy Arkansas provides electricity to approximately 722,000 customers in 63 counties. Entergy Arkansas is a subsidiary of Entergy Corporation, an integrated energy company engaged in electric power production, transmission and retail distribution operations. Entergy delivers electricity to 3 million utility customers in Arkansas, Louisiana, Mississippi and Texas. Entergy owns and operates one of the cleanest large-scale U.S. power generating fleets with approximately 30,000 megawatts of electric generating capacity, including 7,000 megawatts of nuclear power. Entergy has annual revenues of $10 billion and approximately 12,500 employees. 
CUTLINE 
Freezing rain and ice accumulations on trees and power lines like that on Arkansas Highway 5 near Mountain View are causing widespread outages across Entergy Arkansas service areas.
---