Entergy Crews Repairing Extensive Damage Caused by Violent Storm System
04/27/2015

CONTACT
Mike Burns
(504) 576-4132
mburns@entergy.com
Charlotte Cavell
(504) 576-4132
ccavell@entergy.com
Customers Urged to Remain Vigilant and Prepared for Extended Outage
NEW ORLEANS -- Entergy crews are out in force working quickly to restore power following the violent chain of storms that struck Louisiana Monday, causing severe damage to Entergy's grid and knocking out power to approximately 176,000 customers across the state.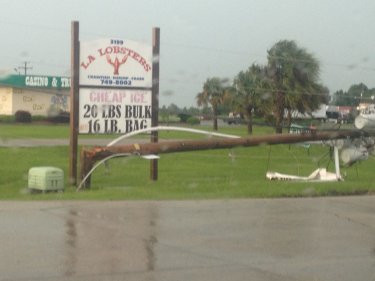 Crews were continuing to assess the widespread damage and restore power to critical infrastructure Monday.  As of 7 p.m. Monday, power had been restored to approximately 52,000 customers.
Crews are repairing damage left by a strong line of storms that packed strong wind gusts, tornadoes, large hail and frequent lightning strikes. There were reports of tornadoes in the Belle Chasse and Labadieville areas. A wind gust of 70 miles per hour was recorded at New Orleans' Louis Armstrong International Airport.
The high winds downed numerous trees and power lines across a broad geographical area, with the Baton Rouge and New Orleans metro areas among the hardest hit regions. The Lafayette and southwest Louisiana areas also sustained a significant amount of damage. Additional resources are arriving Monday night through Tuesday to assist in the storm recovery work.
With more severe weather expected Monday night, Entergy estimates that it may be up to 24 hours or longer before power is restored for some customers in Tangipahoa, St. James and St. John parishes.
Customers in the hardest hit areas of Orleans, Jefferson, St. Charles, St. John, St. Bernard, Assumption, Lafourche, Plaquemines, Ascension, East Baton Rouge, East Feliciana, Iberville, Livingston, Pointe Coupee, West Baton Rouge and West Feliciana parishes should prepare for outages of up to 48 hours, with some lasting up to 72 hours.
Affected customers in the Lafayette area should prepare for outages lasting up to 24 hours, while affected customers in the Jennings area should have power restored by noon Tuesday. In the Lake Charles and Sulphur areas, all customers who can accept power should have it restored by 10 p.m. Monday.
"This fast-moving storm caused a tremendous amount of damage to our system across a large part of our service area, but we have all available personnel working safely to restore power as quickly as possible," said Dennis Dawsey, vice president of customer service.
Where to get info
Customers are encouraged to download Entergy's mobile app at http://entergyapp.com/ to access outage maps and information. In addition, storm-preparedness tips and online services are available to customers through "Entergy Storm Center," "myAccount" and "View Outages." Through myAccount, customers can sign up to send and receive text information about power outages at their homes and businesses through their cellphones. Registration is easy.
Safety
Please be mindful of the following:
· Live wires can be deadly. Stay away from downed power lines. Call 1-800-9OUTAGE (1-800-968-8243) to report downed or dangling power lines, poles or other damaged equipment.
· Don't trim trees or remove debris on or near downed power lines. Only power company crews or their contractors should remove trees or limbs touching power lines.
· Keep away from the immediate areas where crews are working. There is always the danger of moving equipment and the possibility of construction materials or limbs or overhead wires falling to the ground.
· If you plan on using a generator for temporary power, get a licensed electrician and disconnect from the utility electric system before hooking up to your home main electric panel.
· Do not run a generator in a confined space without adequate ventilation.
· Try to stay off the roads. More traffic in bad weather leads to more accidents, including more injuries and fatalities as well as accidents that can damage electrical poles and other equipment, creating outages and impeding crews' ability to access and repair damage and slowing restoration.
Residents with damage to customer-owned equipment -- such as the meter base, external breaker box or weather head -- will need an electrician to make repairs before power can be restored to their property.
Entergy reminds customers to stay away from downed power lines. Report them by calling 1-800-9OUTAGE. For real-time progress on restoration work see the View Outages feature at entergy.com.
Entergy's Louisiana utility companies provide electric service to more than one million customers through the operating companies Entergy Louisiana, LLC and Entergy Gulf States Louisiana, L.L.C. and natural gas service to nearly 93,000 customers in the greater Baton Rouge area through Entergy Gulf States Louisiana. With operations in southern, central and northeastern Louisiana, the companies are subsidiaries of Entergy Corporation.
Entergy New Orleans, Inc. is an electric and gas utility that serves Louisiana's Orleans Parish. The company provides electricity to more than 171,000 customers and natural gas to some 105,000 customers. Entergy New Orleans is a subsidiary of Entergy Corporation.
Entergy Corporation is an integrated energy company engaged primarily in electric power production and retail distribution operations. Entergy owns and operates power plants with approximately 30,000 megawatts of electric generating capacity, including nearly 10,000 megawatts of nuclear power, making it one of the nation's leading nuclear generators. Entergy delivers electricity to 2.8 million utility customers in Arkansas, Louisiana, Mississippi and Texas. Entergy has annual revenues of more than $12 billion and approximately 13,000 employees.
-30-
entergylouisiana.com
facebook.com/EntergyLA
Twitter: @EntergyLA
entergyneworleans.com
facebook.com/EntergyNOLA
Twitter: @EntergyNOLA
###