CONTACT
Debi Derrick
dderric@entergy.com
Entergy Texas VP Earns Recognition from LATINA Style Inc.
The Woodlands, Texas–02/09/2015

Deanna Rodriguez, vice president, regulatory and public affairs, Entergy Texas, Inc., was recognized for her excellence in leadership at the 12th Annual LATINA Style Awards Ceremony & Diversity Leaders Conference in Washington, D.C. Feb. 5.

This year, the event recognized 11 Latina executives for their leadership, commitment to the community, and business acumen. Each has been selected by their peers as true leaders and examples for the Hispanic community.

Rodriguez was nominated for the honor by Sallie Rainer, president and chief executive officer of Entergy Texas.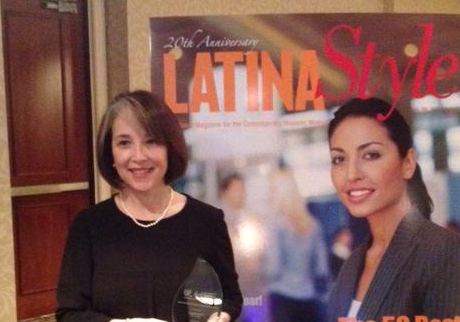 "We are fortunate to have Deanna as a member of the Entergy Texas leadership team," Rainer said. "I can personally attest to her tremendous contributions to Entergy as well as the impact she makes in the community which are excellent examples of what true leadership is all about.

Rodriguez is an 18-year veteran at Entergy, having worked at both corporate and state roles. She has served as Entergy Texas' vice president of regulatory and public affairs since 2012, a role in which she is responsible for building and enhancing relationships with government officials throughout the state. She is also responsible for all regulatory and governmental affairs involving the Public Utility Commission of Texas and state government.

Rodriguez came to the role from a post as vice president of regulatory affairs for Entergy New Orleans, Inc. She has also served as director of external affairs for Entergy Corp.,    Positions held outside of Entergy include associate vice chancellor of community relations for the University of Texas System and minority affairs liaison for the State Bar of Texas. Currently, her community and board service includes the Texas Association of Women in Energy, The Austin Area Research Organization and the Congressional Hispanic Caucus Institute Advisory Council.

She holds a master's degree in public affairs from the Lyndon B. Johnson School of Public Affairs at the University of Texas at Austin where she also earned her bachelor's degree.

Entergy Texas, Inc. delivers electricity to more than 426,000 customers in 27 counties. It is a subsidiary of Entergy Corporation. Entergy is an integrated energy company engaged primarily in electric power production and retail distribution operations. Entergy owns and operates power plants with approximately 30,000 megawatts of electric generating capacity, including more than 10,000 megawatts of nuclear power, making it one of the nation's leading nuclear generators. Entergy delivers electricity to 2.8 million utility customers in Arkansas, Louisiana, Mississippi and Texas.

-30-

entergytexas.com
Twitter: @Entergytx
Facebook: Facebook.com/Entergytx
###