National Lineman Appreciation Day Observed April 18; Entergy Arkansas recognizes the hard work and dedication of its line workers
04/18/2016

LITTLE ROCK, Ark. – Entergy is marking a special day Monday, April 18, when it honors its frontline workers on National Lineman Appreciation Day. The designation was established by the U.S. Senate in 2013 in recognition of those who work tirelessly to keep the lights on in our communities.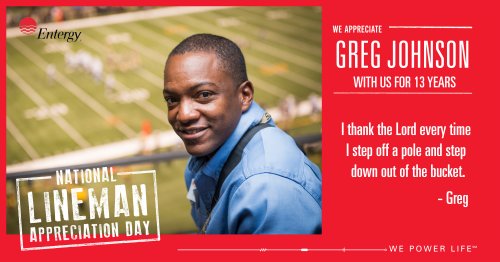 "We have a motto at Entergy that simply says, 'We power life,'" said Oscar Washington, vice president of customer service for Entergy Arkansas, Inc. "It's one we believe in, but also one we know we wouldn't be able to live by if not for the highly skilled workforce that every day tends to the many facets of our electrical system."
The electrical grid has been described as the largest and most complex machine ever made. It takes a highly specialized set of skills to keep that machine running, and it takes serious dedication to do so 24/7. Entergy Arkansas linemen, along with contract line workers, construct, operate and maintain equipment and more than 43,587 miles of transmission and distribution lines that deliver electricity to our more than 700,000 customers.
"Entergy Arkansas linemen work hard to ensure customers have safe and reliable power they need to run their lives and businesses. But even beyond serving their electricity needs, the work they do lifts the communities that we serve. Thank you to each and every Arkansas lineman for your commitment to excellence," Washington said.
To participate in honoring line workers and their families, use the hashtag #thankalineman in social media.
Entergy Arkansas provides electricity to approximately 705,000 customers in 63 counties. Entergy Arkansas is a subsidiary of Entergy Corporation, an integrated energy company engaged primarily in electric power production and retail distribution operations. Entergy owns and operates power plants with approximately 30,000 megawatts of electric generating capacity, including nearly 10,000 megawatts of nuclear power. Entergy delivers electricity to 2.8 million utility customers in Arkansas, Louisiana, Mississippi and Texas. Entergy has annual revenues of approximately $11.5 billion and more than 13,000 employees.
-30-
entergyarkansas.com
@entergyark
Facebook.com/EntergyARK
###