Storm Center > 1994 ice storm sets stage for new era in storm response
1994 ice storm sets stage for new era in storm response
04/11/2023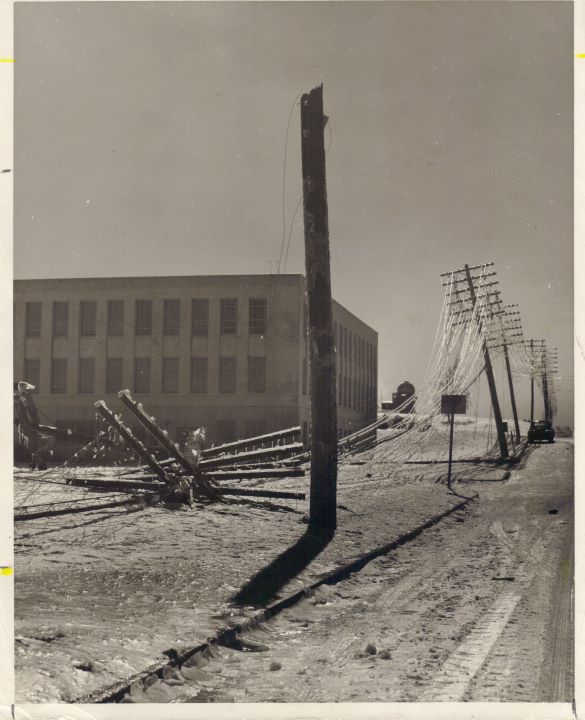 In February 1994, an ice storm struck a large portion of the Mississippi Delta, becoming the most destructive weather event Entergy Mississippi had experienced to that point. In terms of storm planning and preparation, it became a watershed event that helped Entergy more effectively manage the next major storm—Hurricane Katrina in 2005. 
After 1994, Entergy started transitioning to a more centralized approach to storm response that included leveraging resources across the company's four-state area to accelerate service restoration. 
"We learned to think outside the box in '94, because what was in the box wasn't going to help our customers in an acceptable timeframe," said retiree Jim Hedges, who at the time was the local office manager in Indianola. "Getting supplies we needed to rebuild the electrical system was critical in restoring service safely and sooner than we originally expected—it took 11 days to restore power, and there were areas where it was far shorter." 
Entergy Mississippi has battled many ice storms throughout our history. In fact, a 1951 ice storm was the company's first major weather-related outage event.
"Ice storms are difficult because there's a small fraction of an inch between an annoyance and a catastrophe," Hedges said. "What we had in '94 was far more than a fraction-of-an-inch bad—it was three-quarters-of-an-inch bad. It was beyond anything you'd normally get in a typical ice storm."
Half-inch equals 500 pounds
A half-inch accumulation of ice on power lines can add 500 pounds of extra weight. Hedges said that fact was evident the morning after the ice storm hit: In Indianola and Cleveland, a total of 17 transmission lines were on the ground. 
"Our transmission structures fell like dominoes because they were fighting the weight of the ice," he said. "If one failed, it took down the lateral support it gave to the next structure, and they'd all go down in a row. That much damage to the transmission system means it's going to take a great deal of effort to get the lights back on again."
Fortunately, most roads were in passable condition, which allowed Entergy Mississippi crews and mutual assistance workers to mobilize. The biggest challenge was figuring out how to acquire, stage and distribute vast amounts of materials needed to rebuild and repair the electrical system. 
After contacting suppliers throughout the state and region with urgent appeals, employees were able to get material shipments expedited to the Delta. In the meantime, Mississippi Delta Community College in Moorhead agreed to provide space for a large storage yard on campus for poles, crossarms, transformers, wire and other supplies and equipment.
While safely restoring power was the priority, Entergy Mississippi also recognized the need to keep customers informed about the progress of restoration efforts. Since many telephone lines were out, the company worked with radio stations to provide updates and made sure local offices remained accessible to customers.
"We never closed our doors. Customers were able to come into the front door and ask questions or share information," Hedges said. "There were some utilities that locked their front doors because they were overwhelmed by customer requests for information. We didn't think that was a satisfactory response, and we tried to get information out to customers as much as possible. I was also constantly in touch with mayors of affected towns in my area."
Experiences translate to improved response
Hedges applied the same approach in McComb, where he was working 11 years later when Katrina struck. Hedges and other customer service managers used routine community meetings and radio programs to provide restoration updates, address concerns and dispel rumors. Many local offices also operated as customer information centers.
By the time Hedges retired in 2018 after 38 years of service, he had worked through some of the largest restoration efforts in company history. While they were trying times, he said they also highlighted the resilience, determination and commitment of employees.
"There's something about being part of a massive effort, where everyone is working in sync and with laser-like focus," Hedges said. "I've always relished the fact that we never took outages for granted. Employees went all out and did what needed to be done to safely restore service. All eyes were on the prize—getting the last customer back on. Those were very memorable and uplifting experiences."
---