Storm Center > Crews Making Progress in Bringing Power Back to Ida-ravaged Areas
Crews Making Progress in Bringing Power Back to Ida-ravaged Areas
09/02/2021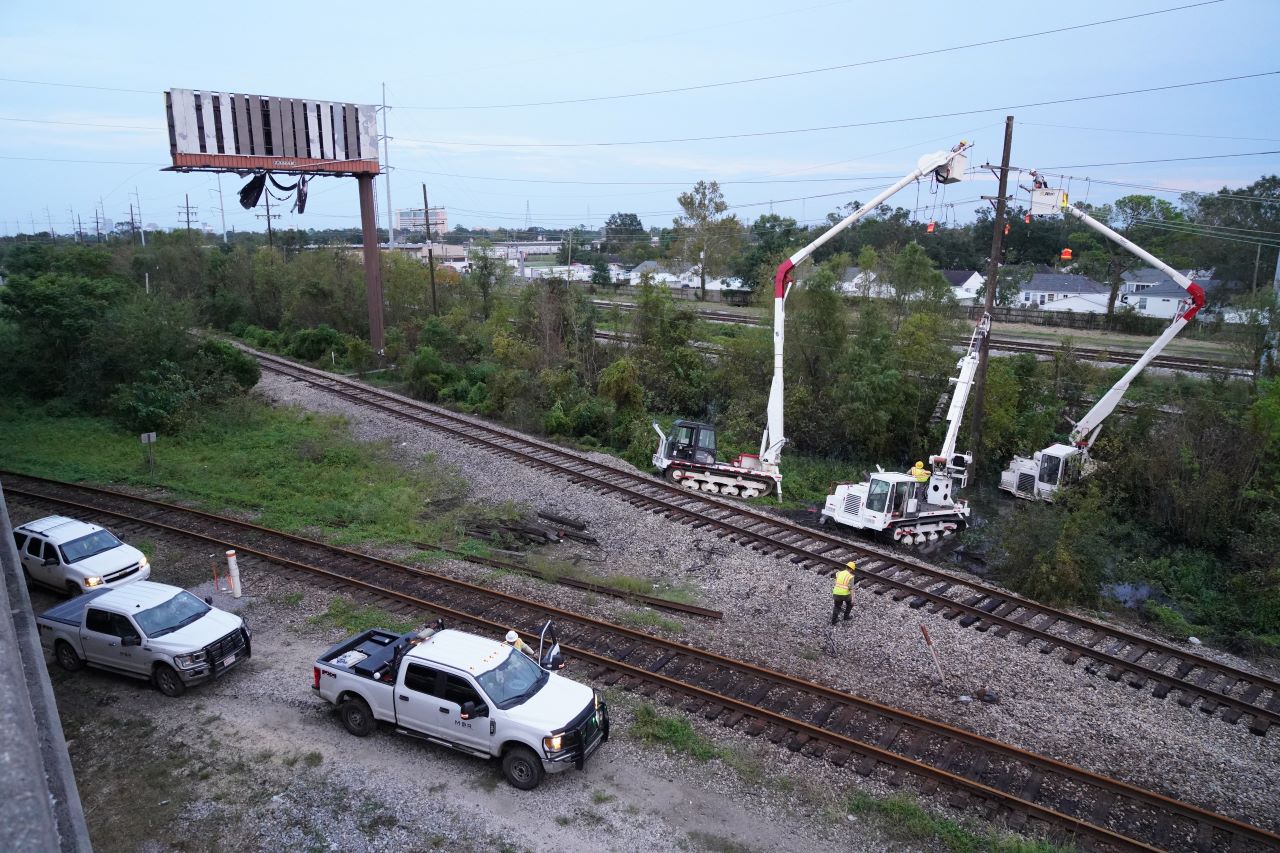 Halfway into the fourth day of restoration work, Entergy has restored 172,000 customers who lost power due to Hurricane Ida and progress continues.
The nearly 950,000 Entergy customers affected is second only to Hurricane Katrina's 1.1 million who were left without power.

We expect to complete restoration today in Mississippi. In the Greater Baton Rouge area, customers who can safely accept power are expected to be restored by Sept. 8. 
Crews continue assessing damage, and plans are to provide estimated restoration times for other areas as soon as possible. In Louisiana, reports are that Terrebonne and Lafourche are heavily damaged.
Distribution system damage in Louisiana and Mississippi at 1 p.m. today included 10,212 poles, 13,297 spans of wire and 2,223 transformers damaged or destroyed.
On our transmission system, 99 of 222 affected substations and 79 of 209 affected transmission lines have returned to service as of 8 a.m. More than 1,350 miles of transmission lines remain out of service. In the Greater New Orleans area, we have 13 substations ready to serve customers.
Besides getting the first lights to part of St. Bernard, St., Jefferson parishes, as well as portions of New Orleans, Entergy has been working closely with critical-service providers to help eliminate disruption to services as crews restore power.
Hospitals that have power include Tulane Medical Center, Tulane Medical School, VA Hospital, UMC, Ochsner Main Campus, East Jefferson, Lady of the Sea, Ochsner O'Neal Lane, Woman's Hospital and Baton Rouge General Mid City.
Wastewater infrastructure also is a priority for all impacted areas across the state. Entergy restored power to the Brusly Sewer Treatment Facility, in addition to working with the Sewerage & Water Board of New Orleans to provide backup power generation to support critical equipment.
Additionally, Entergy has installed backup generation at the New Orleans Ernest N. Morial Convention Center to help power facilities for affected residents and the Louisiana National Guard.
Leadership maintains close coordination with the city to identify critical locations in need of backup generation to power up first responders and community shelters. As of yesterday, Entergy New Orleans has provided backup generation to seven New Orleans Recreation Development Commission cooling shelters and seven New Orleans Fire Department stations across the city.
The NORDC facilities will provide air-conditioned space for area residents to temporarily escape the heat and include Cutoff, Gernon, Milne, Lyons, Stallings, Treme and Joe Brown.
Because of the significant restoration force at work, crews are working in multiple locations. Our plan prioritizes restoring power to groups of customers, then individuals.
We ask the public not to approach utility workers at a job site. Work sites can be dangerous locations and interruptions will slow workers' progress.
We understand how difficult it is to wait for power so you can get your lives back to normal. We ask for your patience as we rebuild damaged infrastructure, including poles, wires, substations and major lines.
---