Storm Center > Entergy Mississippi storm update – 3/25/23, 8 p.m.
Entergy Mississippi storm update – 3/25/23, 8 p.m.
03/25/2023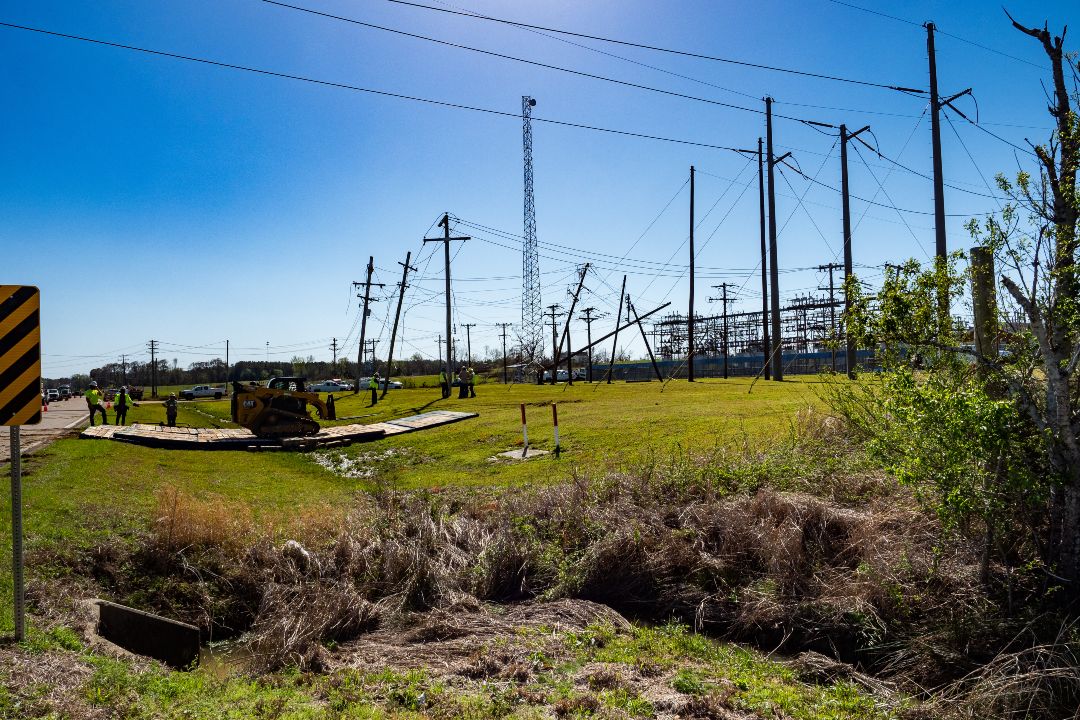 Severe weather, including thunderstorms and a tornado, pelted Entergy Mississippi's service area Friday night, causing power outages for 15,398 customers at peak. As of 8 p.m., power has been restored to about 9,322 customers. The storm struck the northern portions of our service territory hardest, including Winona, Rolling Fork and Silver City.
A workforce of more than 800 lineworkers, scouts, vegetation crews and other support personnel are assessing damage and restoring power as quickly and safely as possible.
Restoration and Damage Assessment Occur Simultaneously
The storm damage to our systems is extensive and as of 4 p.m., our crews have found 149 poles, 60,500 feet of downed power lines, 200 damaged cross arms and nine damaged transformers. We anticipate these numbers will rise as we complete damage assessment, which we expect to conclude by noon Sunday.
Some of our substations are affected by this equipment damage, including 80 broken poles and crossarms between Midnight and Silver City. There is also significant damage in the Winona substation that includes damage to several transmission structures and 40 poles outside of the substation that will need to be replaced. Damage assessment in the Rolling Fork area continues to be challenging as a result of the devastation.
All customers in the Southaven, Tunica, Cleveland, Senatobia, Greenville, Indianola, and Grenada areas who can safely receive power are expected to be restored tonight. Due to the significant damage in the Rolling Fork, Winona, and Silver City areas, customers who can safely receive power can expect to be out up to three days or more as we continue damage assessment and complete restoration efforts, including complete rebuilds of facilities in some cases.
While we are assessing damage, we will restore service where it is safe to do so. Repairs begin with major lines to the substations, then to the lines and equipment serving neighborhoods, businesses and homes. Service lines to individual homes and businesses will be restored last because fewer customers are involved, and in the case of fewer outages spread over larger areas, it often takes more time to get power back on for them.
Keep in mind that if you don't see us working near you, we may be working on another part of the electrical system that you can't see but must be repaired to get power to you.
We appreciate our customers' patience as our crews work as safely and quickly as possible to restore power to everyone.
Safety
As with any weather event, please be mindful of the following safety tips:
Live wires can be deadly. Stay away from downed power lines. Call 1-800-9OUTAGE or 1-800-968-8243 to report downed or dangling power lines, damaged or downed poles or other damaged equipment.
Do not trim trees or remove debris on or near downed power lines. Only power company crews or their contractors should remove trees or limbs touching power lines. Again, stay away from downed power lines.
Keep away from the immediate areas where crews are working. There is always the danger of moving equipment and the possibility of construction materials, limbs or overhead wires falling to the ground.
If you plan on using a generator for temporary power, get a licensed electrician and disconnect from the utility electric system before hooking up to your main electric panel. 
Do not run a generator in a confined space without adequate ventilation. Use them only outdoors, following all manufacturers' safety guidelines.
Turn off any electrical appliances that can easily be turned to the off position until power is restored.
Try to stay off the roads in affected areas. More traffic in bad weather leads to more accidents, including more injuries and fatalities as well as accidents that can damage electrical poles and other equipment, creating outages and impeding the ability of crews to access and repair damage and slowing restoration.
We want to keep you informed and in control. The best way to get information about outages is via Entergy's View Outage page on our website. Additional resources for your convenience:
Download our app for your smartphone at entergy.com/app or visit Entergy Storm Center to stay informed on our restoration progress.
Sign up for text alerts. From your cellphone, text R E G to 368374, or visit entergytext.com.
Follow updates in your local news media, like radio, television, and newspapers.
---