Storm Center > Entergy Texas storm update – 6/11/23, 8 p.m.
Entergy Texas storm update – 6/11/23, 8 p.m.
06/11/2023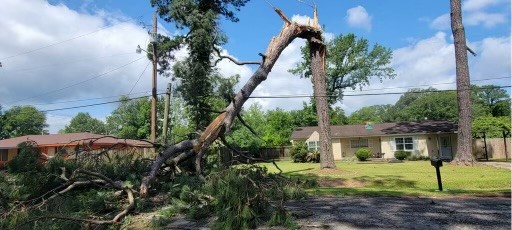 Severe thunderstorms, strong winds up to 70 mph, hail, and heavy rain caused widespread outages and extensive damage to the Entergy Texas service area Saturday. Crews made significant progress today, restoring power to 71% of customers within 24 hours of the storm's initial impact.
As of 8 p.m., approximately 16,400 customers are without power. Entergy Texas is working diligently to safely restore power to most customers by 10 p.m. today, but customers in the hardest hit areas may experience longer restoration times. Hardin, Tyler, and Jefferson Counties were the most heavily impacted areas, with more than 13,800 customers without power as of 8 p.m.
Damage assessments found five downed poles, three downed trees, 12,000 feet of downed wire, and a damaged crossarm. Additional resources have been deployed to assist with restoration efforts and restore customers as quickly as possible. 
Stay safe:
We urge customers to use caution after the storm and remember these important safety tips:
Stay away from downed power lines and areas of debris. Energized power lines may not be visible among the rubble.
Report downed lines immediately to Entergy at 1-800-9OUTAGE (1-800-968-8243), and call your local police station or fire department.
Return home only when authorities advise and drive only on roadways and bridges that have been declared passable.
If a power line falls on your vehicle while driving, continue to drive away from the line.
Don't walk in flooded areas or standing water. Remember that wet tree limbs can conduct electricity.
Keep your distance from working crews. Work sites can have any number of hidden dangers for the public, and distracting crews can cause accidents to happen.
Stay informed:
Keeping customers informed before, during and after a storm is important to Entergy Texas. Here are some of the platforms we use to provide updates:
About Entergy Texas
Entergy Texas, Inc. provides electricity to approximately 499,000 customers in 27 counties. Entergy Texas is a subsidiary of Entergy Corporation, a Fortune 500 electric company. Entergy powers life for 3 million customers through our operating companies in Arkansas, Louisiana, Mississippi and Texas. We're investing in the reliability and resilience of the energy system while helping our region transition to cleaner, more efficient energy solutions. With roots in our communities for more than 100 years, Entergy is a nationally recognized leader in sustainability and corporate citizenship. Since 2018, we have delivered more than $100 million in economic benefits each year to local communities through philanthropy, volunteerism and advocacy. Entergy is headquartered in New Orleans, Louisiana, and has approximately 12,000 employees. For the latest news from Entergy, visit the Newsroom.
---