Insights > ENERGY STAR® Award Recognizes Entergy Mississippi's Efforts to Save Customers Money
ENERGY STAR® Award Recognizes Entergy Mississippi's Efforts to Save Customers Money
04/11/2018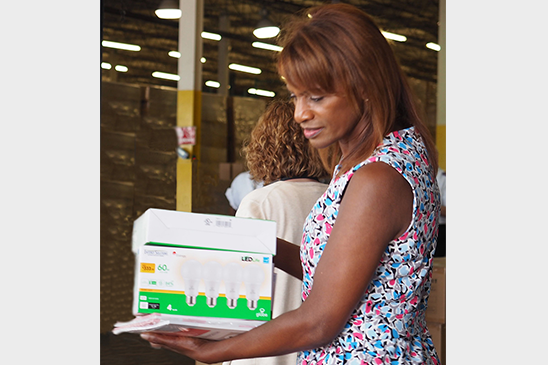 Early in life we learn that getting a gold star means the recipient has done a great job. The U.S. Department of Energy recently recognized Entergy Mississippi for its work to save customers money when it honored us with its version of a gold star – a 2018 ENERGY STAR® Award for Excellence.
The recognition commends our outstanding efforts in consumer education and promotion of ENERGY STAR, which gives consumers credible, unbiased information to make knowledgeable decisions about energy efficiency.
The award recognizes us for giving away more than 75,000 ENERGY STAR certified light bulbs to limited-income residents in 2017, an increase of 72 percent over the prior year. It also notes that we saved our customers more than 300,000 kilowatt hours of electricity through promoting ENERGY STAR certified appliances to Mississippi residents.
"Striving for excellence is something we do every day, and we're excited to be recognized for our customer education efforts around energy efficiency," said Lawrence Johnson, Entergy Mississippi energy efficiency manager. "Customers care about saving money on their electric bills. We share energy efficiency information and partner with agencies that can help customers benefit from our programs because it's the right thing to do for customers and our community."
Entergy Mississippi is among 163 award winners recognized in 20 categories for outstanding achievements in energy efficiency. The recipients represent a wide range of organizations from 35 states, including:
Fortune 500 companies
schools
retailers
manufacturers
home builders and
commercial building owners and operators.
"The 2018 ENERGY STAR award winners have demonstrated real leadership, showing how American families and businesses can save energy, save money and reduce air emissions," said Bill Wehrum, EPA Assistant Administrator for Air and Radiation.
In 2016 alone, ENERGY STAR certified products, homes, buildings and plants helped Americans save over $30 billion in energy costs and approximately 400 billion kilowatt-hours of electricity while achieving broad emissions reductions.
For a complete list of 2018 winners and more information about ENERGY STAR's awards program, visit www.energystar.gov/awardwinners.
---