Insights > Always a Priority – Helping You Keep Your Utility Bill Affordable
Always a Priority – Helping You Keep Your Utility Bill Affordable
10/14/2021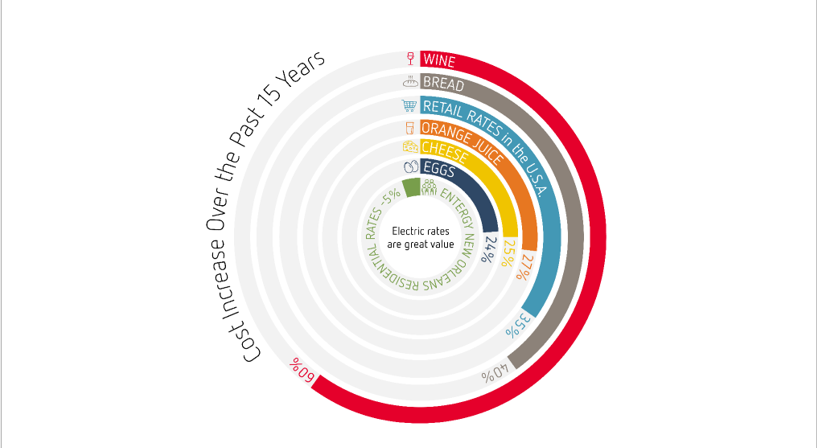 With rising prices in the marketplace for day-to-day items, it is important for you to know that Entergy New Orleans residential rates have declined by 5% over the last 15 years.
You read that right! In comparison to essentials like bread, cheese, eggs, and even milk that have gone up in cost over the years, Entergy New Orleans' residential rates have gone down. Additional needs, such as gas and cell phones have also increased in price faster than the rate of inflation.
Extreme Weather Can Drive Up Usage
Energy usage is one of the largest impacts on your utility bill. New Orleans residents tend to use more power to cool their homes than many other areas of the country, especially in the heat of the summer. And, if the upcoming colder months are anything like January and February 2021, more energy may be needed to heat your home.  That's why you may notice increases to your electric or gas bill as the temperature outside rises or significantly drops.
While the demand for power has increased, the typical New Orleans household bill falls near the middle of the pack compared to other utilities. This is due to Entergy New Orleans' low rates offsetting some of the additional expected costs of being in an area that requires high levels of energy consumption.
How to Manage Your Usage and Bill
The MyAdvisor dashboard (entergy.com/MyAdvisor) provides detailed information about your usage so you can manage your household budget and conserve energy. Once logged in, visit the "My Usage and Cost" section to compare energy usage and cost by month, day and hour increments.
In addition to customer energy usage, the Bill Projection tab provides an estimate of what a bill may be by the end of the billing cycle. The bill analyzer tool lets a customer compare previous bills by month and year to better understand the effects of variables like the number of days in the billing cycle, energy usage, fuel costs and weather.
Do You Know What Your Bill Line Items Mean?
To help you manage your bill, it helps to understand some of the charges that appear and why. Take note of the following line items on your bill:
New Orleans Power Station Interim Adjustment: Covers changes in the cost of the system utilized to generate and deliver electric services to customers between base rate proceedings.
Purchased Power Cost Recovery: Recovery/reduction of capacity costs associated with Power Purchase Agreements and Long-Term Service Agreements authorized by the City Council.
Fuel & Purchased Power Cost: The cost of fuel needed to generate electricity and the cost of power purchased from other Companies.
Energy Efficiency EECR Rider: Recovery of program costs for Energy Smart.
Purchased Gas Cost: The cost of natural gas purchased for delivery to gas customers.
Storm Securitization Cost Riders: True-up benefits and costs associated with the financing of storm restoration costs.
MISO Recovery Rider: Charges and credits associated with Entergy New Orleans' membership in MISO (Midcontinent Independent System Operator). MISO is a non-profit Regional Transmission Organization.
Street Use Franchise Fee: A fee set by the City Council ordinance for the use of public right-of-way, streets, land and waterways for placement of transmission and distribution.
City Sales Tax: Sales taxes mandated by city government.
To learn more about the line items that appear on your bill, click here. 
Additional Ways to Save Money on Your Bill

You can lower your monthly electric bills by taking steps to reduce energy usage or taking advantage of the Energy Smart programs and incentives and shopping for energy efficiency products on the Energy Smart Marketplace.
To find all types of statistics on electric power, consumption, prices, sales and customers, visit U.S. Energy Information Administration website.
---