Insights > Arkansas native William Cupit named Entergy Lineman of the Game
Arkansas native William Cupit named Entergy Lineman of the Game
10/19/2023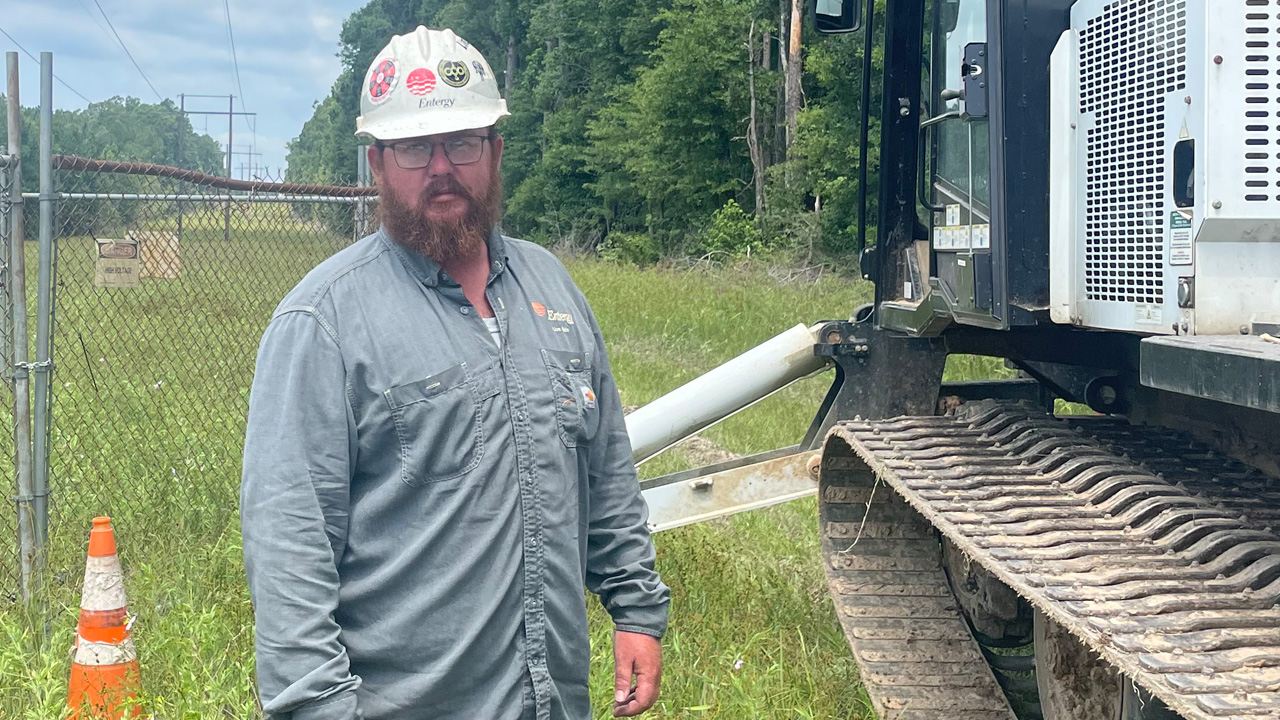 For many kids, figuring out the next steps after graduating high school can be a challenge. Thankfully there are several opportunities to explore. William Cupit was faced with a similar challenge, and his decision is one without regrets.
After high school, Cupit was looking for the best available job where he could enjoy the outdoors. While doing some research, he discovered the great career opportunities Entergy Arkansas provides for its lineworkers and decided to go for it. Almost 15 years later, Cupit is now a Transmission Senior Lineman traveling around the state to ensure Arkansans have reliable power when they need it.
"Being a lineworker is very rewarding because it allows me to travel and use my problem-solving skills to get the system back online safely for people when it breaks."
Cupit's commitment to safety, and his passion for his job has earned him the honor of being named Entergy's Lineman of the Game. On Thursday, Oct. 19, Cupit will be recognized in front of thousands of fans during the matchup between the New Orleans Saints and Jacksonville Jaguars. He'll be treated to a VIP experience, with on-field access and a special announcement before the game.
During each Saints home game this year, a well-deserving Entergy lineman helps power the stadium to get the crowd going for the home team. This game will be extra special as it will be Cupit's first time to watch an NFL game live in-person and first time to travel to New Orleans. He plans to bring his wife, Laura, with him to the game.
"William is very deserving of this recognition because he's a leader among the crew, does what he's supposed to do on the job, and is very safety-minded," said Entergy Arkansas Transmission Lines Supervisor Dustin Cranford. "On top of all this, he's a true family man and everything he does is for his family. He's just an all-around great guy."
Cupit will be representing the Transmission lineworkers which are different than traditional Distribution lineworkers most people see during storm restoration. Transmission lineworkers typically work on larger structures designed for long-distance, high-voltage electricity transportation. "I enjoy working in transmission because everything is bigger, and more planning is involved when we work on the equipment," said Cupit. "I'm so glad I chose this career, and I'm humbled to be recognized for something I enjoy doing every day."
Outside of work, Cupit loves spending family time in his hometown of Poyen with his three children. When not attending football games, Cupit can most likely be seen in the woods hunting or relaxing by the lake.
Congratulations to William Cupit on this tremendous honor!
---