Insights > Attala Plant Welcomes Victor to County's Crime-Fighting Team
Attala Plant Welcomes Victor to County's Crime-Fighting Team
08/29/2018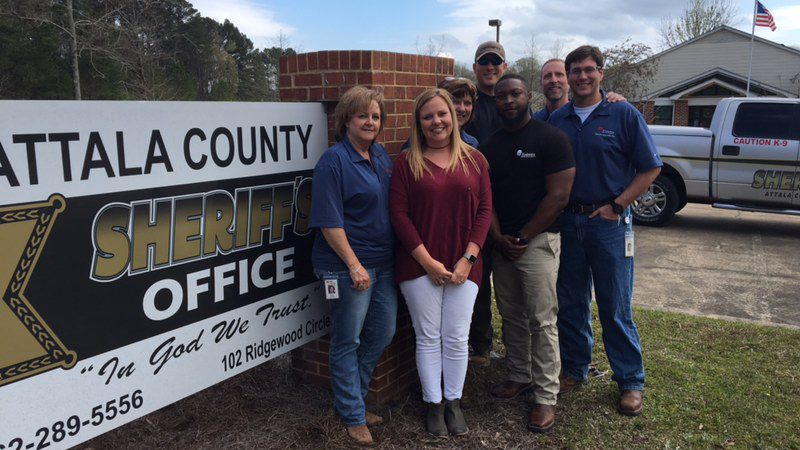 Entergy Mississippi employees who presented the donation to help the Attala County Sheriff's Department get Victor were (from left) Mary Ellen James, Lauren Moore, Theresa Hilbun, Jake Nabors, Alvin Jackson, James Hall and Aaron Sanders.
Like many small law-enforcement agencies across the country, the Attala County Sheriff 's Office often relies on community support to acquire new tools and equipment — or, in the most recent case, to get Victor.

As the agency's new K9 unit, Victor is an expert at sniffing out drugs and catching bad guys. His purchase was made possible, in part, with a donation from Attala Plant employees and an Entergy Charitable Foundation grant.
"When we learned about the county's need for a new K9 unit, we wanted to help," said Alvin Jackson, production technician and a member of the plant's diversity and inclusion council. "We wanted to show our inclusion with the community and that we care about what's going on in the surrounding areas. The sheriff's office is our contact for law enforcement whenever we have any issues, and employees felt that it would be a great idea to give back by organizing a fundraiser."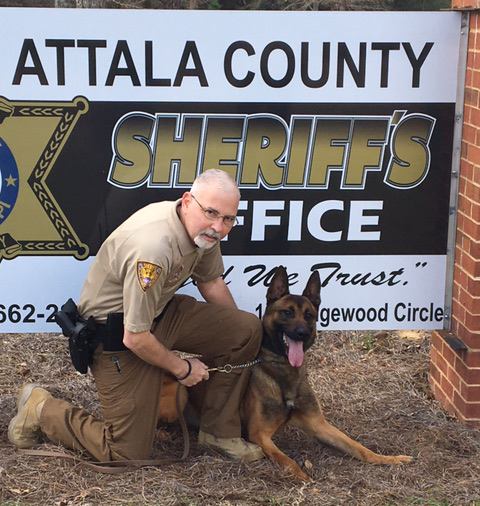 Attala County Sheriff's Deputy Scott Walters and Victor.
The plant's diversity and inclusion council decided to offer an additional prize to extend an existing raffle sponsored by the sheriff's office. Attala Plant employees ended up raising $1,975 to support the K9 fundraiser. The raffle prize, a $725 gift certificate from a local business, went to Jake Nabors, a production technician at the Attala Plant.

"The prize was 100 percent funded by employee contributions, and nearly every employee at the plant made a donation to support it, in addition to purchasing raffle tickets," said Mary Ellen James, an administrative assistant at the plant. "Employees also voted to donate $75 from their snack fund to the sheriff's hamburger fundraiser, which was part of the effort to collect enough funds to purchase the K9 unit."

Lauren Moore, customer service representative in Entergy Mississippi's Kosciusko office, assisted with the sheriff's application for a $5,000 grant from the Entergy Charitable Foundation.

Employees who presented the plant's donation to the sheriff's office last spring were introduced to Victor and his partner and trainer, Deputy Scott Walters.

"They were all very appreciative of the money we raised for them," James said. "I was glad I got to be a part of the effort because I love helping people. The Attala Plant and the community came together for a great cause. Illegal drugs are a serious problem, and we thought this would be a good way to keep our community safer."
---