Insights > Consortium Develops Program to Build Louisiana's Workforce of the Future
Consortium Develops Program to Build Louisiana's Workforce of the Future
10/17/2017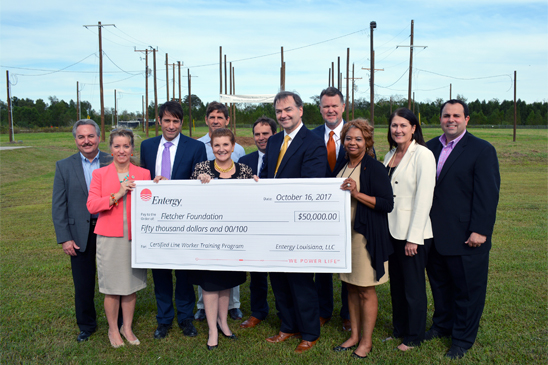 Entergy and other members of the Louisiana Energy Workforce Consortium (LEWC) rolled up their sleeves and put boots on the ground to help build Louisiana's workforce of the future by developing a Certified Line Worker Training program.
The program will be offered at two schools in January. Entergy Louisiana provided a $50,000 grant to support the start the program at Fletcher Technical Community College in Schriever, and Entergy New Orleans is scheduled to donate $50,000 to help get the program off the ground at Delgado Community College in New Orleans.
The Louisiana energy industry is bracing for problems of supply and demand due to an aging workforce, coupled with ever-increasing industrial expansion. The anticipated shortage of skilled, trained line workers led industry, contractor, education, and state and government partners to form the LEWC and, subsequently, develop the Certified Line Worker Training program.
To Phillip May, president and CEO of Entergy Louisiana, the program holds great promise to meet the needs of the energy industry as well as help modernize the state's power gird.
"The Certified Line Worker Training program is a great example of the type of collaboration needed between Louisiana businesses and our state's education system to develop the workforce that will power Louisiana's future," said May. "We look forward to being able to hire graduates of this program so that they can start rewarding careers in a job that is without question the backbone of our industry."
The LEWC and the community technical college system helped create the curriculum as well as design the training facilities. Approximately 60 volunteers worked to complete facilities at both sites. Eli Guillot with Southern Electric Corporation led the team at the Fletcher site, which was supported by employees from Chain Electric, Diversified Utility Services and Entergy Louisiana's Lockport Network.  Jeff Erwin with Willbros Utility led the team at the Delgado site, which was supported by T&D Solutions LLC and Entergy Louisiana's Luling office.
"How often have we thought about when we reach to flip the switch, is it going to work on the other end? It's Entergy who has been on the other end," said Dr. Monty Sullivan, president of the Louisiana Community and Technical College System. "When we find ourselves in a position of dealing with storms and a sundry of different things, it's this organization that's been on the other end ensuring that we had electricity when the switch is flipped. When you have an opportunity to partner with a quality organization like this one – it's exciting."
Graduates of the program will receive National Center for Construction Education & Research (NCCER) certification, be qualified for employment as a line helper and receive job placement assistance. Program participants will have to fulfill pre-employment screening, including drug testing, background check and basic education skills testing.
The program will be a 16-week program at Fletcher and a 25-week program at Delgado.
Including the $100,000 from Entergy Louisiana and Entergy New Orleans, there has been a total donation of $227,000 to stand up the programs at Fletcher and Delgado. A ribbon cutting ceremony for the program at Fletcher took place Monday, and a ribbon cutting for the program at Delgado will take place on Oct. 23.
For more information on the Certified Line Worker Training Program, visit Facebook at https://www.facebook.com/lineworkdelgadofletcher/ or email at lineworkerinfo@lctcs.edu.
---