Insights > Crews Continue to Assess Damages, Restore Power in Louisiana as Laura Exits the State
Crews Continue to Assess Damages, Restore Power in Louisiana as Laura Exits the State
08/27/2020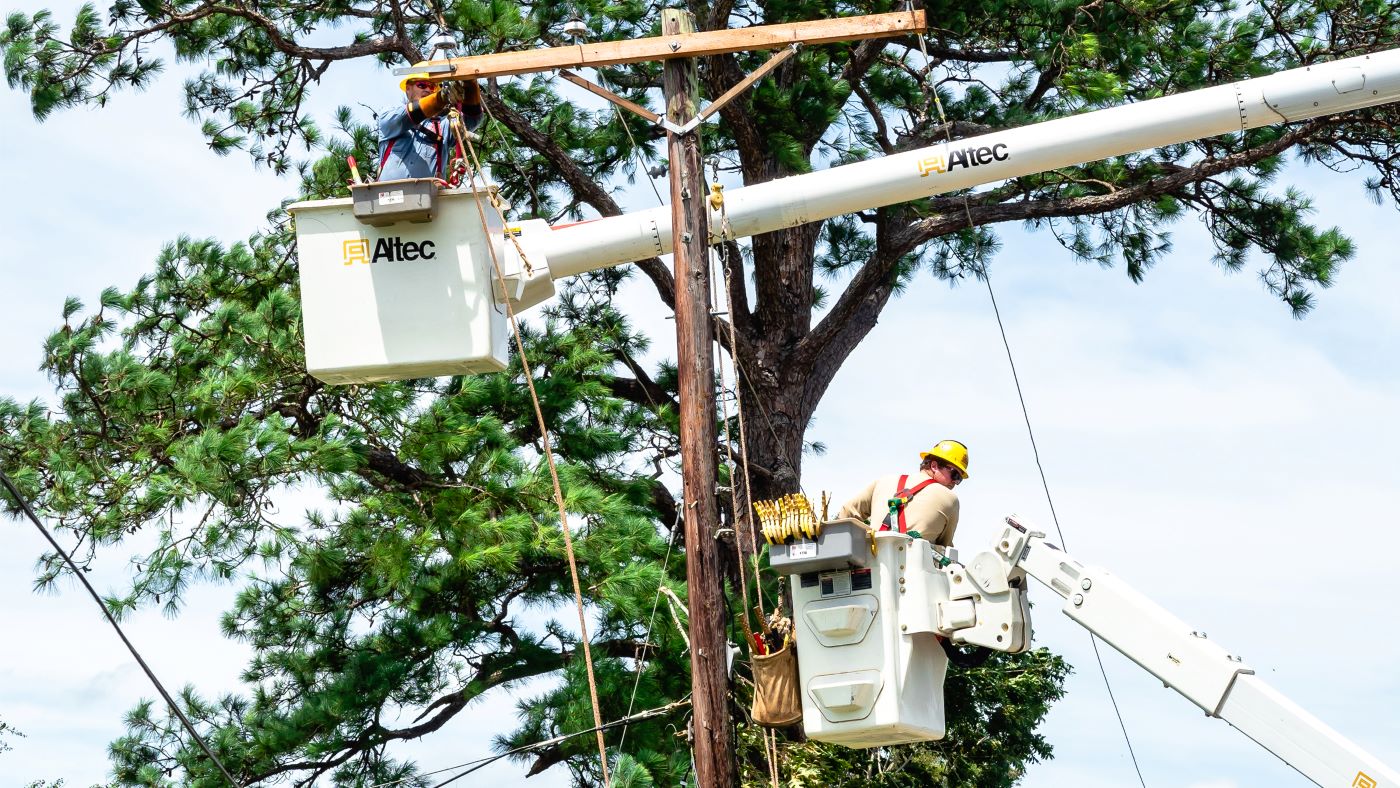 Entergy's Louisiana storm team is continuing to assess damages and restore power where it is safe to do so after a devastating Hurricane Laura exited the state Thursday afternoon.
Laura made landfall in Cameron, Louisiana, early Thursday morning as a catastrophic Category 4 hurricane, with sustained winds around 145 mph. The fast-moving storm continued to deliver heavy rain and strong winds as it traveled north across Louisiana and into Arkansas — bringing tropical storm force winds as far inland as Ouachita Parish.
At its peak, the storm knocked out power to approximately 280,000 customers with the hardest-hit areas in southwest and north Louisiana. As of 6 p.m. Thursday, approximately 256,000 customers were without power.
The storm caused significant damage to Entergy's electrical system across the state. The most extensive damage was in the Lake Charles area, where the eyewall passed directly over, causing major damage to transmission infrastructure, utility poles and power lines.
By late Thursday, Entergy's storm team in Louisiana had ramped up to nearly 10,000 and was continuing to grow. While crews, including scouts, vegetation contractors and distribution linemen, among others, have faced accessibility challenges due to impassable roadways leading into Lake Charles, they have been able to inspect portions of the electrical system and perform some work in the field in areas east of Calcasieu Parish and in parts of north Louisiana.
Also hampering progress in Lake Charles Thursday was a chemical fire at a plant in the city of Westlake that forced road closures and increased drive times for some crews who were instructed to avoid the area for their safety.
Entergy will continue to use helicopters and drones to inspect damage to its transmission and distribution infrastructure.
Power must be restored to high-voltage transmission lines and substations in order to reenergize the distribution lines that serve businesses and homes.
Scouts will continue inspecting damages to the system in the coming days. As damage assessments are completed, crews will begin restoring power to critical infrastructure as well as putting together a plan to restore power to the largest number of customers the fastest.
We ask that our customers be patient with us as we work to repair and rebuild portions of the electrical system. It could take several days before we can provide estimated times of restoration and weeks before we restore power to the hardest-hit areas.
Crews will continue to practice social distancing while in the field due to the COVID-19 pandemic, and Entergy asks that customers do the same. For the safety of crews and customers, please stay away from work zones. If there is a need to report a service problem, customers should call 1-800-ENTERGY.
Stay Safe
The most dangerous part of a storm is often just after it has passed. There is no way to know if a downed line is energized or not, so if you see one, keep your distance and call 1-800-9OUTAGE (800-968-8243).
Customers choosing to use portable electric generators should do so in accordance with the manufacturer's instructions. Customers must never connect a generator directly to a building's wiring without a licensed electrician disconnecting the house wiring from Entergy's service. Otherwise, it can create a safety hazard for the customer or our linemen working to restore power. And it may damage the generator or the house wiring.
Restoration workers who discover a generator attached directly to Entergy's system will work with the customer to disconnect the generator. As a last resort, the restoration worker will disconnect the customer's service connection to Entergy, which may take an extended time to reconnect due to the extensive restoration effort underway.
###
---