Insights > A Ductile Iron Pole is Born
A Ductile Iron Pole is Born
11/18/2015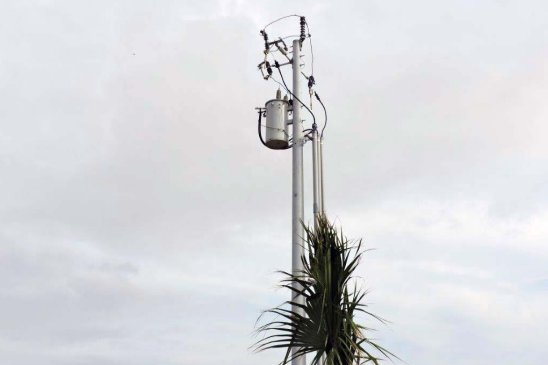 Entergy Texas' engineering department provides custom-tailored solution for developer in coastal community.
The developer of a high-end residential community on Bolivar Peninsula called Seagrass Beach contacted Entergy Texas to request underground electrical service so potential buyers would have the best possible coastline views.
Here's the rub. Seagrass Beach is located near the Gulf of Mexico in an area susceptible to flooding during a strong storm with a high tide. The community's location prevented underground service because the transformers could be damaged often; therefore, other options had to be considered to meet the customer's request.
Entergy Texas' engineering team found themselves in a situation that required ingenuity and creativity in order to balance the request for "curb appeal" while protecting the company's equipment from storm surges. The engineering team assigned to this project included: Randy Hickman, Michael Huff, Kevin J. Mohr and TJ Ray.
Huff, who helped design the project, determined metal poles would be the best option. He and the engineering team had multiple meetings with the standards department to develop a workable solution. They also decided to first see how other utilities, including CenterPoint Energy and Duke Energy, construct underground primary in coastal areas. In Galveston, CenterPoint uses an option called ductile iron poles, a technology also employed by Entergy Louisiana.
Ultimately the Entergy design team decided to also go with ductile iron poles, which were installed at Seagrass Beach in October. This is a hybrid option in which all the wires are hidden underground, apart from the risers on the pole. There are not any overhead wires from pole to pole.
"The changes in the poles from other installations are mostly with the jumpers for avian and lighting protection," Huff said. "Since it is a metal pole set extra deep, it also has a strong chance at surviving a hurricane."
Not only are they durable, but they're 100 percent recyclable. The poles are made of 96 percent recycled cars, appliances, and other metals. And, at the end of a pole's service life, the manufacturer can melt that pole down and produce another pole from the same material.
Although Seagrass Beach is the first time that Entergy Texas has installed ductile iron poles, it may not be the last.
Huff added, "Since the subdivision will be seen when traveling to the beach from Beaumont, we hope developers and customers will be so impressed that this project ushers in new requests."
Replacing a pole is expensive. But with lifespan of 75 years, ductile iron poles are a smart investment that will reap benefits for generations to come in the Seagrass Beach community. 
---