Insights > Employees Honor Fellow Veterans at Saints Game
Employees Honor Fellow Veterans at Saints Game
12/12/2018
Eighty Entergy employee veterans and active service members participated in the NFL's ceremonies to honor veterans before the New Orleans Saints game at the Mercedes-Benz Superdome on Nov. 4.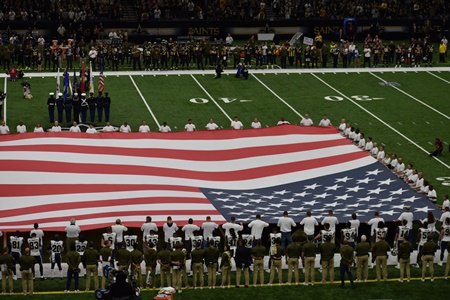 The employees, many of whom are members of Entergy's Veterans Employee Resource Group, took to the field to unfurl the American flag before the Saints handed the Los Angeles Rams their first loss this season. It was the fourth consecutive year for Entergy to participate in the unfurling event.
Don Vinci, executive vice president, chief administrative officer and Navy veteran, was on hand to unfurl the flag and thank employees for their service and for representing Entergy at the event; as well as Rick Riley, senior vice president of distribution operations and asset management, who visited Entergy's tailgate gathering to thank employees.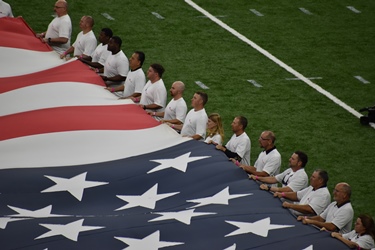 ---