Insights > Entergy Arkansas storm update – 7/15/23, 11:30 a.m.
Entergy Arkansas storm update – 7/15/23, 11:30 a.m.
07/15/2023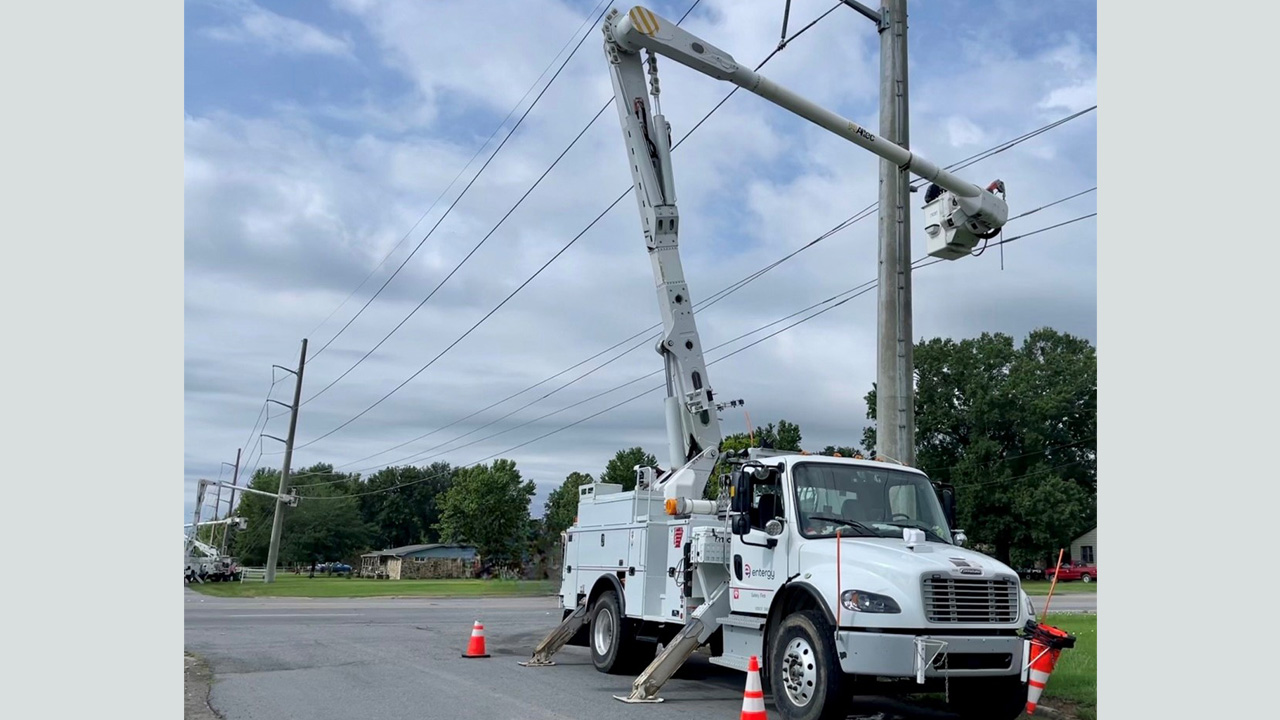 Severe thunderstorms overnight brought lightning strikes and damaging winds into the state and interrupted service to more than 16,000 customers in several Entergy Arkansas communities. Since that time, more than 7,000 customers have been restored, and most are expected to have power by 10 p.m. tonight.
Restoration teams are responding to damages as quickly and safely as possible. Crews have been on the ground since dawn assessing damages and making major repairs to energize the greatest number of customers.  
Entergy Arkansas strives to provide the most up-to-date information about outages, but damages in some areas are extensive. Estimated restoration times for each service area are listed below.
Thank you for being a valued Entergy Arkansas customer. We appreciate your patience.
For important safety information, such as using generators or food spoilage, visit entergystormcenter.com.
| | |
| --- | --- |
| Service Area | Restoration Estimate |
| Flippin | 7/15/2023 10:00:00 PM |
| Harrison | 7/15/2023 10:00:00 PM |
| Pine Bluff | 7/15/2023 10:00:00 PM |
| Russellville | 7/15/2023 10:00:00 PM |
| Little Rock | 7/15/2023 10:00:00 PM |
We understand the extreme heat during this time. To protect yourself and your families, follow these recommendations from the Centers for Disease Control and Prevention:
Drink fluids, even if you don't feel thirsty.
Wear loose, lightweight clothing and a hat.
Replace salt lost from sweating by drinking fruit juice or sports drinks.
Avoid spending time outdoors during the hottest part of the day, from 11 a.m. to 3 p.m.
Wear sunscreen: a sunburn affects the body's ability to cool itself.
Air conditioning is the best way to cool off; if you are using a generator, do so safely.
Check on seniors, who can be particularly susceptible to extreme temperatures.
Stay informed:
Be sure to stay informed throughout the restoration process using the following resources:
Download our free Entergy app.
Sign up for text alerts by texting REG to 36778.
Visit the Entergy Storm Center website and View Outage page.
Call us at 1-800-9OUTAGE (800-968-8243).
Follow your local news media for updates. 
---