Insights > Entergy celebrates educators, invests $2.2 million in students' future at the Fried Chicken Festival
Entergy celebrates educators, invests $2.2 million in students' future at the Fried Chicken Festival
10/09/2023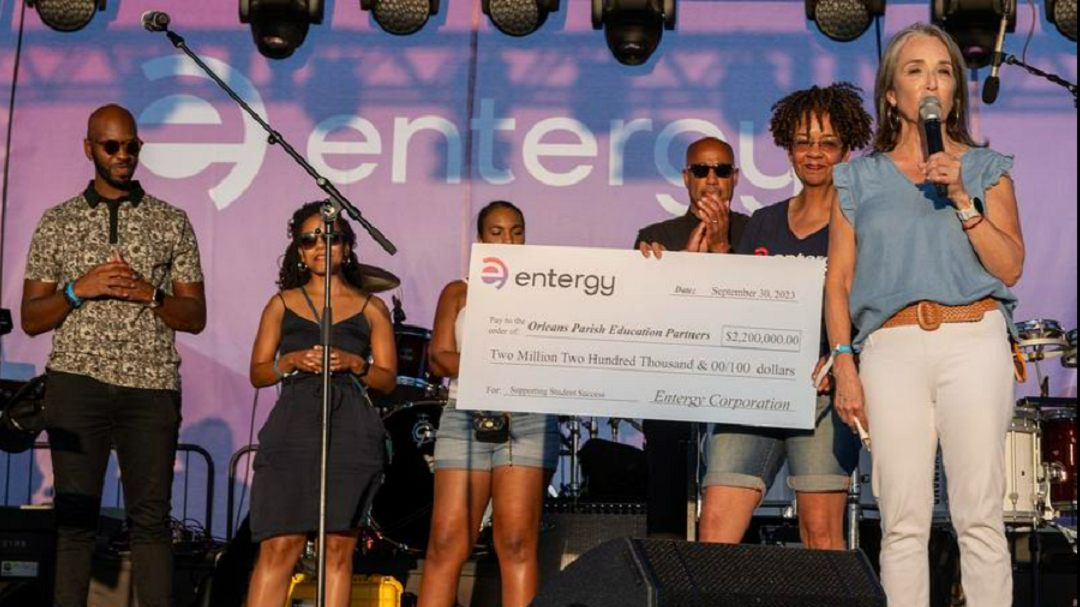 A finger lickin' success for education initiatives in Orleans Parish
This year's National Fried Chicken Festival brought together thousands of people around a shared love of great food, music and culture – and amongst many of those festivalgoers were public school educators.
As part of Entergy's ongoing commitment to investing in our communities, we hosted the first-ever complimentary Teacher's Lounge – an exclusive area at the festival for teachers and staff to enjoy VIP seating, live music, food and drinks.

"Entergy has long been committed to supporting education and we are thankful to our teachers for everything they do to invest in the future of our students," said Patty Riddlebarger, Entergy vice president of corporate social responsibility. "The Teacher's Lounge is our way of saying thank you to our educators who work tirelessly to make our communities a better place."
During the festival, Entergy New Orleans president and CEO Deanna Rodriguez, presented a $2.2 million check to support public education in Orleans Parish for the 2023-2024 academic school year.
"With this investment, we will support initiatives that focus on empowering school leaders and educators, equipping students with tools and technology and fostering an inclusive learning environment," said Rodriguez. "We will strive to nurture the talents and aspirations of our students, ensuring that they have the tools they need to succeed in our communities."
Since 2006, Entergy shareholders have invested more than $26 million in supporting public education in Orleans parish. In addition to this investment, Entergy also launched Kids to College earlier this year, a free child savings account program, for low-to-moderate income families across Arkansas, Louisiana, Mississippi and Texas, designed specifically for post-secondary education.
Through Entergy's Kids to College program, families can open a savings account free of charge, invest their savings and watch it grow. When a family plans for their child's future by setting aside funds for college, the child is four times more likely to complete a degree. Eligible families can sign up for a Kids to College my529 account here with the help of our community partners and receive a $50 deposit from Entergy.
Together, we continue to invest in the future of our students and communities, to build a brighter tomorrow.
Learn more about our commitment to our communities here.
---