Insights > Entergy Celebrates New 17 MW Substation for Arkansas Biomass Facility
Entergy Celebrates New 17 MW Substation for Arkansas Biomass Facility
11/04/2016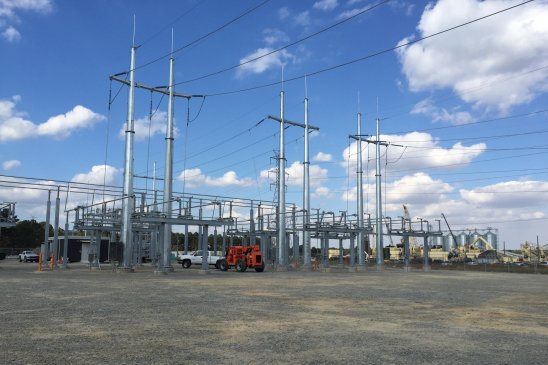 What was once a flat work site in April is now home to a new substation powering Pine Bluff's Highland Pellets biomass facility.
 "I am extremely proud of my team as we safely completed construction of the new Jefferson Industrial substation," said Scott McMahan, manager of Entergy Arkansas' transmission project management and construction team. "The hard work and dedication from everyone involved allowed us to remain focused on the safety of our crew members, while making a positive impact on southeast Arkansas."
While McMahan's team deals mostly with transmission projects, they oversaw the construction of this distribution substation. A total of 50 people, both Entergy employees and contractors, worked on making the Jefferson Industrial substation a reality for the Pine Bluff business community.
"Entergy's vision statement is We Power Life and we at Entergy Arkansas are proud to partner with Highland Pellets to power this state-of-the-art facility," said Rick Riley, Entergy Arkansas president and CEO.
Jody Doak, Highland Pellets plant manager, is a new transplant to Pine Bluff and says the facility is currently in the commissioning phase when he and his team are fine-tuning systems and checking inputs.
Highland Pellets' mission is to be a preferred supplier of sustainably sourced wood pellets for export to Europe where they are used as a cleaner replacement fuel for coal in electricity generating stations.
"Highland has enjoyed building a close relationship with our dedicated and creative partners at Entergy to deliver cost effective and reliable power to our facility," said Highland Pellets Chairman Tom Reilley.
According to Highland Pellets website, the Pine Bluff facility will provide 68 full time jobs to the local community and over 450 direct jobs in the transport and forest industries supply chain. The direct annual economic benefit of the Highland Pellets Pine Bluff facility is estimated at $77 million per year.
Jefferson Industrial substation work site April 2016
"Economic development is an exciting job," said Lou Ann Nisbett, who leads the Economic Development Alliance for Jefferson County, Ark. "But it's even more exciting when you have an opportunity to work with such an amazing group as Highland Pellets. Tom Reilley and his team from the first minute we met them have been awesome to work with. For Pine Bluff and Jefferson County this has been monumental in their commitment to locate, build a new facility and create great jobs."
The Pine Bluff facility will utilize up to 1.4 million tons per year of wood feedstock, or fiber, taken from sustainably managed private working forests in the local area. Highland Pellets reports even after allowing for the energy spent in collecting the wood, processing it into pellets and transporting the pellets by ship to Europe, the amount of greenhouse gas (GHG) emissions released from burning the pellets is around 78% less than if the power station in Europe burned coal.
 "Entergy Arkansas provides safe, reliable and affordable energy that industrial customers can count on," said Mike Maulden, Entergy Arkansas' business and economic development director. "In addition, Arkansas' skilled workforce and Pine Bluff's proximity to southern yellow pine forests and mainline rail make it an ideal location for Highland to successfully compete in the global market. We welcome Highland to southeast Arkansas and look forward to serving them as customers and as business partners."
---