Insights > Entergy donation helps prepare students for bright futures
Entergy donation helps prepare students for bright futures
07/17/2015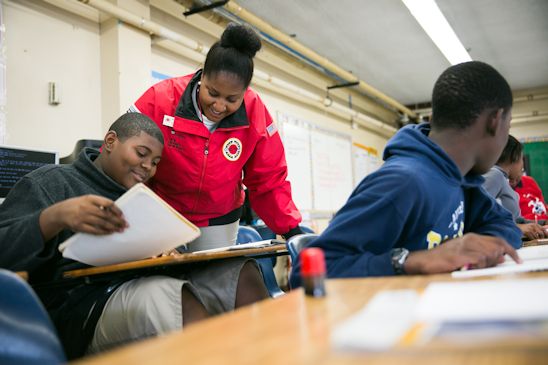 Just in time for Back to School, Entergy is working to ensure that Louisiana's future is bright.
Phillip May, president of Entergy Louisiana, recently presented a $250,000 check to be split between Teach For America-South Louisiana and City Year -- two groups working together to close the opportunity gap in schools and assist students in low-income communities.
Teach for America Executive Director Laura Vinsant receives a check from Entergy Louisiana President Phillip May.
"Our support of Teach For America not only helps us have access to better quality employees through education, it will help the entire community we serve," May said. "Excellent education means students will have job opportunities during the industrial renaissance that is happening in Louisiana. These industries need highly trained, highly skilled workers. Teach For America is an integral, important part of our success in the future of Louisiana."
The check is part of a four-year, $1 million commitment by Entergy Louisiana and Entergy Corporation. It also designates Entergy as Teach For America-South Louisiana's largest corporate partner.
Teach For America is a 25-year-old program that recruits teachers nationwide to teach in low-income neighborhood schools and mobilizes our future leaders to strengthen the movement for educational equity. Teach For America-South Louisiana's Executive Director, Laura Vinsant, was originally recruited in 2007 to teach second and third graders.  In her current role, Vinsant supports corps members and alumni in South Louisiana classrooms.
"As a corps member I loved working alongside other hardworking educators, advocates and families to address the injustices facing children growing up in poverty. TFA has trained more teachers for low-income communities than any other organization or institution in the country. I knew that I had the support and network outside the immediate four walls of my classroom to lean on," Vinsant said. "I have the great fortune of continuing to work toward educational excellence for Louisiana students every day. My students are in the 10th and 11th grades now.  I can actually go and see some of my students who are taught by our corps members in their high schools and know that they are receiving the education they deserve."
While similar, City Year is a program that features teams of AmeriCorps members who commit to a year of full-time service in schools. Corps members provide individual support to students who need extra care and attention, focusing on attendance, behavior and course performance through in-class tutoring, mentoring and after-school programs.
Laura Poché, City Year Baton Rouge board chair, said Entergy's investment in City Year allows the organization to serve more students and prepare them for success beyond high school graduation.
"Collaboration is critical for advancement, and we are thankful for our partnerships with Entergy and Teach For America, to name a few," she said.
Elementary school teacher Kate Sheeder has worked for both City Year and Teach For America and said Entergy's support makes her feel like the work she is doing is being recognized by the community.
Sheeder holds a magnolia given to her by a student for teacher appreciation week.
"It's easy, as a teacher, to get caught up in the things that aren't going as well as you want them to go in your classroom. However, when corporations such as Entergy take the time to invest in teachers like me, it re-energizes me and allows me to be the best version of myself in my classroom," Sheeder said.
---