Insights > Entergy Earns Honorable Mention in PR Daily Digital PR and Social Media Awards
Entergy Earns Honorable Mention in PR Daily Digital PR and Social Media Awards
07/17/2018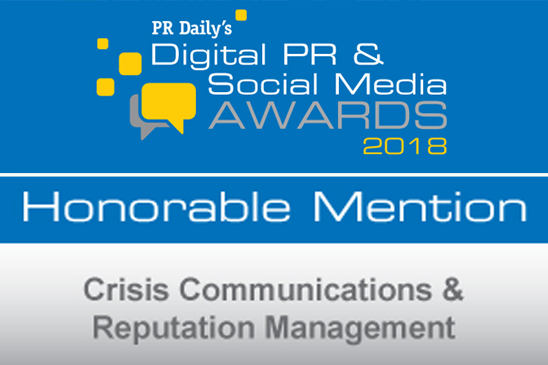 Entergy was recently named an honorable mention recipient of the 2018 Digital PR & Social Media Awards. The global award recognizes the company's social media response efforts during Hurricane Harvey.
Ragan and PR Daily run a series of awards programs each year. Judged by globally regarded experts and featuring multiple categories, these programs honor the top work in communications, PR, marketing and media.
The Digital PR & Social Media Awards celebrates teams, organizations and consultants who have redefined the field with their groundbreaking work. As an honorable mention recipient, Entergy joins an elite group of past recipients, including Hulu, the National Kidney Foundation, The Coca-Cola Company, Aflac and Discovery Education.
Entergy was chosen from a wide pool of submissions to receive recognition in crisis communications and reputation management for the impact of its social media response efforts during Hurricane Harvey. The hurricane flooded the company's Texas service area in the summer of 2017, causing widespread outages and triggering a sustained restoration effort.
"Out of many outstanding submissions, we found Entergy's work to truly set a new standard of excellence for all practitioners. We congratulate them and look forward to seeing their future successes in this field," said Justine Figueroa, senior marketing coordinator for award programs at Ragan Communications.
"This award is a testament to the teamwork of so many of our staff," said Nicole Bradshaw, Entergy's manager of digital and social media. "A cross-functional group of my fellow Entergy employees put in long hours to help tell our story and take care of our customers and communities during Hurricane Harvey. I'm proud, but not surprised, for their work to be honored as some of the best of the best."
To learn more about Entergy's social media presence, view a listing of the company's official social media feeds: entergynewsroom.com/social.
Ragan Communications operates two of the top news and information sites for the PR and corporate communications industry: Ragan.com and PRDaily.com. The Chicago-based company is also the leading provider of conferences and online training for PR, media relations, and corporate communications professionals.
---